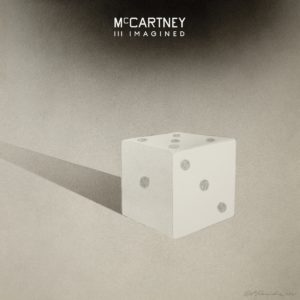 Paul McCartney
McCartney III Imagined
CAPITOL
7/10
Over the past 50 years, Paul McCartney has blessed our ears with great music spanning various genres, and the reimagined counterpart to his third installment in the McCartney trilogy is no exception. McCartney III Imagined blends covers with new songs, with some familiar guests alongside new additions. "It was really good to be able to play music, and make up music, and put your thoughts and your fears and your hopes and your love into the music," McCartney told Apple Music. "So it kind of saved me, I must say, for about three or four months it took to make it."
McCartney III Imagined is a roll call of McCartney's friends, old and new, as almost every song on the record features a notable artist aiding Paul himself. Kicking things off with a Beck feature on "Find My Way" and later hosting St. Vincent's reworking of "Women and Wives," there's all kinds of flavor in this album. McCartney mostly uses the same instrumentation he employed on McCartney III, adding in more of a harder rock feel. In contrast to his 2020 album, McCartney's collaborators transform the project into a rock anthology, blending younger sounds with those explored on the original record. 
It's impossible to talk about McCartney without referencing The Beatles, it's true. However, McCartney has definitely worked hard since that break up in 1970 to create a sound that's uniquely his own. In McCartney III Imagined, he takes this sound and blends it effortlessly with 11 different artists' sounds to create an album that's even further removed from his roots. While in the passenger seat, McCartney gives his platform up to several talented artists, letting them create in new and fresh ways (in addition to Beck and St. Vincent, Phoebe Bridgers, Blood Orange, EOB, Khruangbin, Dominc Fike, Damon Albarn, Joshua Homme, 3D RDN, and Anderson .Paak contribute to the LP). Some of the artists took McCartney's work and remixed it, while others started from scratch and made it their own. 
With the addition of McCartney's guests, it formulates an album that's all over the place. Beck throws in funk and pop in "Find My Way," "Pretty Boys" featuring Khruangbin gives us six minutes of psychedelic awesomeness, and Phoebe Bridgers adds a youthful harmony to "Seize the Day." McCartney took what he created in McCartney III, and reimagined it with new pieces of the puzzle, with a little help from his friends. This album in and of itself is about bringing you back to center, and reminding you that music can simply be nothing but fun.