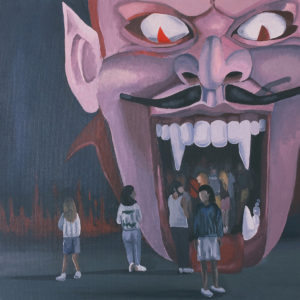 Spirit of the Beehive
ENTERTAINMENT, DEATH
SADDLE CREEK
7/10
There's nothing in this world that can prepare you either physically or mentally for the experience of listening to Spirit of the Beehive for the very first time, a band with the uncanny ability to make even the most familiar sounds feel completely foreign. After a myriad of lineup changes since their self-titled debut in 2014, the now-trio makes albums that require patience and consideration from their listeners, the kind of music that's so tangled and intricate that it completely robs you of any type of instant gratification. Doubling down on all of the eccentricities that made 2018's Hypnic Jerks so unforgettable, ENTERTAINMENT, DEATH, the band's first album for Saddle Creek, features some of the most challenging and interesting music of the young band's career, a sprawling odyssey of haunting dissonance and blissful euphoria.
Kicking things off with almost an entire minute of high-pitched squeals and spastic hits from a drum machine, opener "ENTERTAINMENT" is supposed to make you lose your bearings and throw you out of your comfort zone. It's one of several moments on ENTERTAINMENT, DEATH that's grotesque and disorienting enough to mimic the feelings of having a panic attack, and it makes everything else on the album sound that much prettier in comparison. In fact, there's nothing even remotely close to a formal song structure on here—the album feels more like a series of vignettes or fleeting thoughts captured live to tape and then carefully pieced together. This cut-and-paste approach pays off big time on tracks like "I SUCK THE DEVIL'S COCK," a nearly seven-minute epic of arpeggiating synths, pulsing electronica, skittering rhythms, and hazy post-punk.
Aside from maybe fellow Philly artist Alex G, The Beatles are one of the only groups it feels apt to compare Spirit of the Beehive to, especially the music they made following Rubber Soul when the band hunkered down in the studio and began to create things that they could no longer replicate in a live setting. Songs like "WRONG CIRCLE" and "WAKE UP (IN ROTATION)" are genuine earworms, serving up jangly psychedelia filtered through the band's sinister and hypnotic style of production—they sound like a sleep paralysis demon stopping by in the middle of the night just to sing you a lullaby. 
There's somewhat of a loose theme on ENTERTAINMENT, DEATH about the demise of the soul that's buried somewhere between layers of sonic experimentation, but the most compelling thing about this album is that you don't have to realize that to enjoy it. Spirit of the Beehive takes you on a sonic highway of left turns and fractured noise to lure you into dead ends and unsolvable mysteries—because ultimately ENTERTAINMENT, DEATH is about the journey, not the destination.