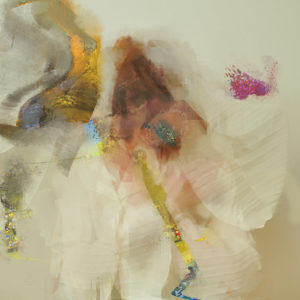 Flock of Dimes
Head of Roses
SUB POP
6/10
Best known as one half of Baltimore indie-rock duo Wye Oak since 2008, Jenn Wasner also has a significant musical resume building up outside of that main project. The songwriter appeared on Titus Andronicus' phenomenal 2010 album The Monitor, has a side-project with White Life's Jon Ehrens called Dungeoness, and played with Bon Iver on that band's fall 2019 tour. She's also the brainchild behind this more electronically tinged side/solo project, Flock of Dimes.
Head of Roses is the outfit's second full-length, following on from 2016 debut If You See Me, Say Yes and last year's Like So Much Desire EP. As she did on those two releases, Wasner refrains from giving in entirely to obvious melodies and instrumentation. Instead, these ten songs flirt with straightforward melodies, but always find some way to rebuff—whether that's the solemn but experimental saxophone (or at least what sounds like a saxophone) on the forlorn minimalism of "Lightning" or the stuttered, staccato tune of "Hard Way"—which always sounds like it's about to burst into an earnest explosion of sound, but which instead remains muted and understated, underscored instead by an almost-flurry of weird guitars.
It should be pointed out that this deliberate resistance to pure beauty is not a bad thing. The aforementioned "Lightning" is, indeed, beautiful anyway—and also harrowing and haunting in its off-kilter, oddball ethereality—while the jaunty, '80s-inspired "Two" hides a whole lot of pain and existential angst beneath its poppy bounce: "And we're all just wearing bodies like a costume 'til we die," sings Wasner, and it's hard to know whether to laugh at the ridiculousness or cry at the sadness of that revelation. Elsewhere, the lazy morning quasi-country of "Walking" is one of the more straightforward songs on Head of Roses, but still revels in Wasner's songwriting idiosyncrasies.
There are a couple of moments where it's less successful, however—namely the slow-motion drift of "No Question," which loses itself in its own smoky aimlessness, and "Price of Blue," which does suffer (albeit ever so slightly) from the musician's desire to rein in her natural knack for melody—leading the song to implode in its own melodic resistance. Still, the broken heart that drives it—as well as the rest of the record—remains intact, and that, of course, is the most important thing.