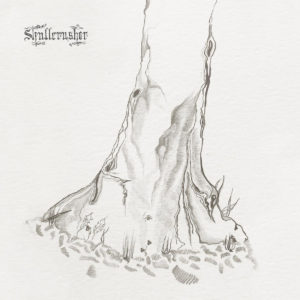 Skullcrusher
Storm in Summer
SECRETLY CANADIAN
7/10
With a name like Skullcrusher, the uninitiated might suspect this EP to be wrought with flesh-rotten guitars, blood-curdling feedback, and death metal lyrical imagery unfit to print—something even the cover art for Storm in Summer kind of suggests. But then, would any self-respecting death metal band write a track called "Song for Nick Drake"? Obviously not. And while that song—one of five on this sophomore EP—might wander off on its own forest ramble rather than trying to resuscitate the late, legendary English folk singer's style, his gentle pastoral soul is still present, his ghost listening on with approval, cigarette in hand.
Skullcrusher is the moniker of Helen Ballentine, a very not-death-metal singer based in LA. This EP is the follow-up to last year's acclaimed self-titled debut, and is just as resplendent and poignant as that first release. "Song for Nick Drake" was its lead single and for good reason—its evocation of lazy, carefree summer days (note the orchestral instruments and bird song recordings that pepper its atmosphere) and musical timelessness is, indeed, striking, but the other four songs here are just as affecting.
"Steps," for example, is a quiet rumination—or perhaps lamentation—on the uncertainty of the future, but also the comfort that comes with sharing your days with someone you love, even if you're actually alone and that somebody has yet to materialize. It's followed by the title track, a simple, easy-going song that sparks alive with Ballentine's remarkable vocals as they leap right out of the speakers and into your soul. "I wish you could see me," she sings sadly, repeatedly, "I wish you could see me start this storm." And in that moment, as the song winds up, history ceases to exist—there's nothing but an absence, a void, a lacuna.     
"Prefer," the final track here, has a slightly more experimental vibe, its lightly pulsating melody gradually building up and up to an unshakeable crescendo of loneliness, while opener "Windshield" shimmers with a dramatic poignancy, even if it's not quite as majestic as the songs that follow. It all makes Storm in Summer a worthy follow-up to what came before, and a sign that there should be plenty more great things to come.