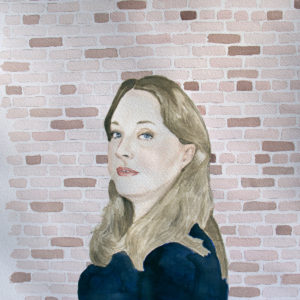 Dorothea Paas
Anything Can't Happen
TELEPHONE EXPLOSION
7/10
To listen to Dorothea Paas is to be melodically led astray in a very perplexing way. With a voice that lies somewhere between Joni Mitchell and The Roches, Paas' brand of indie pop is remarkably mature and delicately layered. As a veteran gigging musician, her debut full-length album, Anything Can't Happen, naturally carries that same maturity and confidence.    
At first listen, Paas' arrangements seem a little stale—but between the lines lie complex, lush contours and eclectically intriguing lyricism. Stylistically, Anything screams Toronto, with Paas' frequent musical collaborators—Robin Dann (Bernice, Bahamas), Steve Chahley (U.S. Girls, Partner), and Paul Saulnier (PS I Love You) among them—exemplifying the modestly eccentric nature of the city's music scene. 
Sure, she may get a little self-indulgent ("Anything Can't Happen," "Running Under My Life") at times, but those uninspired moments are quickly corrected by splashy, flowy wonder ("Frozen Window"), rumbling harmony ("Closer to Mine"), and soft acoustic sheen ("Perfect Love"). The record's silky overture, "One," and its transitionary instrumental break, "Interlude," both add character and depth to Paas' narratives. 
Perhaps the record's most enchanting track is the rolling "Waves Rising," the lyrics for which agonize over love, loss, and the challenges of both ("It's not easy, it's not easy, it's not easy to love / It's easy to hide and boil over with rage"). It's these tender and honest moments of musical freedom that make Paas such an intriguing songwriter and performer. When she lets loose and becomes one with the arrangements she's singing within, her songs soar and gain a magically dreamy quality. 
Overall, Anything Can't Happen is a solid and refined debut that gives Paas an excellent foundation for future musical exploits. Fans of cerebral indie pop will feel right at home here, with Paas' voice serving as a comfortable guide through layered arrangements that are equal parts warm and uneasy.