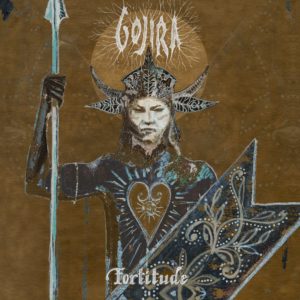 Gojira
Fortitude
ROADRUNNER
7/10
Metal is often snubbed by music's gatekeepers—ignored by mainstream publications, overlooked by awards ceremonies, belittled by those not in the scene. Not that any of those things really mean anything, but to some extent, it also makes sense. Heavy music is inherently a fringe affair—listen to how many artists talk about both being misfits and making music for misfits in their interviews. There are, of course, notable exceptions to that rule—Metallica, Iron Maiden, and Slipknot are three of the most obvious success stories in the genre's history in terms of transcending genre and tastemaker boundaries, but on the whole there still remains a prevalent idea that heavy music just isn't as good as something that's more accessible.
Over the past decade or so, Gojira have slowly but surely been becoming another exception to that ridiculous rule. Formed in Ondres, France in 1996 under the name Godzilla by brothers Joe and Mario Duplantier, the band changed its name in 2001 and released its first album, Terra Incognita, that year. Two decades on, the band have been nominated for two Grammys, have been on the receiving end of universal critical acclaim, and have become one of France's biggest musical exports. One listen to Fortitude, the band's seventh full-length, and it's both easy to hear why as well as remarkable that that's happened.
That's because although Gojira might have moved away from the technical death metal they were making when they first formed, there's no compromise whatsoever. From the moment opener "Born for One Thing" kicks off, the record in an excoriating blast of noise—a tornado of blastbeats, guttural growls, and devilish incantations that sets the tone for the rest of the album. "Another World," for example, is an anthem of unforgiving and hypnotic intensity, "Into the Storm" is a frenzied battle cry of a song that never lets up once, and "The Trails" is a sinister, slow-motion monolith of darkness.
Yet beneath the abrasive brutality, there is a real beauty, and—if you really want to get sucked in and read the lyrics—plenty of philosophical ruminations about the unsustainable systems humans have designed for themselves to live within. And sure, it might not be for everyone, but neither are Fiona Apple or Radiohead.