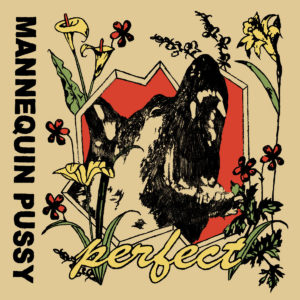 Mannequin Pussy
Perfect
EPITAPH
8/10
Mannequin Pussy's new EP Perfect—and this is a compliment—crosses the line into JCPenney commercial-core with the resurrection of gritty, simmering '90s punk on the five-track release which, like a department story, has something for everyone. Think Team Dresch or Bikini Kill assigned with the energy that comes to a boil then dies down within each song. As a malleable group of musicians, their flexibility manages through instrumental volume, vocal control, and consistent instrumentation. There's the familiar Mannequin Pussy and then there's a new side that glows; you can't quite see it until it's right in front of you, but you're intrigued by it anyways.
In a sprawling journey of puncturing vocals at times dialed down to a whisper, the album moves fast and packs plenty. Each song builds on an acidic cadence, and nothing feels sloppy. While a track like "Control"  sounds like their older work, "To Lose You," a dream-pop anthem, sits as an anomaly. There's a hint of overgrown yearning here, like reminiscing about a high school prom; it's a genre of nostalgia for a time you wouldn't have a desire to revisit. "Pigs Is Pigs," sung by Colins Regisford and packing a generous amount of punk energy, also hatches new territory for the band. 
Closing track "Darling" is perhaps the most surprising one from the handful. It's a light yet important touch, like a garnish sprinkled onto a finished dish. The song exists in a wanted loop, and absorbs like grape juice on a white tee; it's gentle, expansive, but makes its mark loud and clear. Between frontwoman Marisa Dabice and Regisword, though, the music still comes with that full head-on punk push. Whatever the occasion, Perfect is equipped with climatic build-ups, rustling guitar, and repetition that offers a friendly gateway into modern DIY punk.