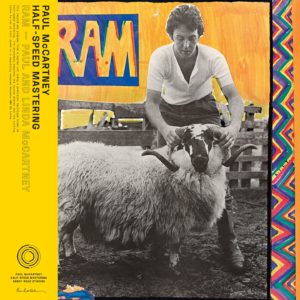 Paul & Linda McCartney
Ram [50th Anniversary Half-Speed Mastering]
CAPITOL
9/10
Imagined and executed in the seclusion of High Park Farm in Campbeltown, Scotland, many miles and spun-out universes away from the mess of his Beatles' break up, Paul McCartney's second solo album away from the Fab Four—and his first official album with his missus, Linda McCartney—is a fascinating counterpoint in its 50th anniversary, limited edition half-speed master rerelease to John Lennon's own new 50th anniversary Plastic Ono Band project. Where Lennon's hard remaster job brings clarity to what once were, in their original settings, annoying, murky vocals, this warm, mossy reissue of the deliciously and delightfully weird Ram wallows in the muck and mire of the Mull of Kintyre, and actually benefits from the dirtball proceedings of its homespun recording sessions and its homier, oblong songs.
You can all but feel the sod between your ears and the moist mist rolling in from the sea on everything Ram-my; from the folksy, pre-foodie-cultural, Buddy Holly–like "Eat at Home," to the grassy-knoll ditzy (yet contagious) "Monkberry Moon Delight," to the sun-dappled, indie-poppish "Ram On." A cluttered cut such as "Smile Away," with all of its banged-out drumming and slip-sliding vocals, could be the start of glam pop if it wasn't so grimy.
Where Lennon's solo material of the time, such as "How Do You Sleep," was filled with spite, bile, and anti-Macca sentiment, McCartney's Ram songs were the opposite—bucolic, earnest sprites shielded from his ex-partner's venom in its invisible, rainbow-toned shield of rustic theatrical pop tinged with boyish sexuality (e.g. "The Back Seat of My Car"), humble, home-drenched lyricism, and the inspiration of the British music hall. The hit single "Uncle Albert / Admiral Halsey" is a great example of such elemental textures and old-school vaudeville, as McCartney's Halsey can be heard gurgling under water—so too does Ram benefit from its sod, sea, and sky scene-setting.
And never let it be said that McCartney didn't have his own bitchy eloquence—on Ram, he just hid his snide side under a kitchen witch and a tomato plant. While "3 Legs" takes on his Beatles as little more than dispensed-with appendages, "Too Many People" focuses on  Lennon with one icy lyric ("That was your first mistake / You took your lucky break and broke it in two") and one of Ram's sweetest melodies. Nothing better to get the bad medicine down than a spoonful of sugar. Fifty years on, and with its dusty guts intact, and blasted out louder and clearer than ever, the McCartney's Ram slams.