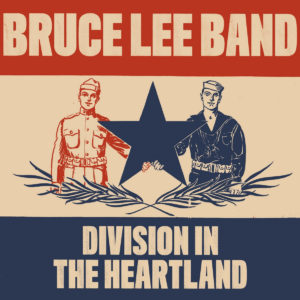 The Bruce Lee Band
Division in the Heartland
ASIAN MAN
7/10
There's a sad and dire lack of Asian representation in American music, not least the punk rock scene. As founder of the influential Asian Man Records, which has released albums by the likes of Alkaline Trio, Joyce Manor, AJJ, The Lawrence Arms, Lemuria, and Bomb the Music Industry!, and as a member of ska-punk stalwarts The Chinkees, Skankin' Pickle, and The Bruce Lee Band, that's something Mike Park, a Korean-American, has always aimed to counteract. While those things in themselves are political acts—much as they shouldn't be—there's no mistaking that Division in the Heartland doubles down on that intent.

Active—albeit sporadically—since 1995, the Bruce Lee Band line-up now includes Bomb the Music Industry!'s Jeff Rosenstock, and finds itself as boisterous, relevant, and energetic as ever before. Kicking off with the rough-hewn, horn-laden energy of "Say Goodbye to Yesterday," Heartland makes rebellion sound like fun, merging the importance of its messages—equality, equity, identity, and, most importantly, an overtly anti-racist worldview—with joyous, ebullient, and positive musicality. 
That's most evident in the title track, which immediately rails against the economic and racial power structures in American politics that uphold the status quo. "Men in high places, afraid of mixed races / Pledging the flag to defend racist cases" proclaims Park with an understated venom. If Mitch McConnell had an ounce of humanity flowing through his veins, it might cause him to reassess, well, his entire life, but the fact that he—and all the other soulless corporate politicians on Capitol Hill, Republicans and Democrats alike—will probably never hear it only adds to its potency.

And then there's "BLT," a breakneck track which features Rosenstock singing what Park has called "pre school level" Korean lyrics. No matter. The song itself—all 88 seconds of it—is rambunctious and catchy as hell. Run the lyrics through Google translate and you get the following: "This is really delicious / Want some more please / I have no money / Have no health / Help / I have no money." Has there ever been a more scathing, excoriating, concise indictment of the American Dream and the U.S.'s cruel for-profit healthcare system? Probably not. Kick out the jams, motherfucker.