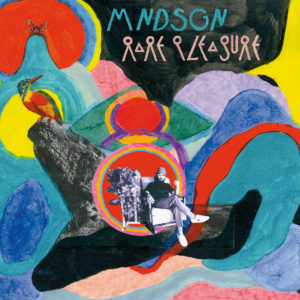 Mndsgn
Rare Pleasure
STONES THROW
8/10 
Listening to Mndsgn's Rare Pleasure feels like receiving a mixtape from a friend you haven't heard from in a while—they live on a beautiful island far away and send you a 13-track compilation of songs which not only seeks to ask how you've been all these years, but also aims to capture the ambience of their peaceful and meditative rhythm of slow living. The Filipino-American producer's newest LP is a preservation of blissful, temporary moments that usually escape once you open your eyes and exhale, an evocation of seeing the sun peek through green foliage, of smelling the crisp air that comes during the changing of seasons, of watching kids hold hands when they think no one is watching.
If you don't know Ringgo Ancheta's music, it's time to get familiar. The LA-based, Jersey-born producer is no stranger to stringing together beats incorporating '80s funk, soul, jazz, and samba as he effortlessly combines the most intimate elements of these genres to express joyful and vibrant musical energies. And his influences seem to stem more from interpersonal experiences than anything else—from being raised on gospel music at church, to coming from a culture of b-boying at home, to forming the Klipmode collective with fellow beatmakers like Knxwledge, Suzi Analogue, and devonwho before relocating to sunny Los Angeles in 2011. 
Rare Pleasure is Mndsgn's first proper album since 2016's Body Wash, which highlighted the producer's ability to pull at the strings of nostalgia by weaving together '70s synths and funk sounds. Rare Pleasure, though, reveals Mndsgn's strength as an ever-evolving artist as he more heavily integrates his own vocals and taps into his skills as an arranger with collaborators like Swarvy, Kiefer Shackelford, Will Logan, and Carlos Niño. In "Hope You're Doin' Better," Mndsgn dreamily follows the title's wish with the sincere promise, "You're not alone / You know you got a friend whenever you need one / Pick up your phone." 
For Mndsgn, genuity is a simple card to play, and one that is valued above all else. In the R&B-inspired closer "Slowdance" he suggests, "If you slow dance / I could really take time to get to know you better," as he harps on the theme of soaking in one's time—of not being afraid to take things at a walking pace and watch the pieces fall into place. Even in songs like "Colours of the Sunset," Mndsgn's voice transcends subtle percussive beats and winding keyboard melodies as he wistfully sings, "Love can take us far."
Rare Pleasure acts as an inward reflection into Mndsgn's personal sentiments, shared as a form of catharsis for others. Whether listening to Rare Pleasure while sitting on the beach or on a stroll through an age-old neighborhood, the echoes of familiar and colorful melodies throughout are reminiscent of the ebbs and flows of life—which sometimes dip deep into undiscovered valleys before floating high into velvety skies.