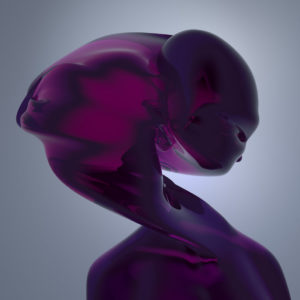 Loraine James
Reflection
HYPERDUB
8/10
Loraine James makes restlessness an aesthetic, producing works that are constantly jolting, jerking, twisting, jumping, and moving one way or another. On her newest album, Reflection, the London-based artist proves that she's a master at engineering controlled disorder, effortlessly playing with percussive beats and sounds generally considered "experimental" with a confidence that enables her to weave seemingly unrelated textures into the same pattern.
While the pandemic prevented James from performing her club music live, it's clear that the electronic producer took that pent-up energy and channeled it directly into her recordings. Over the last year, it seems that James has barely been able to catch a breath, releasing demos from For You and I in early March last year, her EPs Bangers and Mash and Hmm last summer, Nothing last fall, and now, her long-awaited 11-track LP Reflection, which is also her second album with London-based electronic music label Hyperdub. And much like all of James' works, Reflection is undeniably entangled with the artist's experiences as a young Black queer woman—only this time, she's navigating her existence in a year that suddenly came to a halt.
From its opening track, "Built to Last," Reflection asserts a base-toned dominance; unflinching percussive beats meld with the Auto-Tuned voice of Zurich-born producer and vocalist Xzavier Stone. And while beats may heavily pulse on songs throughout the album, they never stay still—melting into digital-sounding fusions or meshing with newly inserted vocals—always shifting form, but never changing shape. One of the most prominent vocals come onto the track "On the Lake Outside," which features American electronic musician Baths. His voice, although higher-pitched and sing-songy, brings a slow calm to Reflection, as he repeatedly reveals, "I always was a little off / But I get up and get on." There's an unbothered credence that emulates from his tone, and one that ties together the relentless flow of jaded rhythms. 
Amidst expressions of her emotive style, James ensures that she leaves ample room on the album for play. On "Self Doubt (Leaving the Club Early)," she candidly experiments with familiar video game sounds—this time, it's the ones you hear when frantically mashing buttons in a Super Mario game. Running adjacent to such syncopations, James murmurs, "I know you might not like this one / But it's just fun, " referencing the nerves that sometimes come with a live performance.
Appropriately closing the album is the densely compact track, "We're Building Something New," featuring Iceboy Violet. The Manchester-based artist raps over instrumentals that gradually build throughout the piece, as piano chords and riffs stack on top layers of simple percussive taps and fabricated glitchy noise—a pyramid that holds the pleading tone of Violet's voice at its tip. By the end of Reflection, we're thoroughly dazzled by an unapologetic and sometimes dizzying inner space—defined not only by infused electronic sounds, but also by James' unwavering willingness to clash, jitter, and play—turning her impulses into music that catches you in its trance.