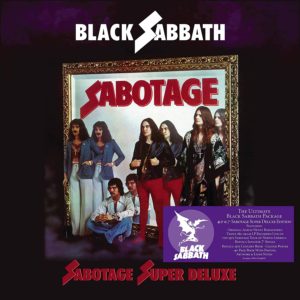 Black Sabbath
Sabotage: Super Deluxe Edition
RHINO
8/10
Earlier Black Sabbath albums such as Paranoid, Masters of Reality, and Vol. 4 certainly served up their share of dense and memorably contagious gothic anthems, the likes of which cemented Ozzy Osbourne, Tony Iommi, Geezer Butler, and Bill Ward's reputation as dank, sludgy overlords (or is it "underlords"?) of metal. Yet the last black sip of Sabbath's classic six-pack and the final gasp of great ghoulish Ozzy lyricism and vocal prowess, 1975's Sabotage, is the least appreciated and understood of the mean quartet's albums, as well as its most diverse. This super deluxe edition happily offers more of Sabotage's mind-expanding madness in demo form, a never-before-released live album from its 1975 tour, and explosive re-mastered sound.
Rather than focus on demons, dragons, and darkness, the heavy ensemble let real-life angst and anger (especially the bitter breakup and issues of betrayal between themselves and their longtime management) and slivers of light into its treacherous arrangements, songwriting, and sonic skills. Combine that with the quartet's passionate follow-up on the funky futurism of prog-metal and atmospheric synthesizers that first reared their head on Sabotage's immediate predecessor, Sabbath Bloody Sabbath, and their sixth album is often as poignant as it is propulsive—and filled with Ozzy's vocals at their most powerful.
The morose paranoia that gave birth to its biggest hit of the same name is gone—instead, Sabotage's songs, such as the glum, dusky "Megalomania," paint a plum portrait of distrust and denial. The synth-driven "Am I Going Insane (Radio)" might be overly simple and repetitious, but that lean (and yet melodic) brand of hypnotic riffing is what gives the album its heft on the speedily buzz-sawing and way sinister "Symptom of the Universe." And while "The Thrill of It All" and "Hole in the Sky" make for some of the most surprisingly chilling and melodic moments of the Sabbath canon, and the expansive "Supertzar" its most experimental (with harp and an English chamber choir), nothing is better and more buoyant than hearing Osbourne at his full-bodied (and full-blooded) finest, especially through the mood-swinging, lengthy complexity of closer "The Writ."
The 16-track live album accompanying the Sabotage box is as bold, enigmatic, and cinematic as its then-new album with "Sabbra Cadabra" and its earlier LP cousins built up and broken down and matching the expansion represented on its fresh 1975 album with Iommi in particular turning "Megalomania" into something murky yet mystical, and the "Supertzar"/"Killing Yourself to Live" medley showing off what a newly invigorated Sabbath could have been if they didn't collectively lose their vision and fortitude.