When an artist releases new music for the first time in years, it's tempting to think: "Were they just doing nothing the whole time?" We often deceive ourselves into thinking our favorite musicians don't exist outside creating, recording, promoting, and touring their music, which just isn't realistic. We also might expect new albums from musicians every two years when, in reality, the creative process is far more complex and arbitrary than a rinse-and-repeat cycle. And that was before COVID (maybe you've heard of it) delayed endless album releases. Off the top of my head, I can name at least four June 2021 releases that were completed before the pandemic—as in, over a year ago.
Broken Hearts & Beauty Sleep, the 35-year-old genre-defying performer Mykki Blanco's first batch of new songs in five years, is one of them. The nine-track, 28-minute mini-album will inevitably invite labeling as Blanco's "return album," as though they had previously departed music. As they tell it, that's not quite correct. Broken Hearts, which electronic musician FaltyDL produced, is the result of an incredibly productive few years. And it's not their only music from this period: There's a completed Mykki Blanco album on deck for 2022 and one nearly finished for 2023.
"I basically worked all of 2018 and 2019," Blanco tells me via Zoom a few weeks before Broken Hearts' release. "Then, with everything being delayed in the pandemic, it was a chance for me to go back in and edit and revise." The global pause proved fortuitous for them: "I wanted to make a shift in how I created music. I wanted to do the inner sonic work to take ownership of my compositions," they say, and lockdown gave them the space to do both.
Blanco's noble, and ultimately successful, goals partially stemmed from their music being labeled hip-hop—and especially the non-existent genre "queer rap"—when it's always been so much more (this false boxing-in isn't uncommon for Black musicians). "I haven't been making hip-hop [for a while], but people have labeled it hip-hop because I was rapping," they say. This was true of their noisy early output and the often-cinematic arrangements of their 2016 album Mykki, and Broken Hearts & Beauty Sleep is their liveliest foray beyond rap to date. Here, they very intentionally venture into the always-exciting terrain of using a live band for the first time. "There is an energetic and sonic response that you get from the body," they say, that can only come from full-band performances, rather than DJ-backed sets. Plus, with so many musicians behind them, they get to dabble in myriad new genres as they perfect their live show. 
"I wanted to make a shift in how I created music. I wanted to do the inner sonic work to take ownership of my compositions."
On the Blood Orange co-production "It's Not My Choice," you can practically see Blanco going off on-stage flanked by a baby grand and a saxophonist as they deliver simultaneously clever and ridiculous lines like "takeout on the couch, that's beef with you" and "I'm high on the beach, Lana please save me!" On "Want From Me," Blanco straight up sings in a near-baritone, and the instrumentation blossoms into a bossa nova–like arrangement of woodwinds and classical guitars. Broken Hearts' genre-hopping reflects Blanco simply having fun with other musicians and sharing that joy with their listeners. And just like the music itself, this freedom and looseness is the culmination of several journeys.

By now, you're aware that you're reading about a queer non-binary artist. You might thus expect this story to delve into trauma porn or inspiration porn. Neither applies to Blanco (and, while we're at it, plenty of other queer non-binary people). Sure, their life hasn't been challenge-free (whose has?), but nothing so often ascribed to queer non-binary folks—especially Black queer non-binary folks—applies to Blanco. The big one that comes to mind is the assumption that deviation from gender or sexuality "norms" leads to you being outcast from your family or treated poorly, even from a young age when other people might suspect you're queer before you yourself know. This couldn't be less true for Blanco.
When they speak about their family and younger years, their face remains lit up in reflective wonderment. "My mom was a very creative person," they say before adding animatedly: "She doesn't consider herself creative, but she is actually a very creative person." They're elated to paint a full, nuanced portrait of their mom—that's love. "Growing up, my sister was very, very creative," they add before gushing over her numerous talents: acting, dancing, poetry. Their voice becomes audibly louder and more enthusiastic as they discuss how great their brother, Jay Cue, sounds throughout his guest feature on Broken Hearts' "Love Me," which is more likely to gently tap on your trunk than rattle it. Cue guides the final 90 seconds of the song after an already impressive run from the song's other guest, modern electro-R&B titan Jamila Woods.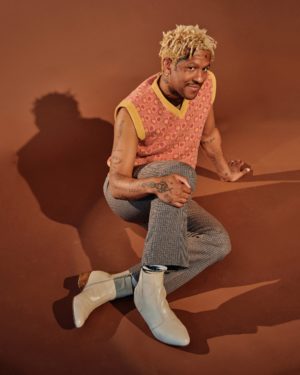 Blanco is thrilled to use their platform "to expose more people to [my brother]," whose guest feature holds special meaning since, growing up, he wasn't around often—he lived with Blanco's dad, with whom Blanco isn't as close. Instead, they say that the people who most supported their creativity in their childhood were their sister and paternal grandmother. They both recognized that Blanco, as a kid, "was so into writing that…I would be excited to get stacks of paper, because I really enjoyed writing stories." They also excelled at and enjoyed anything even remotely artistic or creative: painting, Play-Doh sculpting, building treehouses and forts.
When Blanco was 14, their drama teacher noticed their spark and exposed them to performance art. They say this catalyzed their creative journey toward musicianship (though they took 11 years to jump into that pool—they didn't start making music until they were 25). "I remember having my mind blown because I had never seen anything like these underground, transgressive forms of people," they say, not quite completing the thought before noting that "when you're 14 years old, seeing someone paint themselves blue and dance to electric drums naked in this weird theater context…feels like an affront to society." As we talk, Blanco often has so much to say to any individual question that they frequently complete 95 percent of a thought before moving onto a related one, almost as though a meaningful answer will disappear if they don't prematurely wrap their current one. It's the mark of a mind that's constantly forming new, insightful connections and ideas.
"I remember having my mind blown because I had never seen anything like these underground, transgressive forms of people. When you're 14 years old, seeing someone paint themselves blue and dance to electric drums naked in this weird theater context feels like an affront to society."
Around the same time that Blanco first experienced performance art, a childhood friend turned them onto genres as diverse as anti-folk, riot grrrl, and garage rock. Retrospectively, these genres' irreverence loosely guides Blanco's early work, but Broken Hearts & Beauty Sleep sounds like none of these styles. That's partially because Blanco wasn't aiming for just one sound: "I think you have these inner riffs that you've heard so many times, you don't even realize you're referencing them." They did, however, honor one band from their youth in particular as a guiding light. "The way they're genre-splicing and genre-hopping," they say of Jamiroquai, "as a kid, it just blows your mind."
Blanco clearly remains fond of this disregard for boxes. They have a knack for throwing disparate genres into a blender to make a coherent song, then combining those disparate songs into a box to make a coherent album (OK, "mini-album"). On Broken Hearts & Beauty Sleep's "Patriarchy Ain't the End of Me," they employ an ominous, baroque string treatment on the same track where they address sex work, a topic more common in hip-hop than classical or chamber pop. The featherlight 808 shuffle and handclaps of "Trust a Little Bit" are indebted to house, but Blanco's flow is so asymmetrical to the beat that their words almost resemble slam poetry. "Free Ride," the album's catchiest song, pairs trap kicks with Balerian bongos, ritzy synth blips, and soaring vocal harmonies. It's the most upbeat thing Blanco has done to date by some distance, and it almost didn't make Broken Hearts until they recruited Hudson Mohawke to uplift it. "Once that felt settled," they say, they had an awakening.

Think back to the last time a couple you knew (or maybe you yourself) had a healthy breakup. A truly healthy one: a rational, mutual agreement to dissolve the partnership, a lack of dramatic blowouts, a well-kept promise to remain friends, an experience that didn't affect your emotional well-being nearly as much as a harsher decoupling—or so you let yourself happily believe. Sounds rare, right? At least in my experience, I've noticed it happening more often, so I didn't think twice when I learned that Blanco went through such a breakup in recent years. Blanco also didn't think twice about this breakup while they wrote Broken Hearts & Beauty Sleep. Only long after they finished the record did they notice something big.
"It wasn't until November 2020," they say about Broken Hearts—which, again, they wrote in 2018 and 2019—that "it kind of dawned on me, I was like, 'These are a lot of love songs.' It was this epiphany of, 'Oh my god, I haven't even realized that lyrically and thematically, these are all love songs!' And then I thought, 'Well, this makes sense, because I've just gone through a breakup.'" As they wrote the album, they say, they weren't "in the studio actively thinking about my partner," and they didn't feel anywhere close to the whole so-depressed-they-can't-get-over-the-breakup mood so common in movies and TV. 
That mindstate doesn't initially scan as part of the album, as Blanco's new music is often the most exuberant they've sounded to date. Yet listen closely to the lyrics, and the dominating theme is clearly a need to return to love. The music initially pulls the wool over your eyes, and if you feel foolish for being duped, remember that even Blanco fell for it. "Even though there may be two or three screens of, 'I'm not actively sad or depressed about this thing that happened in our relationship,'" they say, "[When] someone starts playing a guitar riff a certain way, and then we've added drums in this way, and maybe it becomes a little solemn, or maybe there's something about it that starts out sultry and becomes somber, then all of a sudden that sets off a domino effect…that evokes an emotion you didn't realize was still dormant in your subconscious about what you've been going through."
"It wasn't until November 2020 that it kind of dawned on me, I was like, 'These are a lot of love songs.' It was this epiphany of, 'Oh my god, I haven't even realized that lyrically and thematically, these are all love songs!'"
Few artists can summarize the appeal of their work so succinctly. Broken Hearts & Beauty Sleep often reads as the stability that accompanies the latter masking the gaps left by the former. "What I wouldn't do for love," sing the vocalists who guide the euphoric, sparkling chorus of "Free Ride," just as they croon "I need you" on "Trust a Little Bit." "I want you out of my head, and back in my bed / Please come home," Blanco says—not raps or sings, just says—as "It's Not My Choice" draws to a close. These moments are easy to miss at first, given how captivating Blanco's unexpected switch to—in their words—"organic" instrumentation sounds, and that's exactly (though unintentionally) the point. We go through life in a sort of wakeful beauty sleep: Even when we're doing great, we have no shortage of unresolved feelings to reckon with.
It's never quite clear from talking with Blanco whether they'd say Broken Hearts allowed them to resolve those feelings. What is clear, though, is that releasing their first new music in five years has them enthusiastic about their future. "There's nothing like releasing your own new music attached to a release…that you feel really good about," they say about Broken Hearts and their past five years. "I think it's pretty healthy to take some time away, because now," they add, and then, with all confidence, no arrogance, and a bit of a laugh, they complete the thought: "I'm about to be in your face and not go away for another four to five years." FL