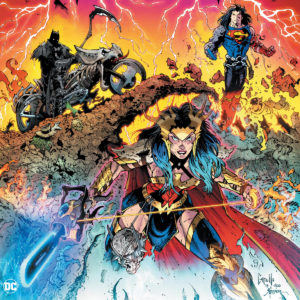 Various Artists
Dark Nights: Death Metal Soundtrack
LOMA VISTA
6/10
In recent years, Marvel has taken the world by storm thanks to their widescreen adaptations of their comic books. Iron Man, Avengers, Deadpool, Guardians of the Galaxy, Ant-Man, and Black Panther are just a few of the franchises that have made the company one of the world's leading entertainment powerhouses. While DC Comics counts the likes of Batman, Wonder Woman, and Superman among its characters, it hasn't really been able to compete with the barrage of blockbuster adaptations from its main rival.

That doesn't mean DC Comics aren't still battling for commercial and artistic supremacy, however, and this soundtrack is their latest attempt to do just that. Touted as a first-of-its-kind, Dark Nights: Death Metal is a collection of original songs inspired by the comic of the same name that DC released between June 2020 and January 2021. And while this collection does veer toward the heavier side of things, the comic's title hasn't dictated the artists who contributed. 
A case in point is Manchester Orchestra's portentous "Never Ending," which is every bit as sublime as the songs on their recently released sixth album, The Million Masks of God. The mesmerizing, hypnotic atmospherics of Chelsea Wolfe's "Diana" are similarly stirring. Political punks Rise Against offer a typically breakneck but melodic charge of ambiguous rebellion, while "Sodium" by IDLES is a sinister post-punk chug that offers more sonic nuance than their songs usually do. Interestingly, Show Me the Body's nihilistic slacker hardcore sounds more like the British band, albeit with a darker, less forgiving edge.

Elsewhere, there's the swollen sludge metal of Mastodon's "Forged by Neron," the frenzied terror-rap of Denzel Curry's "Bad Luck," the lovely, lilting, heartbreak of Soccer Mommy's "Kissing in the Rain," the intense black metal of Carach Angren's "Skull with a Forked Tongue," the breakneck, late night, Twisted Sister–esque romanticism of "Anything, Anything" by Grey Daze, the first (and recently reunited) band of late Linkin Park singer Chester Bennington, and a few collaborations featuring musician/producer Tyler Bates, who scored Guardians of the Galaxy and oversaw this compilation. The best of those is the experimental drone of "Anti-Life" with LA noise-rock supremos HEALTH and featuring Deftones' Chino Morino on vocals. As a whole, it sort of coalesces into an uneven, sloppy, and incohesive mess of sound, but the parts are actually better than the whole, and there are nevertheless some real gems to be found here.