Brett Newski has always forged his own path. Whether that's by playing songs inside Walmart until security kicks him out, touring unconventional venues such as apartments and convenience stores in Thailand, Hong Kong, South Korea, and the Philippines, hosting a podcast in which he talks to musicians about the weirdness of life on tour, or deciding to make fun of his own depression in a book, the 34-year-old slacker-punk/folk-rocker has made a career out of doing things his way. The latter example is the latest chapter—literally—in his artistic career. After posting some drawings poking fun at his own anxiety and depression online, Newski got the idea of making a full book about it. It's Hard to Be a Person: Defeating Anxiety, Surviving the World, and Having More Fun is that book, and it's a practical, humorous, and irreverent guide to overcoming his (and, by extension, our) inner bully that tries to kick us down and keep us there.

"In the past, I've seen it as taboo to take a humorous angle on mental health," he shares with us. "However, I feel humor is the thing that helps me most with anxieties and depression. 99 percent of the things we worry about are nonsense, so it's important to laugh in the face of these anxieties, because they're truly irrational fears. The concept of the book is to use satire and humor to defeat the 'inner bully' that comes with anxiety struggles."
The book—four pages of which can be seen below—also comes with an eight-song soundtrack. Lead single "I Should've Listened to Ferris Bueller" was resurrected from one of many early lyrical ideas he found tucked away in a notebook during lockdown. It all combines to create a useful, enjoyable, poignant, and funny self-help-in-a-good-way guide to navigating our way out of the lows and lowers of modern life, anxiety, and depression.

"My brain attacks me all the time," says Newski. "I get into what I call 'toilet bowls' of despair, where I just catastrophize the worst case scenarios of a situation. It's completely irrational and a waste of energy. When this happens I try to realize I'm inside the toilet bowl. The goal then is to step outside of myself to witness how silly these worries are. I don't always succeed at this, but it's generally helpful. Self-awareness can be hard to come by during a 'toilet bowl' spiral in the brain. No matter how permanent they feel in the moment, they're always temporary." 
You can preview four pages of the book below, and order it (along with the album) here.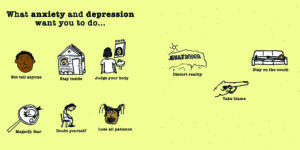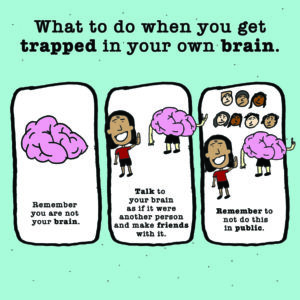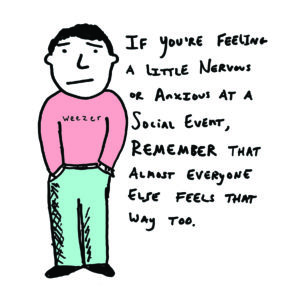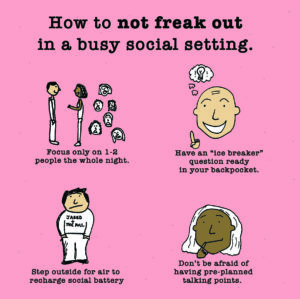 If you're in the Midwest, you can catch Brett on tour later this year at the dates below:
07.09 – Louisville, KY @ Bicentennial Park
07.17 – Wisconsin Dells, WI @ Riverfront Terrace
07.20 – Rockford, IL @ Anderson Gardens
07.22 – Oshkosh, WI @ Waterfest
07.25 – Milwaukee, WI @ Shank Hall (Book Launch Party – Day show at 1pm)
08.07 – Appleton, WI @ Mile Of Music Festival
08.13 – Appleton, WI @ Fox River House
08.19 – Charlevoix, MI @ Charlevoix Concert Series
08.20 – Flint, MI @ Blackstones Smokehouse
08.21 – Davenport, IA @ Alternating Currents Festival
09.03 – Normal, IL @ Desthil Brewing
09.04 – Cambridge, IL @ Ca d'Zan house concerts (solo)