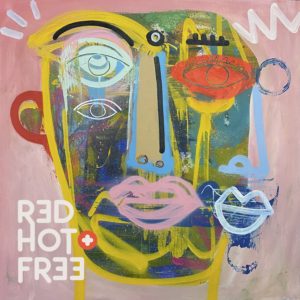 Various artists
Red Hot + Free
RED HOT
8/10
Thirty years since the creation of the HIV/AIDS-fighting Red Hot organization and its various artist debuts, hundreds of renowned vocalists, musicians, and producers have stretched the boundaries of cover songs and self-penned originals all for the soulful sake of dramatic tune-making and positive, forward-moving charity. For Red Hot + Free, its first new release in five years—this time with proceeds benefiting the Ally Coalition, Trevor Project, and SAGE, and dedicated to the heights of queer club music—Red Hot beats as it hasn't in quite some time while pushing its participants further and harder than you may have imagined.
Namely, I'm talking about Billy Porter, the star of the LGBTQIA-focused Pose who, before that FX series, was known for his blissfully soulful jazz-vocal albums and his star turn on Broadway in Cyndi Lauper/Harvey Feirstein's Kinky Boots. On the Chic-y, house music–driven "Caught in the Middle," Porter's fluidly spirited and energetic baritone rubs against the sleek, slap-happy percussion without a hint of recognition toward his familiar Pray Tell character. Plus, it's a true throwback to house music's glory days with its heavenly ascendant melody and Porter's "l-o-v-e" call.
From there, the ring-my-bell tinging, fretless-bass-filled "Elastic" from CRICKETS (a Wally Badarou homage, if I ever heard one) and the legendary Ultra Naté's take on a magnificently epic "Free (Live Your Life)" show off the power of house music at its most dynamic and inventive, yet hewing toward the traditional. (And seriously, in another very realistic world, Ultra Naté should have been as worldwide as Rihanna.)
Dance traditionalists aren't the only ones who try their hand at old school house. Indie favs Louis the Child and Foster the People go for "Every Color (Dombresky Remix)" and find the scream-sampling and silvery string orchestration to their favor. SOFI TUKKER and the Afrobeat marrieds Amadou & Mariam go for a James Brown click-riffing epiphany, courtesy of "Mon Cheri." The Aces go for bloopy, jazz-soul house, whirring synthesizers, and spit-take scatting on "Daydream (Snakehips Remix)." Fischerspooner uber-boss Casey Spooner makes with a darkwave house slap on "I Love My Problems (Boys' Shorts Dancefloor Remix)" that would've sounded perfect as a Depeche Mode remix in 1982.
Tying it all back to house's roots in four-on-the-floor disco, Gloria Gaynor gets a new shot/shout at the brassily anthemic "I Will Survive (Eric Kupper Dub Mix)" with just enough future-forward spaciness to match her husky, empowered prowess. With all that, Red Hot + Free has its hot house-filled hands in the past and present, while looking to the future of sound, love, and beneficence.