GZA pushes the limits. The Wu-Tang Clan member—also known as The Genius—infuses his lyrics with double and triple entendres, often spinning stories that require multiple listens to catch all the references and meanings. The New Yorker's well-crafted rhymes established him as a revered writer and conceptual master, someone whose 1995 album Liquid Swords is widely considered among the best solo projects released by a Wu-Tang Clan member.
In addition to working on his long-awaited Dark Matter LP, GZA is scheduled to headline his first in-person concert since COVID on July 17 at Rumsey Playfield in New York's Central Park, home of the SummerStage. GZA will be playing with his full band at the show, which is part of the JBL True Summer campaign. Funk Flex will also have a DJ set at the event, which is free until capacity is reached. You can RSVP here. 
In our Q&A, GZA discusses what he's looking forward to about his first live performance back, a mistake he made while crafting his Words From the Genius LP, working with DJ Muggs, and how he approaches writing his raps.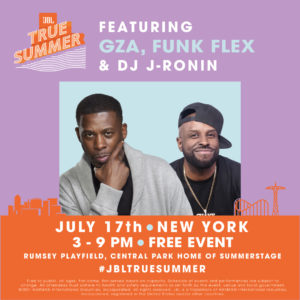 You're playing with your full band for the JBL True Summer Campaign concert—what made that something that you wanted to do?
It's an outdoor venue. I think sometimes those venues work better with a band, for me, as far as the atmosphere. It's cool to switch it out sometimes, but I just thought it would be better to do that outdoor event with a band instead of a DJ.
Since you've been performing regularly since the early 1990s, but haven't performed in-person in more than a year, is there anything you're intrigued to see about performing in-person again?
It's not anything in particular I'm looking forward to seeing, other than a crowd—just to get back into the motion again and observe their reaction and how they're accepting it. I think a lot of people are looking forward to concerts now, being that it's been 15, 16 months, or maybe more, since they've even been to a concert. So I'm excited to get out there, be outdoors with the band and in a park, at that. Every now and then I walk in Central Park—I walk around the lake. So this is a cool thing. I'm just looking forward to rocking the crowd with the band again.
"I went to DJ Muggs' room and he started playing these beats on his laptop. A lot of it was funky samples. Some of it was soulful. If I would've closed my eyes and we hadn't had that conversation looking at each other, I probably would've thought RZA was playing some of these beats."
Through your work, you've used samples and breakbeats. On the performance side, how is it different performing over records with a DJ versus with a live band?
It's quite different. There's a set time for both, as far as the tempo. But with a DJ it's a little different 'cause sometimes the DJ does some talking. Sometimes there's scratching involved, but I think both of them complement each other. There's been performances with the DJ and the band because sometimes live drums may not knock as hard as a sampled drum. Drums now are different than drums in the '60s. The snare and the kick sound quite different, and those were the snares and the kicks we were sampling in early rap music. They had a different pop and sound. 
Performing with a band is almost like being in a studio, because you can hit certain buttons and turn certain things off. You can just have the hi hat running, or you could just have the kick running, or the bass running, or the violin going low. So it's kind of like being in a studio where you can eliminate certain things and only have certain instruments playing. And that's good for a live crowd sometimes. The live bands do that when they drop certain instruments and the artists speak to the audience or have something to say while the background music is playing. It creates a certain atmosphere that's cool to vibe with. You don't really get that from DJs. They're different in their own ways. It was cool to rock with a DJ. We started performing with a DJ in the early days—some groups were using live bands before they actually started sampling.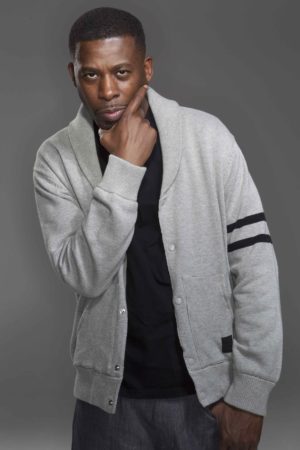 People are of course enamored with your Wu-Tang Clan and early RZA-produced solo material. I also thought your 2005 Grandmaster LP, produced entirely by DJ Muggs, was particularly stellar. What made that LP distinctive?
I linked up with Muggs in Manhattan one day and he wanted to know if I would be interested in doing an album called Grandmasters with him. I went to his room and he started playing these beats on his laptop. A lot of stuff he was playing sounded like RZA. They have different styles. I'm not saying Muggs was biting from RZA or vice versa—it's just that he was playing stuff I liked. A lot of it was funky samples. Some of it was soulful. If I would've closed my eyes and we hadn't had that conversation looking at each other, I probably would've thought RZA was playing some of these beats.
He played about 13 beats and I liked eight of them off top, maybe nine. I started listening to them and I think I wrote that album in two weeks—and I don't write like that. I take five, six years. People have been waiting on my Dark Matter album for 10 years. It's because I take breaks and I'll just chill, but I work hard when I'm under pressure and when I know there's a deadline. He didn't really have a deadline, but I was out there on a budget. So it wasn't like I was just chilling. It was done kind of fast.
"It's almost like scoring a movie. Sometimes a composer can read the script and it's composed from that. Then sometimes he can watch the movie without the score and score it from that. It's the other way around for me."
One of my favorites on Grandmasters is "Exploitation of Mistakes," which details a murder case. It's not a standard rap storyline, though. What was the genesis of that idea?
I like to tell compelling stories in a different way, not on a surface level. I want there to be some level of investigation, some sort of sophistication in the crime, or whatever it may be. It all comes from outside influences. It could just be me watching a great movie and thinking of writing something. But I like to switch it up. I don't want everything to be just straight street stuff, just party stuff, or just happy stuff. When I did Words From the Genius, I went into that album with that idea, but it was almost kinda forced. It was like, "You know what? I've gotta have a song about poverty, I gotta have a song about the streets, dealing, I've gotta have a party song," because my manager was kind of pushing that. He was like, "You need everything, you need to be well-rounded." 
When I went into Liquid Swords, I wasn't thinking like that. I wasn't thinking, "I need something that's up-tempo." I was just thinking of ideas I can write and finding beats that can fit it. It was the same when I worked with Muggs. It's almost like scoring a movie. Sometimes a composer can read the script and it's composed from that. Then sometimes he can watch the movie without the score and score it from that. It's the other way around for me. When Muggs played that "Exploitation of Mistakes" beat, I said, "This is a murder crime song." Automatically. That eerie beat at the beginning, that's how it worked for me. FL