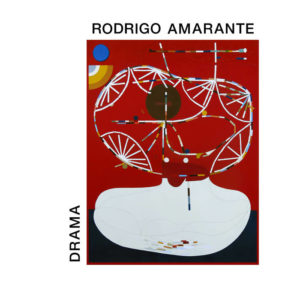 Rodrigo Amarante
Drama
POLYVINYL
7/10
Imagine, for a moment, being born in Rio de Janeiro with the softly sonorous tones of samba, bossa nova, and the folk-psychedelia of Tropicália to consider as its swaying, jutting traditionalism—a lengthy history of inspiration and malleable musicality that includes Jobim, Costa, Conte, Veloso, and Ze. Throw the poetry of penury and the ages-old messiness behind Brazilian socio-politics into the mix, make sure romance, existential ennui, and the human condition are part of the overly-rich blend, shake like a martini, toss like a terrible night's sleep, and welcome singer, songwriter, and multi-instrumentalist Rodrigo Amarante. If you don't know Amarante from his roles in the Rio rocking Los Hermanos, the samba-riffic Orquestra Imperial, or Little Joy with The Strokes' Fab Moretti, shame on you and start Spotifying. Watch Netflix's Narcos on pause, and let Amarante's "Tuyo" theme song soak in, as well.
Drama, his second solo album, is the work of a most vexingly imaginative, subtly unpredictable, and ruminatively humorous songwriting singer and player/composer. Starting off his sophomore solo effort with an overly saccharine, epically theatrical title-tune-as-instrumental sets us up for any number of weird sonic shifts (or a play's acts), with the mannered, sandy-shore art song of "Maré," the spooky, cluttered "I Can't Wait," the groovy, horn-driven "Tao," and the smoldering bossa nova of "Tara" creating the forward motion of a staged melodrama. Using that title as a signpost, and the theatricality that plays out throughout Drama, it's, as if Amarante is setting us up for a form of tension-filled Tropicália telenovela, with several hammily played and torridly told tales and tunes weaving an amusingly interwoven spell while rushing to a singular denouement.
Why not wrap things up with "The End," a groggy, piano-filled ballad that shows Amarante's command of text and story structure, as well as the full album's wealth of craggy textures and shifting tones? Theater producers: start the bidding now. Drama is not a concept album held together by one thread. Instead, it's a multiple-concept-laden recording, jauntily knotted by many colorful strings and swings, with Rodrigo Amarante as your most jovial romancer, host, and ringmaster.