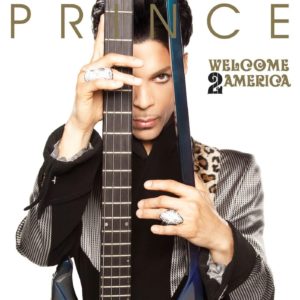 Prince
Welcome 2 America
NPG/PRINCE ESTATE/LEGACY
5/10
You've heard the story a thousand times, the one that goes something like, "Everything Prince did after he left the enslavement of Warner Bros.—the label where he made not only his own greatest genre-jumping moments, but some of contemporary music's most epic achievements—was a bore, a rote repetition of his cutting classics, but with a third of the heart, a fourth of his passionate invention, and a fifth of its soul."
OK, maybe that's just me saying all that. Of course there were dynamic latter day moments. And the loss of the source—his essence—had nothing to do with record labels. On both those counts, Musicology from 2004 was on Columbia, 2014's HITNRUN Phase Two was on Universal, and both were dazzling returns to fine funky form and intuitive R&B. His problems often came down to insularity: Prince may have gotten out and played his greatest concerts in the years before his untimely death, such as 2011's "Twenty-One Nite Stand" in Los Angeles with the New Power Generation, but you never got the idea that he psychically ever left the Paisley Park of the '80s, of Purple Rain, of "Kiss." Outside of Musicology, can you name two wildly bold and inventive Prince albums after his soundtrack to Spike Lee's Girl 6 in 1996?
The vaults, right? The legendary Prince vaults. Those are supposed to be the response to our prayers and pleads as to where the great, innovative singer/producer/multi-instrumentalist went in those years following the Warner period, with shelves upon shelves of un-fully-realized and unreleased holy grail tracks. One particular find, a 2010-recorded full album labeled Welcome 2 America, then, is touted as "the answer." But like Allen Iverson, the original Answer, there's more questions than solutions, more mess than redress, more fun than invention, and a whole lot of very-OK, faux-sexy, frisky R&B rawkouts and flavorful George/James/Curtis/Sly–inspired funk jams. Which is to say, much of the very same thing you liked about Prince with nothing truly too new to speak of.
I say "new" because there's a socio-cultural and politicized edge to Welcome 2 America that Prince always excelled at, but touched on too infrequently in past incarnations. While the hip-hoppy "Running Game (Son of a Slave Master)" addresses the record industry tearing down young, fresh talent while ripping into Black-on-Black self-loathing, the title track looks into everything from his disgust with reality TV and cell phones to the ubiquity of sex tapes that's quaint in its datedness, but still spunky and funky.
"When She Comes," melodically and vocally, is perfection with its horned-up soft piano and guitar touch and his falsetto set to stun. But the lyrics touching on all things orgasmic is just dumb and dated, as if Prince never truly grew out of adolescence. I know, that's Prince, right? Problem is, this is why he stopped being relevant—he never grew with the times. Hell, he never grew up. Ever go see The Rolling Stones and get uncomfortable when Mick Jagger bumps and grinds on stage to some imaginary lover, when we all know he's somebody's great grandfather? That feeling. Now listen to Prince talking about orgasms at age 52, in the same way he did when he was 16. 
A garage-rocking, Farfisa-driven "Hot Summer," a sensationally stagey, Broadway-show-stopping "Yes," and a handsomely jazzy, death-discoid "One Day We Will All B Free" (the latter's LCD Soundsystem–like allure is the most inventive cut here) actually steal the entire show of Welcome 2 America, and prove that Prince could've taken the crown again if he would've let his old immature self disappear. The deluxe version of this set, a Blu-ray concert from his aforementioned LA residency, shows Prince and his band at their most ferocious (damn, "Partyman" from his Batman soundtrack), most particularly on covers by Roxy Music, India.Arie, Bob Dylan, Lakeside, and the most Prince song he never wrote, Janet Jackson's "What Have You Done for Me Lately." If that bold 2011 concert and the smart latter tracks from Welcome 2 America are any indication, there's gold in those vaults yet. They got to just keep digging.