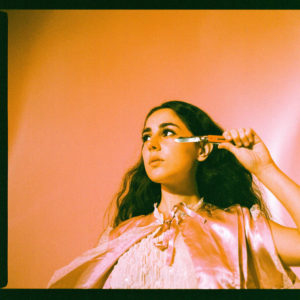 Samia
Scout
GRAND JURY
7/10
On Samia's new four-song EP Scout, the singer-songwriter explores and expands upon all of the love in her life by shining a light on the hidden crumbs in the cracks. Each track feels like you're sitting in a room with her as she opens up about missing her dad whenever he calls, or a friend getting a new job at the golf course. In step with her debut album The Baby, Samia maintains a distinct harmonization and strong narratives which lend themselves to the release's biggest highlights. 
The opening track "As You Are" acts as if it could also close out the album, filled as it is with melting harmonies, legato cadences, and satisfying resolve. Lyrics like "Mouth hanging open in your 4Runner / Digging up shark teeth with your mother" and "You tell your sister you'll be home in an hour / If she cleans her room, she takes a shower" snuggle together tightly as verses augment the simplicity of the chorus. In turn, the chorus's cliché of being taken as you are by a loved one is strengthened when each verse unravels a certain intimacy behind the feeling expressed. Like defrosting food in fridges, details slowly melt in subtle motion until the chorus reels the listener back in. 
The EP concludes with a cover of When in Rome's "The Promise," an echo from the past that showcases her versatile range in successfully covering a song while maintaining her unique sound. Featuring vocals from Jelani Aryeh, the cover cements a brimming balance of vocal range and blend. Through the layering of simple instrumentation, her own lyrics always pin themselves as thoughtful and personal—the talent sticks, and she's ever-evolving. Upon each listen, I imagine the careful detailing of crocheting a colorful meadow into a quilt.