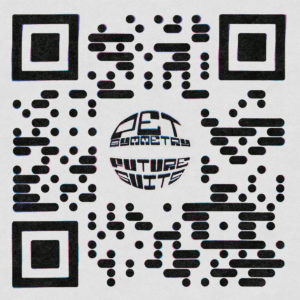 Pet Symmetry
Future Suits
STORM CHASERS/ASIAN MAN
7/10
Don't be fooled by the light-hearted pun of Pet Symmetry's name, or by the facepalm titles on the band's third full-length. Beyond the groan-inducing humor of, say, "Window Pain," or the flippant wordplay inspiring "Pet Sympathy," "Debt Symmetry," and "Pet Synergy," there are songs full of heart, purpose, and meaning. Formed in 2012 by Into It. Over It.'s Evan Weiss, Ratboys' Marcus Nuccio, and Dowsing's Erik Czaja, Pet Symmetry is a Chicago emo supergroup of sorts, but one who—as those titles and that band name suggest—aren't afraid to inject their serious, heartfelt music with a little bit of levity. In other words, it's what Weezer did back in the day to devastatingly powerful effect before becoming music's biggest trolls.
While Future Suits doesn't hit the stratospheric, brilliant heights of Blue Album or Pinkerton, it certainly strikes the balance between pathos and humor much better than Rivers Cuomo has managed to do, on the whole, in the last 20 years or so. Opener "Simply Irresponsible"—which actually sounds like a Pinkerton track—captures the malaise of modern living and throws in a little bit of emotional turbulence for good measure, while "Object Objectives" capture the mundanity of living to work within the capitalistic rat race. 
Elsewhere, "Pet Sympathy" is a bizarrely tropical (and, as a result, uplifting) pandemic/quarantine anthem, "Portland to Portland" is a hopelessly romantic post-love song, and "2021: A Personal Space Odyssey" is a fizzy indie-pop number about the obscene and obnoxious wealth disparity that's essentially destroying the planet. The spiky "Window Pain"—one of the standout tracks here—is a defiant indie-punk jam that throws a middle finger up to heartbreak, while "Bootlicker" is a brilliant, nuanced indictment of the U.S. police force. It's all rounded off by the carefree musical vibes of "Awesome Kingdom," which are in stark contrast to its lyrics: "It seems that every single year on this earth is simply worse than the year before," sings Weiss, but he doesn't succumb to gloom or pessimism. Rather, he goes on to find hope in love, community, friendship—something that ends this record, even in the face of everything its songs tackle and address, with an important sense of hope and optimism.