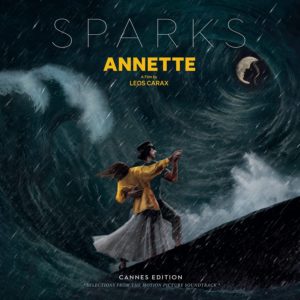 Sparks
Annette: Cannes Edition
MILAN
8/10 
Written and produced by Sparks' Ron and Russell Mael for Leos Carax's film starring Adam Driver, Marion Cotillard, and Simon Helberg, Annette the movie musical's soundtrack is linked to Annette the movie musical like muscle and bone; separate, but without true separation. You can hear Sparks' unusually minimalist compositions here and find some reward in their spare dialogue-like lyrics, just as you could thrill to the Maels' darkly humorous A Star Is Born-meets-Pinocchio script presented in shadowy sinister form by Carax. It's only in their marriage that Annette is best served; cold, bleakly comical, and with an operatic repetitiveness worthy of Philip Glass.
With Driver as a famed Eric Bogosian–like stand-up comedian, Cotillard as a beloved classical vocalist, and Helberg as conductor/caretaker, each life is changed—for the worst—by the birth of a mysterious little girl with an exceptional destiny and an even more bizarre talent. I could ruin the story and say who kills who, and how, or reveal the birth-baby's plot twist, and the surreal shock of Annette would still be safe, as Carax's lens on the Maels' script is focused for the fantastic, heightened for maximum hazy dream-like drama. There's no mistaking that all this is staged, from its Pabstian lighting angles to the manner in which Driver and Cotillard's private and celebrity coupling's lives are presented—a reality show played up like a rock opera.
Nowhere is such third-wall-breaking, peering-behind-the-curtain realness apparent—in the film and its soundtrack—than Annette's preliminary opening, "So May We Start." Sung dryly on screen by Sparks, Driver, Cotillard, Helberg, and the rest of its cast and crew, all artifice is dropped while its pretense is heightened—an exquisite metaphor for all that will transpire. Thinking out loud, this on-view prologue is not unlike Sondheim's "Comedy Tonight" number which starts A Funny Thing Happened on the Way to the Forum, where characters, thematic arcs, and all-but-the-ending is revealed by the cast in the very first song.
Sounding an alarm that something murky and whimsical is about to commence, and in plainspoken fashion, guides the mantra-esque "We Love Each Other So Much" from Driver and Cotillard expressing their adoration for the other in what seems like endless, cool repetition and the fewest amount of notes and lyrics ever used by the collective Maels. Similarly written is "I'm an Accompanist," addressed by Helberg who hardly wavers in tone or theatricality. That all of Annette comes across as successfully as it does—with caustic, dry-icy wit at the peak of its stagey reality cop-and-court drama—comes down to each of its parts interlocking, a soundtrack bound to its weird and torrid tale, and a mesmerizing cinematic display that would be nothing without a Mael song.