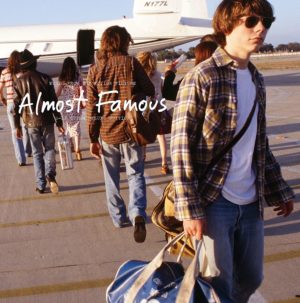 Various Artists
Almost Famous [6-LP Super Deluxe Edition]
UME
7/10
As far as fictionalized bands go, few are as beloved as Stillwater—or as arduously detailed when it comes to the packaging that comes with writer/director/curator Cameron Crowe's Almost Famous' soundtrack's Uber Box. That this package includes Stillwater Runs Deep!, the real (long) story penned by Crowe's cinematic alter ego William Miller during his trip across America with guitarist Russell Hammond (played by Billy Crudup), singer Jeff Bebe (Jason Lee), and company for the film's narrative throughline/coming-of-age and art tale, is but one of the brushed denim totems to dusty '70s-era rock collection (replica ticket stubs, tour posters, backstage passes, are included too).
For the record, I never liked the film itself, as it always seemed like a tame version of what life on the road and coming into one's own as an artist truly felt like. It is, of course, (corny to say) the old and original music of Almost Famous that made what did click, click, even if imagining a bunch of rock dudes on a bus sing-along-ing "Tiny Dancer" seems dippy, and using Led Zep's "Tangerine" as a sunset soliloquy for youth's passage is heavy-handed. From the rush of The Who's "Amazing Journey/Sparks"—a special remix of tracks from Tommy and Live at Leeds—to a battered bootleg of Neil Young's "Cortez the Killer," Almost Famous' undulating classic rock fluidity is like fresh blood being pumped into a vampire. 
The original Stillwater songs—penned by Crowe with Peter Frampton and Heart's Nancy Wilson, from the Uber Box's 7-inch 45 of "Fever Dog"/"Piggyback Ride (Cleveland)" and "Fever Dog (Acoustic)," to a demos-only album to go with its "full length"—are better here, at home, than I remember them being in the theater. The funky, frisky, dusky, dusty, rusty, rocking rush of "You Had to Be There," "Love Thing," and "Chance Upon You," as well as the midnight-y "Hour of Nee," mix the best of The Eagles and the James Gang (so, Stillwater sounds like Joe Walsh) with a hint of end-of-the-'60s soulful Buffalo Springfield for good measure.
Maybe I'll watch the movie again.