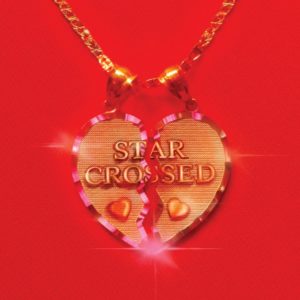 Kacey Musgraves
star-crossed
INTERSCOPE
8/10
"Healing doesn't happen in a straight line," sings Kacey Musgraves on star-crossed, in a lyric that could almost be the album's statement of purpose. But never let it be said that Musgraves is dogmatically devoted to her own advice: Before you even bore down into specific lyrics, star-crossed is conceived and structured as an attempt to impose meaning on something inexplicable. This is human nature—conspiracy theorists develop elaborate fictions to explain the unthinkable, and Musgraves uses star-crossed to process her divorce in a clean, classical three-act structure. There's a cluster of songs about the dissolution of her marriage to the country singer Ruston Kelly, a cluster about its stormy aftermath, and then a few about Musgraves' journey toward healing and wholeness. There's a narrative prelude where Musgraves functions as her own Greek chorus ("Let me set the scene…"). There's even some expository text that reminds us where we are in Musgraves' story: "I've been to hell and back / Golden hour faded black." 
About Golden Hour: For its wide-eyed wonder, its lovestruck countenance, and its cosmic, borderless relationship to country and pop, Musgraves' newlywed album remains one of the most widely adored records of the past few years. That she follows it with a divorce record may understandably feel shattering, to artist and listener alike, but one of the unexpected effects of star-crossed is how it recasts some of the shadows that lurked around Golden Hour's edges. Keep in mind that her paen to new love featured the ruinous "Space Cowboy" at its center. Keep in mind that even then, Musgraves heard alarm bells ringing ("I'm the kind of person who starts to get nervous when I'm having the time of my life"). Maybe she was warning us. Or maybe I'm writing my own revisionist history, altering my perception to make sense of the senseless.
Musgraves once again recruited the production team of Daniel Tashian and Ian Fitchuk, a decision that suggests star-crossed is a continuation, not a bifurcation, of her story so far. The album is not a carbon copy of Golden Hour but is at the very least a matching bookend, once again sounding sparkling, airy, and pristine. She maintains an affection for—if not an allegiance to—country tradition, combined with a healthy indifference toward purists who might question her methods. There's plenty of acoustic strumming, though her clearest debt to country is in her easeful, plainspoken narratives, the way she can bend clichés to make them sound like personal revelation. Elsewhere, there are layers of gauzy synths, nodding as much to R&B slow jams as to psychedelia. 
When Musgraves introduces new wrinkles to her sound, the results are uniformly delightful: The glinting rhythms and Spanish guitar on the title track sound like a club mix of Willie Nelson's Teatro, and if you've ever wanted Musgraves to indulge in an extended jazz flute solo, boy is this the album for you. Even that doesn't surprise quite as much as "Gracias a la Vida," the dusty Spanish-language ballad that provides the album its bittersweet curtain call. Other songs hew more doggedly to the Golden Hour palette, but they don't feel redundant so much as comfortingly familiar. Consider "Breadwinner," an irresistible disco jam that might feel like a "High Horse" knockoff were it not for its tight pacing and sharp hooks. 
By now the divorce album is a shopworn archetype, though it's worth noting that there are different subsets within the broader taxonomy. For instance, divorce albums that wallow in deep, enveloping sadness (like Beck's Sea Change), or divorce albums that use heartbreak as a launchpad for spiritual inquiry (Sam Phillips' A Boot and a Shoe, an underrated exemplar of the form). One of the gifts of star-crossed is the openness and generosity with which Musgraves chronicles her nonlinear healing process; to put it differently, it feels like several types of divorce album spliced together, at once messy, conflicted, and purposeful. If you're just here for tabloid headlines, well, you might find them—songs like "Breadwinner" sure seem like they're dressing down her ex. But there are plenty of other songs that turn inward. "Simple Times," which longs for the carefree days of youth, is a good reminder that depression and nostalgia can be two sides of the same coin, while "Good Wife" grapples with guilt and self-doubt. The final few songs summon inward strength, particularly the buoyant "There Is a Light." 
The late-album pivot toward healing is convincing enough, though, given the heaviness that precedes it, it may feel abrupt. Or maybe that's me trying to impose my narrative sensibility on someone else's story. As if I hadn't been warned: Things so rarely turn out exactly as you think they should.