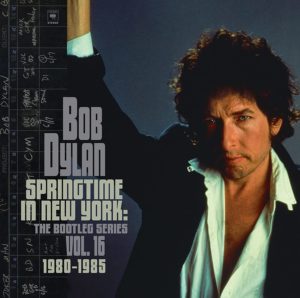 Bob Dylan
Springtime in New York: The Bootleg Series Vol. 16 (1980-1985)
LEGACY/COLUMBIA
8/10
The '80s were not kind to most innovative music icons. Everyone got caught up in over-production, LinnDrum pads, and synth triggers, favoring an overabundance of background vocals and a seemingly inorganic sound palette. David Bowie and Bob Dylan—brilliant adventurers, both—are two of the most noted victims and criminals of the 1980s' mess of sickly silken degrees and silly sleek arrangements. Yet if Bowie's last mega-box, the '80s-centric Loving the Alien, proved that through stripping things down, presenting overripe music in demo form, or even just reconsidering the time past with a new focus on melodies, there was much good that we missed, or misted over, from Bowie's '80s the first time over. 
Bob Dylan's brand new box, Springtime in New York: The Bootleg Series Vol. 16 (1980-1985), can be held in a similar spotlight. In their initial release, Dylan's early- to mid-'80s swing at albums such as Shot of Love, Infidels, and Empire Burlesque was not great. He had limp periods before this—Planet Waves at Asylum isn't anyone's finest hour—but the chill of '80s production value (c'mon, Arthur Baker? He's good for a slick kick at hi-NRG and hip-hop) wasn't applicable to Dylan in any way. Yet in a competitive marketplace at a time when album sales and terrestrial radio play still meant dollars, Dylan had to compete with rubber-and-tin era-appropriate artists such as Phil Collins.
This Springtime in New York edition of Dylan's Bootleg Series—57 tracks spread out over five discs—does what all iterations of the series do in that it mines Dylan's back pages for rehearsals, live recordings, outtakes, raw demos, alternative versions, and rare mixes. On other occasions, in other box sets, this process is an ample addition to a classic. In the case of Springtime's five-year case study, though, the doctor is reviving the patient, taking out the bile, and giving him new legs with more tactile treading.
Starting with the collection's first two discs, we're welcomed to the world of Shot of Love and the final rung in Dylan's ladder to heaven's door. Sure, Dylan's holy rolling period held great passion, but by this record Dylan sounded, overall, as if he'd been shot in the ass, and was tired of hearing himself preach. Along with a mesmerizing rehearsal rendition of the searing, secular "Señor," the Dylan of the new bootleg collection finds joy in peeling away original co-producer Chuck Plotkin's steely sound on everything from a spare take on "Lenny Bruce," to pulling old and unkempt session outtakes such as the whirling-dervish country of "Mary of the Wild Moor," the world-weary but widescreen ballad "Angelina," to rolling rockers such as "Fur Slippers" and "Price of Love." No, you don't want to bother with Dylan's cover of "Sweet Caroline," but it's here if you need it. Better, though, is Dylan's cover of Dave Mason's "We Just Disagree." Honest.
Mark Knopfler may have been an apt sparring partner in his role as guitarist on Slow Train Coming, but as a producer on Infidels? No. The sound is roundly cool, and Dylan occasionally seemed uninspired despite having a rhythm section of Sly & Robbie and a co-guitarist in the Rolling Stones' most lyrical player, Mick Taylor. There's poetry in abundance to be found on Infidels, as Dylan was moving away from the spiritual (despite the Biblical, poli-protest of "Jokerman," here with Taylor and Knopfler trading some mean licks) and back toward the cleverly cynical.
As soon as the limp Infidels came out, Dylanologists rhapsodized about smartly lyrical outtake greats such as the feline "Foot of Pride" and the eerily epic "Blind Willie McTell," found here in a full-band version. These cuts alone are worth the price of admission, followed by a dusky full version of "Death Is Not the End," a genuinely gutsy version of the cornball country classic, "Green, Green Grass of Home," several tender renditions of Willie Nelson's "Angels Flying Too Close to the Ground," a horny blues take on Jimmy Reed's "Baby What Do You Want Me to Do," and Dylan's own "I And I" made more raw and natural with the passage of time. The frantic blues of  "Clean Cut Kid" (which eventually wound up, tamely, on Empire Burlesque) kicks ass—a track he had intended for The Psychedelic Furs.
Dylan's Empire Burlesque had no one to blame but himself, as he produced this one all on his own with instrumental help from Tom Petty's Heartbreakers. So how the fuck did Dylan make one of rock's most earthen, funky ensembles sound soulless? Listen to the original. That said, on the new Springtime box's fifth disc, there are two toughened live renditions of "License to Kill" (one from Late Night with David Letterman, March 22, 1984) and "Enough Is Enough," some shit-kicking rock 'n' roll in "Straight as in Love" and "Seeing the Real You at Last," and another opportunity to hear Dylan crooning his heart out on the supple "Emotionally Yours" and the back-to-back filmic likes of "New Danville Girl" and "Dark Eyes" closing out the package. There's a "slow," 11-plus-minute version of "Danville" that could very well be the godfather to jam-band groove for those who want to get their instrumental rocks off, too. 
The lesson learned? Don't write off anybody's '80s until you give them a chance at a bootleg box. See you in springtime.