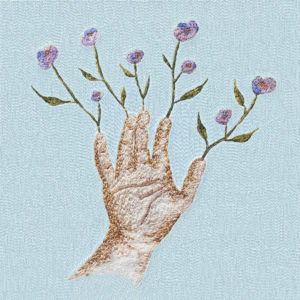 The Ophelias
Crocus
JOYFUL NOISE
8/10
On "Spirit Sent," The Ophelias' singer/guitarist Spencer Peppet imagines an out-of-body experience; her narrator sends her disembodied essence out into the night to meet a lost love who she could never express the true depth of her feelings to. "And somewhere out over Wooster Pike / A man gets distracted by something he cannot describe," she sings. It's an image that sits at the heart of the Cincinnati indie-pop band's third album, Crocus, where chamber-pop ornamentation and live-band grit weave around spiritual lyricism to capture the kind of regret that sometimes defies description.
When they come out full tilt on a whole-band jam like "Sacrificial Lamb"—cymbals crashing, strings pealing—it's enough to make your own spirit leave your body for a moment or two. Peppet's lyrics can be plenty evocative, but what distinguishes The Ophelias in a field of indie auteurs is the dynamism of the quartet, whose other members—drummer Mic Adams, bassist Jo Shaffer, and violinist Andrea Gutmann Fuentes—know exactly how much space to take up at any given moment. They make room for buildups like the one on "Neil Young on High," where a Julien Baker feature blends in seamlessly, or breakdowns, like the feedback outro on "Becoming a Nun." They also help push the record to welcome and unexpected places, like the folksy, fiddly, lo-fi stomper "Spitting Image."
Crocus has a real tactile richness in those moments, and in production flourishes like bits of wobbly, reversed audio and clips of distant, distorted voices. There's an inherent risk in trying to write about those things that could have been but never were—the risk of leaving too much emptiness behind all the bassoons. As a witness, it can leave you feeling like the man on Wooster Pike, unsure of what you've just seen. At its best, Crocus is a walk on a cold April night, half star-lit and half street-lit, in a twilight zone of memory and desire. At its weakest, it's still a textural bouquet.