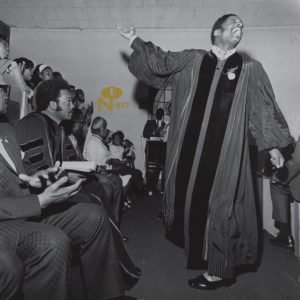 Pastor T.L. Barrett and the Youth for Christ Choir
I Shall Wear a Crown
NUMERO GROUP
8/10
To be known and fully appreciated beyond being a sampled footnote in Kanye West's catalog: if this five-disc set of a beloved Chicago pastor's finest work in fusing gospel R&B and funk does nothing else, it is that. I Shall Wear a Crown makes its case that T.L. Barrett's self-invented brand of boldly rhythm-driven, holy rolling '70s soul stands alongside legacies as formidable and original as those of James Brown, Al Green, and Earth, Wind & Fire's Maurice White, the latter being a longtime devotee of Barrett's heavenly grooves and rousing musicality. After that lofty goal, what Barrett's box set does in a humbler fashion is portray honest, positivist music with a mission far beyond self-gratification or artistic vision. 
For what is gospel music—haughty, funky, or otherwise—if not a universal prayer, a plea for God to heed or a wish to exalt? What is gospel music when executed with passion and invention like Barrett's if not another gift from, and goodly greeting to, the Lord? With that, the famously sampled "Father Stretch My Hands" is but a starting point for listeners leaning into ongoing legacy, as the Pastor is still working as the host of Sundays' "A Word to the World" ministry on Chicago AM radio. With his Youth for Christ Choir and a band as tasty and intuitive as the live JBs or as consonant as the Motown studio ensemble, Pastor Barrett—a jazz pianist before he decided to become a preacher—takes to the richly harmonic and certainly spiritual likes of "Like a Ship" and "Nobody Knows" (both from 1971) as a musician and singer first. There's quiet passion and lush musicality in each of these moments, a gentle ardor that rises with every year and every disc of the Numero Group box set.
The further we move from Barrett's start as a preacher and as a gospel music maker, the higher his passions rise (the best example being the learned lessons on "Turn on with Jesus" and its roaring finale), as his sonic language expands (the Hi Records–worthy "After the Rain"). Learning to trust his instincts and those of the Christ Choir company he keeps, Barrett expands his traditional gospel palate in leaps, bounds, and electricity (literally and figuratively) by the time the box gets to the Fender Rhodes–filled funk of albums such as Do Not Pass Me By, Vol. II and I Found the Answer. Everything from God (the "Our Father" prayer) and nation ("My Country Tis of Thee"), to a surprise twist on romance of a different stripe ("I Want to Be in Love with You") is exploded, expanded, and made into something churning, soulful, and hypnotic in a manner befitting all-things Parliament and/or Funkadelic.
Not pretending to know the entire story of Barrett before getting to the box, the only thing more inspiring and truth-telling than Barrett's sacred, secular musical catalog is Numero Group's usual dedication to telling a great, factual story, in the guise of a fascinating and factual in-depth, liner-notes-like book. That's what makes the I Shall Wear a Crown box so wondrous and amazing—like a great suspense novel with an unpredictable ending, each Barrett track is like a page turned and a chapter savored until the surprise close. Amen to that.