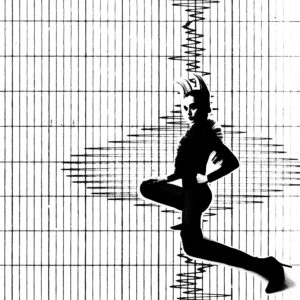 Poppy
Flux
SUMERIAN
8/10
In the near decade since Baauer's "Harlem Shake" blew up on YouTube, the viral hit has gone from a pop-cultural oddity to a legitimate pathway for breaking new and vital musical talent. We've come a long way from "What Does the Fox Say" to TikTok icon PinkPanthress's brilliant neo-UK-garage surprise smash "Just for Me." Turning the equation around, and trying to convert non-musical social media notoriety into hit records, hasn't worked out nearly as well, mostly resulting in acts like Bhad Bhabie and Zack Fox, who struggle to shake the novelty-act aura that hangs over their bids to rebrand as rappers.
One major exception is Poppy, who's managed to use her virally popular YouTube channel—where she posted perplexing and provocative shorts that felt like Andy Warhol falling into the uncanny valley—as a launch pad for one of the most subversive and surprising creative arcs in pop music right now. Early on, Poppy was all about "subverting pop tropes from the inside"—i.e. doing a whole Gaga thing, which, even with the added layer of the girl-who-is-a-robot shtick that carried over from her YouTube channel, didn't stand too far apart from the rest of the crowd of conceptual pop artists doing very similar things. But with her Grimes-produced 2018 single "Play Destroy," she took an unexpected turn into nu-metal, then followed it up the next year with an album, I Disagree, that dove even deeper, and things got much more interesting.
Although it was right on time to catch the first big surge of the inevitable nu-metal revival, I Disagree was more than a simple exercise in cool-hunting. The music was heavy enough to make converts out of even the most serious metalheads, but more importantly, changing things up seemed to let something loose creatively for Poppy. The music hit harder, the visuals got compellingly strange. In concert, just before the pandemic hit, she and her band tore through the material with a ferocity that obliterated any suspicion that this was irony. Everything before then—even the good parts—felt like it was all part of a bit. Now it seemed like she was actually giving us something real.
Going into her latest album, Flux, you might very reasonably wonder what the gimmick is this time around. And the answer is, there doesn't seem to be one. The album offers yet another stylistic makeover, this time diving into punchy, crunchy, '90s-style grunge-pop. It's very much a rock record, not just because of how it sounds, but also how it was made: tracked live in the studio to tape with a full band and a producer who's previously worked with Deafheaven and Jimmy Eat World, with a minimum of electronics and an emphasis on songwriting over sonic trickery. There aren't any breakneck turns into Kyary Pamyu Pamyu–style J-pop, no hyperpop flourishes, and no evidence that she's been trawling the leading edge of aesthetic Instagram for ideas. 
What we get instead is proof that behind all the high-concept playfulness, Poppy is simply an incredibly strong songwriter and performer. Flux's title track might be the most stage-dive-able track to come out this year that isn't by Turnstile; "Hysteria" could make the dance floor at a goth club swoon; and "Her," the album's most unshakeable track, perfectly reproduces (intentionally or not) the sugary sledgehammer sound of Veruca Salt, one of the best bands to come out of the '90s alt-rock boom, despite their abusive treatment by critics and gatekeeping indie rock dudes who seemed to take issue with their unapologetically girly approach to grunge. Overall, it's one of the strongest arguments for alt-rock's continued relevance that I've heard all year.
Which may be the most subversive thing about Flux: a high-concept artist from the internet hijacking the trappings of rock "authenticity" and using them to not only disprove all of the accusations that she's not a "real" musician, but to vindicate other female artists before her who were dismissed for the same reason. After years of playing with people's perception, Poppy's proven that you really can fake it so real that you're beyond fake.