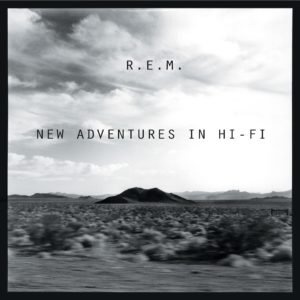 R.E.M.
New Adventures in Hi-Fi [25th Anniversary Edition]
CRAFT
9/10
Originally released in September 1996, New Adventures in Hi-Fi was, in some ways, R.E.M.'s final album. The pioneering Athens, GA band's tenth full-length, it was the last record to feature drummer Bill Berry. Having suffered an aneurysm while touring Monster in 1995, he left the band just 13 months after New Adventures came out. The band continued without him for another 15 years with 1998's Up, their first album as a trio, proving to be one of R.E.M.'s best—a band found after being lost, a band determined to overcome the loss of an integral part of its machinery.
Yet however unknowingly, New Adventures nevertheless marked the end of an era that had begun in 1980 and which had seen Berry, guitarist Peter Buck, bassist Mike Mills, and vocalist Michael Stipe become one of the biggest, most influential, and most enduring bands on the planet. After the stratospheric success of 1991's Out of Time and 1992's Automatic for the People, they shook the jar up—and drastically—with Monster, an acerbic, loud album that probably (and deliberately) scared off some fans they'd accumulated with those previous two albums and ubiquitous hits like "Losing My Religion," "Everybody Hurts," and "Man on the Moon."

New Adventures sits somewhere between those two records, but also nowhere near them. Ten of the album's 14 tracks were recorded on the road during the Monster tour, and you can hear that raw and ragged, tired and tender energy throughout these recordings. "Be Mine," for example, is a devotional love song wrapped in unsuitably unromantic guitar scuzz, while "The Wake-Up Bomb" and "Departure" are two of the most cacophonous rock songs the band ever wrote, bristling with a tense, nervous, dirty energy. But then, equally, you have some of the most beautiful songs R.E.M. ever crafted—the harrowing jangle of "New Test Leper," which details the tribulations of somebody degraded on a talk show, or the resigned yet hopeful sadness of closer "Electrolite," a poignant tribute to Los Angeles and Hollywood, and the old world movies that defined it for so long. 
And then there's "E-Bow the Letter," a peripatetic stream-of-consciousness—and stylistic counterpart to Out of Time's sublime "Country Feedback"—on which Stipe talks more than sings, asking questions of existence and non-existence over a mournful tune as Patti Smith offers haunted backing vocals. It's followed immediately by "Leave," a blistering exercise in existentialism over a coruscating siren that wails underneath the song's guitars, twisting, turning, soaring. It would be remiss, too, to not mention "How the West Was Won and Where It Got Us," "Bittersweet Me," and "So Fast, So Numb"—three tracks which also see the band at the height of their powers.
Even today, 25 years later, it sounds as fresh and powerful as ever. That's somewhat ironic, given just how much these songs were the product of a specific time, place, and mindset, but it's also testament to the strength of both these individual tracks and the record as a whole. The latest in a career-spanning series of R.E.M. reissues, this is nowhere near as extensive as some of the re-released albums that preceded it. In fact, there's just one disc of extras, mainly offering alternate soundcheck or live recordings of the songs. All were previously released as B-sides, but they provide great context for this album, adding to its dark, gritty atmosphere. As do the covers—the band's gnarly but phenomenal version of Vic Chesnutt's "Sponge," the resplendent "Wall of Death," originally by Richard and Linda Thompson, and a live rendition of Glen Campbell's "Wichita Lineman," which, despite a few minor off-key notes from Stipe, is still poignant and touching, and perhaps even more so as a result. 
It's all brought to a close with the spacey, eerie alternate version of "Leave." Released first on the soundtrack for the 1997 Danny Boyle film A Life Less Ordinary, it strips away the siren and the guitar in favor of a more electronic, trippy atmosphere that, still now, feels like a glimpse into the future. Indeed, 25 years on, New Adventures in Hi-Fi remains just that. It turned out to be both an end and a beginning, and is still a truly essential record—not just in the band's career, but in the general pantheon of modern music.