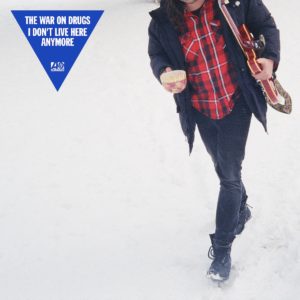 The War on Drugs
I Don't Live Here Anymore
ATLANTIC
8/10
The War on Drugs' Adam Granduciel usually works in a haze. Not one connected to his band's name, but rather an often-complicated, dense, post-shoegazing cloud of soft, tangled, and interwoven atmospheres that never eschew their roles in which to rock. If "SoundCloud" was a genre within rock as it is in rap, you could say that Granduciel has a place on said cumulus cluster. For I Don't Live Here Anymore, the band's first studio album since 2017's Grammy-winning A Deeper Understanding, the Philadelphia-based ensemble have found a fashion in which to smooth over their rougher complexities, heighten their feel for punchy melody, and craft a record that's oddly happy and broadly familial in a time of general cholera. 
Capturing the forward motion of a man with a child, holding onto the embrace of his bandmates and other friends—none of this felt crucial to the loner that long was the lyricist-guitarist Granduciel. Go back to 2008's Wagonwheel Blues and 2011's Slave Ambient and you'll find the sort of rootsy, navel-gazing introspection that made him Secretly Canadian's Dylan at the top of the 21st century. I Don't Live Here Anymore, then, is a ruminative (but not brow-furrowing), loose-limbed look to the immediate future with hope, poignancy, sharper-edged melody, and an all-around blunter buoyancy as its divining rod.
Unpacking their wall of sound, brick by brick, into bite-sized chunks allows for a greater musical interplay with the entirety of the band. From there, after sticking with his Dylan-Petty obsession through the softly strummed "Living Proof" (the title track, too, is a hardcore Dylan-fest), Granduciel and his band hit upon several curt rock-outs ("Change," "Wasted," and the gloriously tense "Harmonia's Dream"), with economic, near-metronomic rhythm sections and neatly melancholic synths and piano for spice rather than their usual spaciousness. 
Along with only occasionally holding tight to its Bard adoration, there's a hint of their old school moodiness on pensive, maybe-sluggish cuts such as "Old Skin" and the spooky "I Don't Wanna Wait." But it's dramatic moments such as the opening "Living Proof," with its wiry Granduciel guitar solo (shades of Thurston Moore and Sonic Youth) and his pleadingly emotional lyrical palate ("I'm always changing / Love overflowing / But I'm rising / And I'm damaged"), that show a War on Drugs calling for a détente, and some happiness.