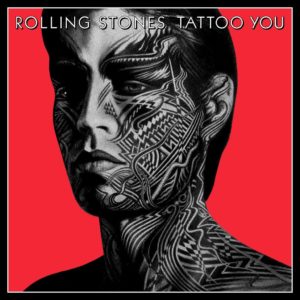 The Rolling Stones
Tattoo You [Super Deluxe Edition]
UMe
7/10
Because the early-'80s were a messy place in which to exist; because, as Rick James told Dave Chappelle, cocaine was a hell of a drug, just like heroin, and the Jagger-Richards feud was in full flower as the latter was working his way back into the decision-making process long ceded to the former; because its members were scattered—literally and figuratively—but had an album commitment after the one-two power punch of 1978's Some Girls and 1980's Emotional Rescue. For all thes reasons, The Rolling Stones' Tattoo You—then, in 1981, and now, in its 40th anniversary Super Deluxe reissue—comes from a place of distraction.
Some distracted Stones albums are magnificent (Let It Bleed) and some are not (Dirty Work). Tattoo You falls in the meaty center point of those poles, half-assed to heavenly success, as it was pieced together from 1970s studio outtakes and unused session recordings, and Frankensteined into something loose and louche, yet forcefully rocking forward. How the hillbilly soul ballad "Waiting on a Friend," or the terse, "Start Me Up"—which started life as a shambling, reggae number intended for Some Girls—got built into this tart, taut rocker of 1981 is only known to the monster's doctor who held the key to harness electricity and a steady hand with which to stitch. Forty years later, again, the Stones' Jagger and Ronnie Wood (Jagger/Richards' co-writer on two luminously rocking, remixed Tattoo You originals, "Black Limousine" and "No Use in Crying") have gone into the lab of even lesser unused tracks, featuring Richards and the late and immensely great rhythmatist Charlie Watts, and come up with a sweet, era-appropriate polish job.
The unused piano-laden "Come to the Ball" features some of Watts' most powerfully complex change-ups and a fired-up Wood on slide guitar. This track alone is worth the price of admission, and is one of those intimate moments where the Stones are firing on all cylinders (Jagger is particularly theatrical here), and you can't believe it didn't make the original's cut. The much touted "Living in the Heart of Love" is far less urgent and contagious, yet also feels more at home with the vintage-wine funk of the Stones at present—more than likely the reason this song gets played on its current 2021 tour.
Along with clearing the brush for Tattoo You's fuzzy, softer originals such as "Worried About You" and "Tops," the newly found and re-christened "It's a Lie," and its surprising covers of Dobie Gray's soul ballad "Drift Away," The Chi-Lites' harmony-laced "Troubles a' Comin'," and the steamiest take on blues legend Jimmy Reed's "Shame Shame Shame," is the delicious treat of hearing a reinvigorated Tattoo You. Beyond that, unfound, now-spruced-up Stones outtakes such as "Fig Jim" and "Fast Talking, Slow Walking" could have stayed lost. And while it's always nice to hear a mighty Stones live show that you may have missed, the 2021 Super Deluxe edition's bonus of Still Life – Wembley Stadium 1982 is good, but not amazing—it finds the team playing to the cheap seats with only fleeting hints of intimacy that you get from Tattoo You's best studio moments.