It seems like there was a secret code amongst artists deciding that this was the week of surprise tracks. Some of our favorite songs from this week were out of the blue (Tame Impala, Grimes, M.I.A.), a couple were new tracks from highly anticipated upcoming releases (Lord Huron, Thee Oh Sees, Active Child), one just-announced record with a new sound (Daughn Gibson), and an excellent blast from the past (Wolf Alice).
Check them all out below.
---
To celebrate the great (but entirely expected) news of another brand-new Thee Oh Sees album on the horizon, the band released Mutilator Defeated at Last's first single, "Web." Spacey guitar riffs, strategically placed echoes, changing tempos, and a couple of almost-patented Dwyer yelps wash over listeners within the upcoming LP's first track. "Web" is definitely on the longer end of Oh Sees songs (it clocks in at almost exactly five minutes), but the controlled nature of the track suggests that a sonic shift is in store for the SF-turned-LA band.
Last month, Lord Huron revealed the first taste of their follow-up to 2012's Lonesome Dreams with the campfire diddy "Fool for Love," and today they stoked up the flames with another foot-stomper, "The World Ender." The new track finds frontman Ben Schneider toying with the narrative possibilities of first-person songs, particularly when applied to shifty, oh-no-what-did-they-do type characters on the lam. It might remind you of the music from another dude with the initials B.S.—I forget which.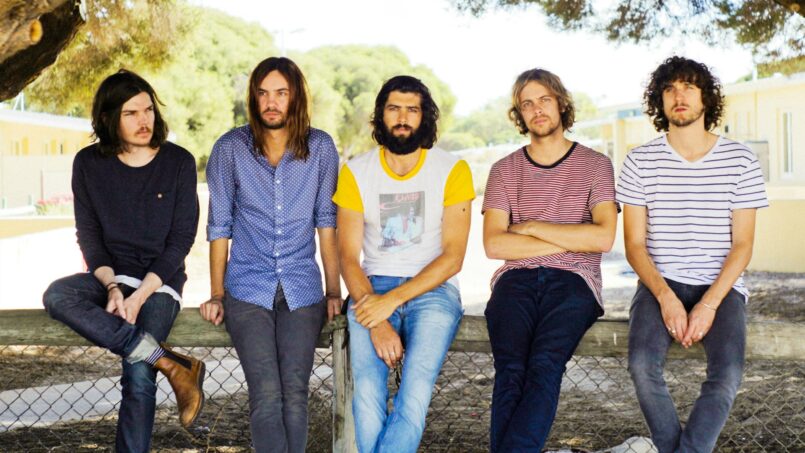 Tame Impala have released a new track called "Let It Happen," their first new material since 2012's Lonerism. Following the band's trend of favoring analogue synths over guitar-dominated psych-rock, Kevin Parker's watery-smooth vocals may also have you thinking that the band's new album (coming in 2015, release date and title TBD) will be the hottest R&B record of 2015. But, at almost eight minutes in length, "Let It Happen" retains Tame Impala's jam-band spirit of exploration.
Wolf Alice, "Giant Peach"
Yesterday, rowdy London quartet Wolf Alice dropped the official music video for its first single "Giant Peach," from its upcoming debut full-length, My Love Is Cool. The group's fuzz-drenched garage jam perfectly soundtracks a hilariously cringe-worthy mockumentary about being in a rock band.
Grimes, "Realiti"
This week Claire Boucher (a.k.a. Grimes) released "Realiti" another previously-unreleased track from her scrapped follow-up to 2012's Visions. Unlike the super-bass heavy, club beat of "Go," "Realiti" finds Boucher getting in touch with her whimsical side. Her strange, but undeniably sweet falsetto floats dances above the pulsing synths. It's infectious and fun, but unfortunately it won't be on her still-not-announced fifth full-length. Why do you make us wait, Claire! Why!
https://soundcloud.com/miauk/canseecando
M.I.A., "Can See Can Do"
This weekend, M.I.A. surprised the world by announcing and dropping a brand-new track on Twitter. Her first fresh tune since 2013's Matangi, "Can See Can Do" finds Arulpragasam rapping some fresh flow about being a strong boss who takes care of business. The track's beat is hypnotic and hopefully means that another M.I.A. LP is announced soon.
Active Child, "1999"
Pat Grossi, better known as Active Child, hasn't released any new music since 2011. That was, of course, until this week when the indie-electro artist dropped a brand-new track, "1999." The lead single for Active Child's upcoming full-length Mercy (due out in June via Vagrant) is a ballad-like soundscape full of complex digital layers, soulful keys, and Grossi's smooth falsetto bringing the entire track together.
Daughn Gibson, "Shatter You Through"
On his brand-new single, Daughn Gibson's lost the gothic, plunging twang but kept the talent for mixing genres and samples. "Light" was hardly the first (or second or third) thing to come to mind when encountering his music or voice in the past, but here it is: a brisk, impressive new track with swift strings, tinkling piano keys, and a quick-paced Gibson demonstrating a keen grasp on pop's best offerings. The future is here and now, and it's on repeat.