FYF 2014
August 23–24
The LA Sports Arena & Exposition Park
Los Angeles, California
For its eleventh year, FYF—Los Angeles's little fest that could—made big moves, hosting this year's two-day fest at Exposition Park downtown and filling the weekend with an impressive lineup of acts, both buzzed-about up-and-comers and festival-favorite headliners. The venue change to the expansive cultural grounds that house the California Science Center, the Natural History Museum, and the Memorial Coliseum was not without its growing pains, however. Long lines for entrance and food, a fifteen-minute trek between stages, and complete inaccessibility to an at-capacity Sports Arena for nearly the duration of the weekend were reminiscent of the frustrations of FYF's pre-Goldenvoice days and their first time out at Chinatown's currently under-construction LA State Historic Park in 2009.
However, the strength of the talent reigned supreme, with top-grade performances from the recently reunion-ized (Blood Brothers, Slowdive), 2014 breakouts (Future Islands, Tycho, Blood Orange), your favorite band from 2004 (Phoenix, The Strokes, Interpol), and the allures of the accidentally exclusive LA Sports Arena (Todd Terje, Darkside, Caribou).
Below, a weekend report on some of our favorite acts from FYF 2014.
---
Saturday
Angel Olsen
The Arena / 2:45–3:35 p.m.
If you were one of the few lucky FYF goers who got into the festival grounds before sunset on Saturday, you were treated to an incredibly intimate feeling set from St. Louis, Missouri's own heavenly (sorry) Angel Olsen. Taking requests and responding enthusiastically to hoots and hollers from the small but vocal crowd, Olsen and her band tore through a fifty-minute set with no signs of slowing down. Heavy on material from her impeccable third full-length Burn Your Fire for No Witness, Olsen's voice filled the still immaculate Los Angeles Memorial Sports Arena, suggesting that much larger stages are in her future.—Bailey Pennick
Connan Mockasin
The Trees / 3:25–4:10 p.m.
With a flowing white linen top strategically buttoned (or unbuttoned depending on if you are a "half shirt on" kind of person), a large band, and a frustrated audience ready to relax, Connan Mockasin laid down some much-needed atmospheric jams on Saturday afternoon. With a small crowd sprawled out on the grass, the New Zealander and band grooved with wind chimes, flutes, and the always-appreciated sax solo. Unfortunately, Mockasin and his band were cut off in the middle of their final number due to time restraints or, you know, just to remind everyone that the good vibes couldn't go on forever.—Bailey Pennick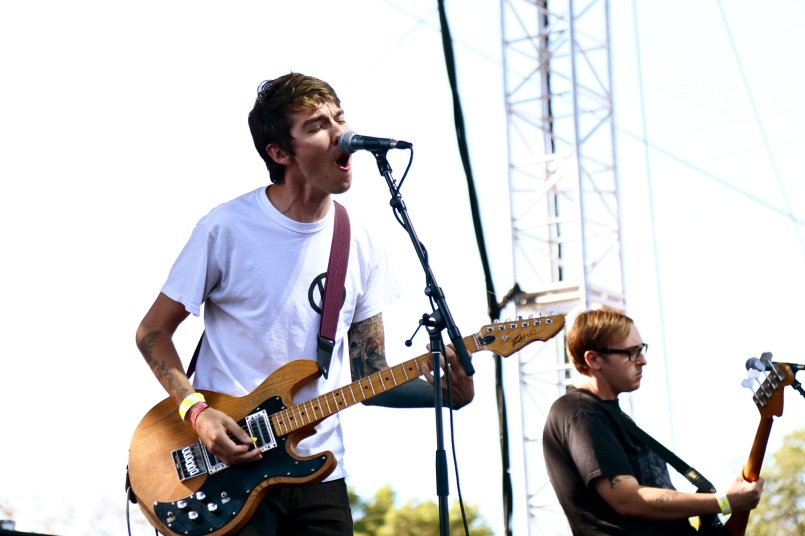 Joyce Manor
Main Stage / 4:05–4:45 p.m.
The hustle off the Metro Expo Line platform, through the endlessly unmoving entrance line, and a disoriented search for the main stage achieved making it just in time to see Joyce Manor. Lead singer Barry Johnson approached the microphone, smiling and thanking the crowd for coming to see them (managing to make it there, more like), before confessing, "I think I'm going to puke right now." Me too, Barry. Still, the Torrance pop-punk four-piece were an expected delight—pummeling through 120-second songs, like Never Hungover Again highlight "Falling in Love Again," in a forty-minute set with ferocity and catharsis that harkened back to why we do this FYF thing every year, after all. —Breanna Murphy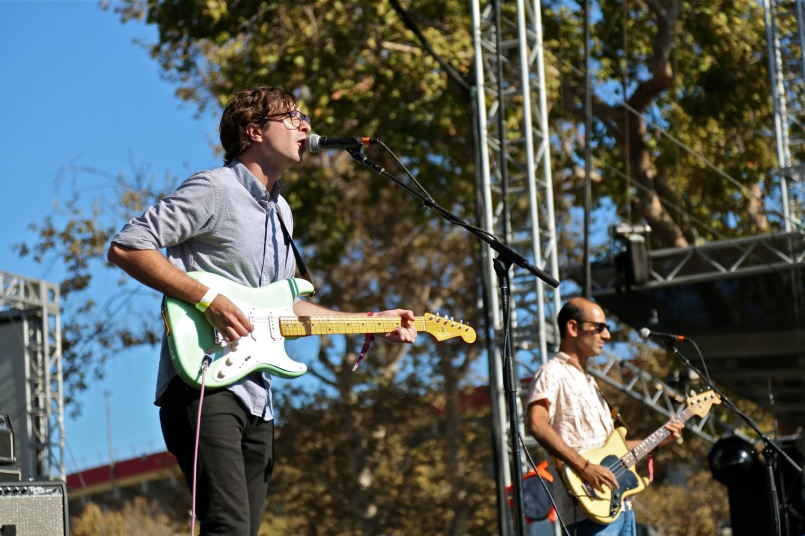 Real Estate
The Lawn / 4:45–5:35 p.m.
Real Estate's set at the Lawn Stage (which was situated at the front door of the Natural History Museum) was a perfectly pleasant, inoffensive late-afternoon jam—which can be said of, let's be honest, all Real Estate sets. Over the years (and albums), the band's shows have notably evolved from their crunchier lo-fi presentations in 2010 to the polished, poppier sheen witnessed here. Bassist Alex Bleeker echoed Johnson's earlier mention of the line outside the festival (which apparently was still a thing happening), but the band kept the vibes positive. "You're all so nice, thanks for being so nice." The crowd responded in kind, with an ohh-ohh-ohh-ohh-ohh sing-along (which apparently is now a thing happening) to the meta Days single "It's Real." —Breanna Murphy
Chet Faker
The Arena / 5:20–6:10 p.m.
It quickly became very clear that the Los Angeles Memorial Sports Arena was the fan-favorite winner for best FYF 2014 venue, with huge blasts of cold air and gorgeous light shows for every act, no matter how small. It was in this low capacity, high-demand hall that Australian DJ, electronic artist, and handsome crooner Chet Faker reinvented every track he played including "Gold," which he prefaced by asking if roller-skating was back in fashion (a nod to his recently released music video), "I'm Into You," and his now-classic take on Blackstreet's "No Diggity."—Bailey Pennick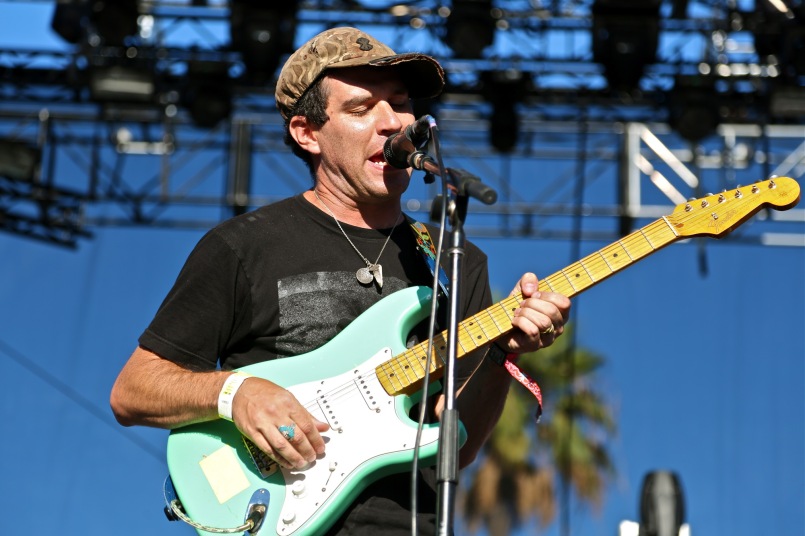 Avey Tare's Slasher Flicks
The Trees / 5:50–6:35 p.m.
To Slasher Flicks' credit, the separation of Animal Collective church and Avey Tare state witnessed here is pretty impressive—until, that is, Tare's vocals come in wailing in their unmistakable warble. With former Dirty Projectors member Angel Deradoorian on a vintage Moog synth and former Ponytail drummer Jeremy Hyman obliterating the drums, the trio (supergroup?) delivered a worthy festival set that was as weird and spooky as one might assume—even, strangely—with the sun still shining bright out over the fest. —Breanna Murphy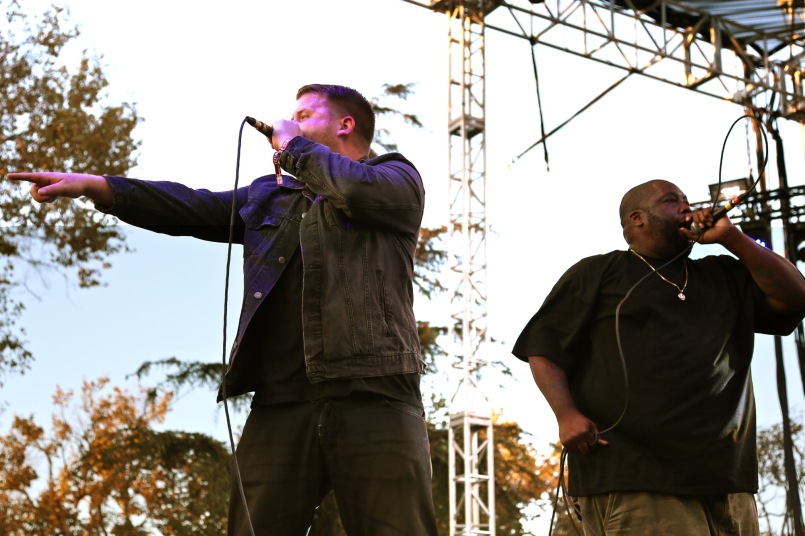 Run the Jewels
The Trees/ 7:00–7:50 p.m.
Quite unlike anything else witnessed over FYF weekend, Run the Jewels was a welcome lesson in showmanship and fraternity that opened with a grandiose El-P and Killer Mike entrance to "We Are the Champions." Yes, they are. Taking a final bow as Queen faded out, it was only just the beginning; the duo traded verses and camaraderie with skill and sharp wit for nearly an hour. The crowd struck an enthusiastic balance between reverence and chaos, and El-P and Killer Mike interacted extensively in kind, feeding exhaustively off of the energy emanating from the masses in one of the weekend's most memorable performances. —Breanna Murphy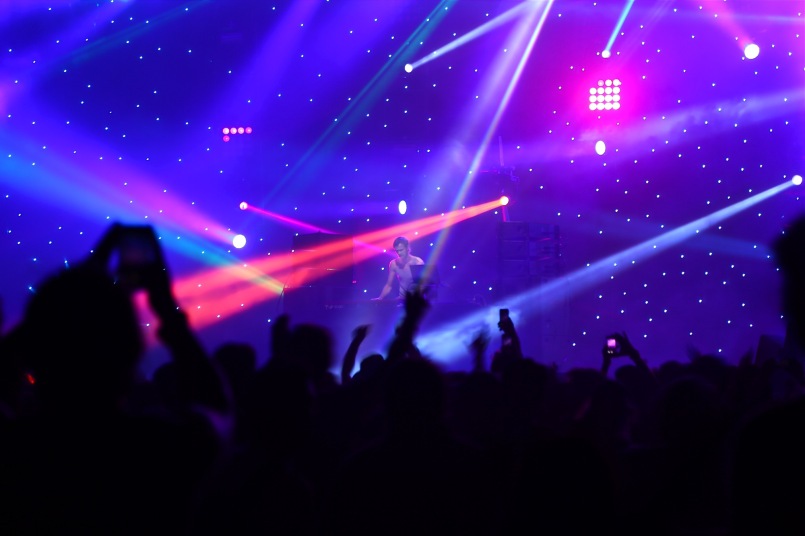 Todd Terje
The Arena / 6:35–7:35 p.m.
I have to be honest that I only wrote down "magical rave cave" and "Whitney Houston: 'I Wanna Dance with Somebody.'" In retrospect, I think that sums up this incredible set better than I could here. —Breanna Murphy
Slowdive
The Lawn / 7:25–8:25 p.m.
What's a music festival without the obligatory reunited shoegaze band nowadays? The answer is, "Nothing." Thankfully, this year FYF got one of the best sets from Slowdive. The Reading group looked great and sounded as if they had been plucked right out of the early '90s without missing a beat—playing countless favorites including "Catch The Breeze," "Alison," "Souvlaki Space Station," and "Slowdive." While it was quite clear that most of the older FYF fans were present at the group's Lawn stage set, it was refreshing to see that there was a healthy amount of younger concertgoers who knew to appreciate the pioneers of their favorite genres.—Bailey Pennick
Caribou
The Arena / 8:00–9:00 p.m.
The first of two Dan Snaith performances of the weekend (including the next day's slot as side project Daphni), this set marked the first Caribou show in Los Angeles in nearly four years. It's been just as many since the band's last record, 2009's Swim, and bathing in a red sea of light, the band revealed deep, melodic cuts from the highly anticipated, upcoming Our Love. The bass was, at times, unrelenting and the vocals a touch too low—a surprise from the sharp, on-point sound production in the Arena up until that point—but it was still an enormous and awesome pleasure to soak in the dizzying swaths of "Mars" and the genius build of "Jamelia." Can't do without. —Breanna Murphy
Tycho
The Lawn / 8:55–9:45 p.m.
For a day that began with songstresses, troubadours, and beat-makers, the wordless, ethereal creations from Scott Hansen were a perfect soundtrack to a sunset that mimicked the album art for Tycho's latest album, Awake. Hansen dreamily ran through warm tracks like "L" and "A Walk" to the approving head bobbing from festivalgoers strewn about around the Lawn stage and surrounding beer gardens.—Bailey Pennick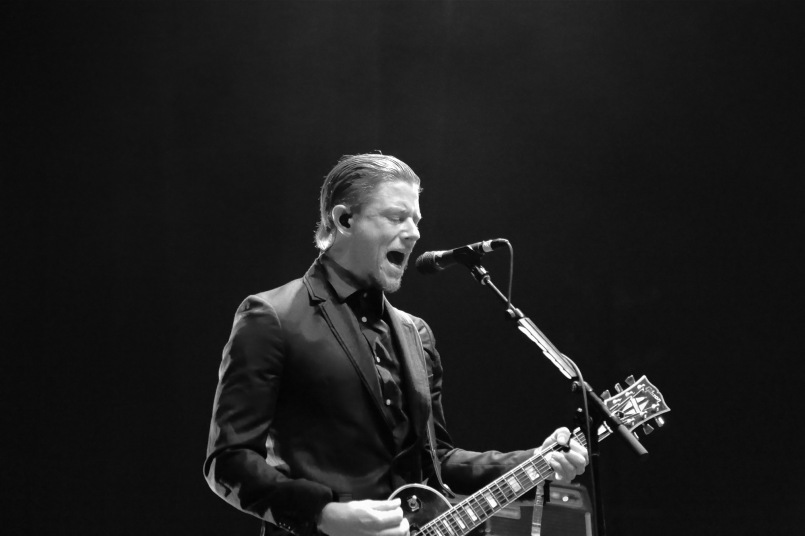 Interpol
Main Stage / 9:10–10:10 p.m.
Interpol is back, undoubtedly, and if there were any skeptical sidelong glances aimed their way, challenging the group for relevancy ten years after their last great record, Paul Banks and Interpol shot 'em down right quick with a crowd-pleasing set aimed at those of us who still can't get enough. Turn on the Bright Lights and Antics cuts ran deep throughout the show—"Say Hello to the Angels," opening up huge into "Evil," with "NYC" and "C'mere" following close behind—and the band swiftly and absolutely reminded all present why they had top-billing on the weekend. It could have been 2004 if only Carlos D was there. —Breanna Murphy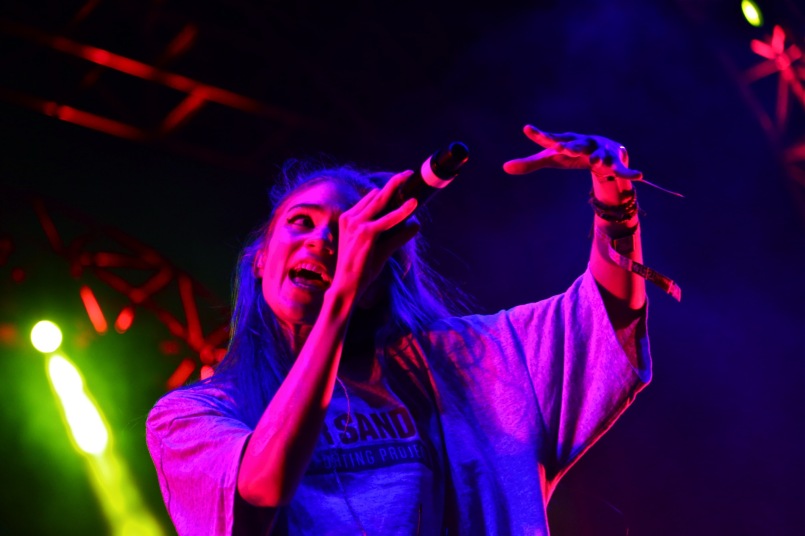 Grimes
The Lawn / 10:15–11:10 p.m.
Illuminated by a wash of purple lighting, Grimes arrived onstage in high-tops, wrestling shorts, and long, electric-blue hair done up in a half ponytail. Armed with a mischievous grin as she skipped from behind her mixing boards, through the insta-glow candles, to the front of the stage, and back—sometimes joined by interpretive dancers—Claire Boucher put on a show equal parts art and absurdity. It struck the right mood for the end of a hectic, logistically annoying day, and "Genesis" served as a nice, dreamy exit out into the evening air. —Breanna Murphy
Phoenix
Main Stage / 10:40 p.m.
Closing out the main stage on Saturday night was our favorite band of alt-electro-rock Frenchmen, led by the fearless Thomas Mars. Even with the crowd a bit thin at the beginning of the set due to Grimes's loyal following across the park, Phoenix jumped right into a career-spanning set that got the exhausted LA crowd to throw their hands up in the air and dance along to the addictive tracks. Highlights included "Trying To Be Cool" off of 2013's Bankrupt! and the 2009 classic "Lisztomania" from Wolfgang Amadeus Phoenix.—Bailey Pennick
Ty Segall
The Trees / 11:00 p.m.
With a shorter haircut than at last year's FYF, Ty Segall commanded the stage for his late-night Saturday spot. Playing a lengthy set with mostly new material from his newly released, excellent LP Manipulator, Segall tore up the stage with heady guitar riffs and fuzz-drenched psychedelics. Even though most of the audience didn't know the words to most of the new jams, it didn't stop them from dancing, head banging, and screaming for more.—Bailey Pennick
---
Sunday
Twin Peaks
The Trees / 2:30–3:00 p.m.
"We've got about four minutes," shouted Twin Peaks' Cadien Lake James, who seemed quite out of breath towards the end of their Sunday opening set. "So that means we've got ten songs left." With each of the Chicago foursome's tracks clocking in around two minutes flat, the frontman wasn't that far off with his off-the-cuff joke. The early afternoon heat didn't stop a rowdy mosh pit from growing as the group ran through songs from their two albums—with extra hoots and hollers coming when tracks from this year's Wild Onion started up.—Bailey Pennick
Joanna Gruesome
The Trees / 3:15–3:45 p.m.
The young UK quintet followed the frenetic energy of Twin Peaks' opening set on Sunday with a loud, yet slightly boring half-hour set. Frontwoman Alanna McArdle played the part of punk maven well, throwing herself around the stage—and around her other band members—but the gestures felt hollow even though her voice was pitch-perfect. Or, really, maybe that sweet-sounding, detailed perfection within the punk frame is the issue.—Bailey Pennick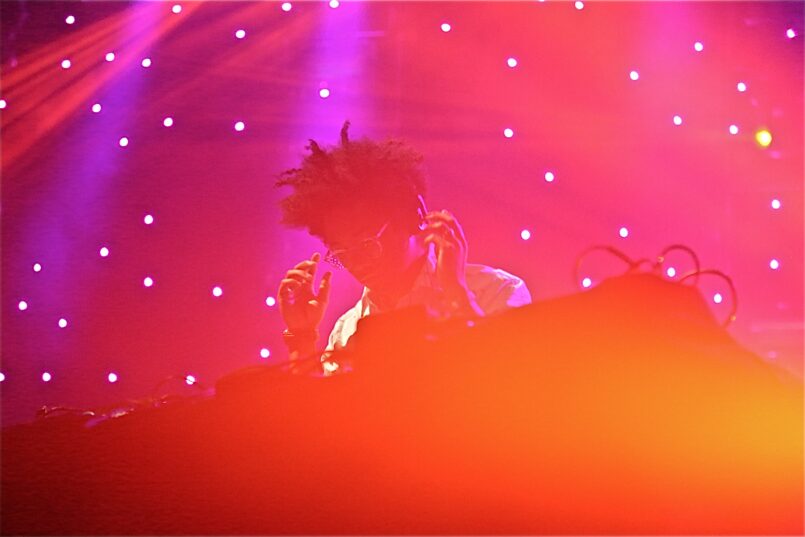 Les Sins
The Arena / 3:20–4:10 p.m.
Back into the deep, lovely lit-up abyss of the Sports Arena, Chaz Bundick was vacationing from Toro Y Moi (which he performed as in a noteworthy sunset slot at last year's FYF) in his dancier DJ alter ego Les Sins. The Arena was cool, but the vibes were even cooler, with Bundick blending and melting a refreshing and relaxed set of grooves. The lightshow of the Sports Arena—transforming and adapting in new and distinct ways like a mood ring for each FYF set—took on warm oranges and vibrant purples here, set against a sparse starscape behind Bundick. The lasting effects were just as spacey. —Breanna Murphy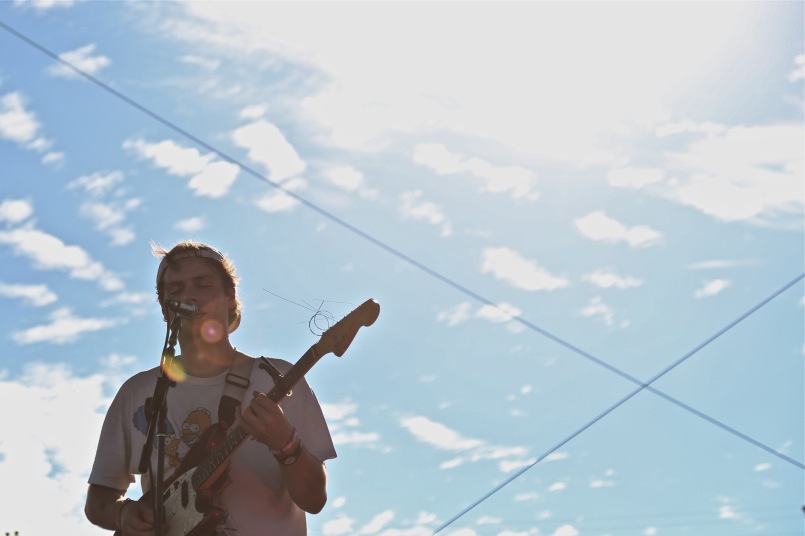 Mac DeMarco
Main Stage / 5:05–5:55 p.m.
There's something so addictive about laidback Canadian singer-songwriter Mac DeMarco and his cheesy gap-toothed grin. Sporting a backwards baseball cap and an excellent Simpsons family T-shirt, DeMarco flew through his nearly hour-long set with older tunes and newer tracks off of Salad Days. While the large outdoor setting seemed to make DeMarco's more intimate sound seem a bit hollow, he more than made up for the environment by throwing himself to the mercy of the crowd for a massive stage dive break, and performing the oddest cover of Bob Marley's "Jamming" ever attempted.—Bailey Pennick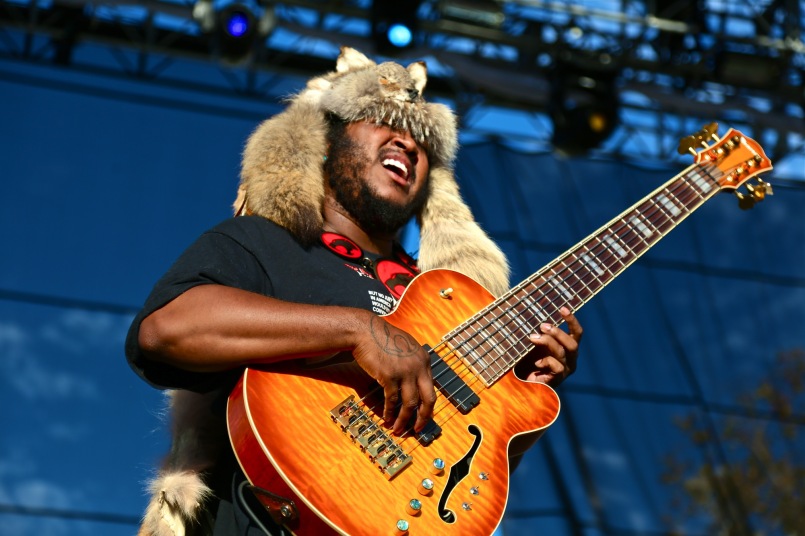 Thundercat
The Lawn / 5:50–6:40 p.m.
Back out in the waning Sunday sunshine, Thundercat emerged on the Lawn stage as, no contest, the best dressed of the fest (sorry, Grimes), delivering a fairly stripped-down set of fusion jams, his six-string bass accompanied by keys and drums. One tends to think of the Brainfeeder collective as only coming out at night—thriving in the work of darkness, strobes, and beats—but Stephen Bruner's set here was made for the golden hour. The insanely talented bassist went deep down into the rabbit hole, melding a mesmerizing tangle of acid jazz and free-form instrumentalism, that gave the impression of real-time experimentation. "Come along with me," Bruner compelled us. Gladly, we did. —Breanna Murphy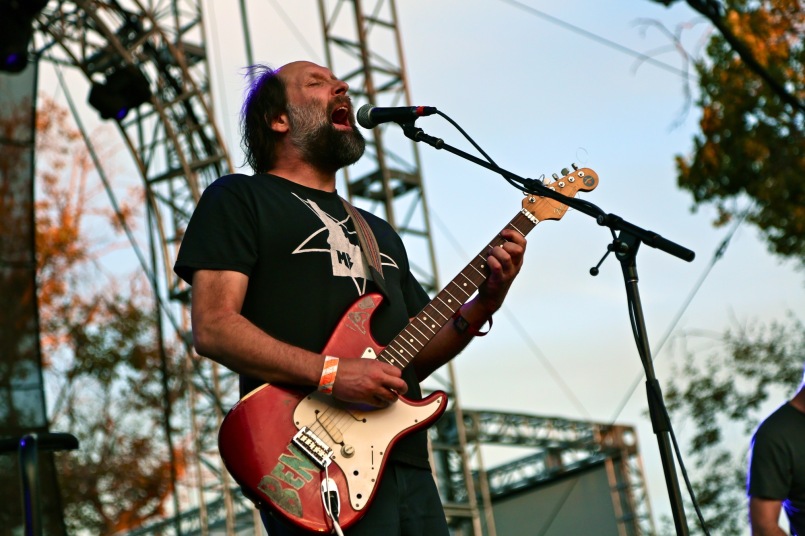 Built to Spill
The Lawn / 7:10–8:05 p.m.
I have seen Doug Martsch and Built to Spill about as many times as I have fingers and it's an experience that will never get old. Though the band is well over a decade-and-a-half past their "classic albums" (the forever-cherished and iconic Perfect From Now On and Keep It Like a Secret), the talent has not diminished as the years go onward (see: 2009's There Is No Enemy). Starting off with scorching live favorite "Goin' Against Your Mind," the gentlemen crunched and wailed through the set, indulging in a Halo Benders cover and wrapping the afternoon up with "Carry the Zero" as the sun made its move, slowly slipping down into the horizon line. —Breanna Murphy
Blood Orange
Main Stage / 7:40–8:30 p.m.
Dev Hynes and his synth-funk sound seemed to be the perfect music to soundtrack the vivid Sunday night sunset. While it was a given that he would play Cupid Deluxe's breakout hit "You're Not Good Enough," Hynes dug deep to unleash tracks from 2011's Coastal Grooves like "Champagne Coast" and "Sutphin Boulevard" throughout the night. Armed with an exceptionally detailed and talented band, including his girlfriend Samantha Urbani on vocals, Hynes mesmerized the audience with his slick guitar work, even throwing in a couple of lines from The Strokes' "Last Nite" into his groove.—Bailey Pennick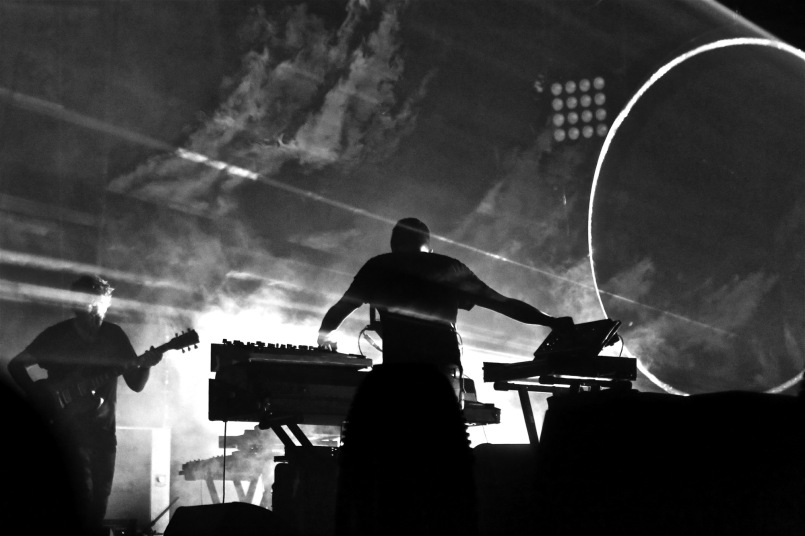 Darkside
The Arena / 8:15–9:15 p.m.
Announcing only a few weeks prior that this FYF set would be one of their last live dates "for now," Darkside was arguably The Show To See of the weekend. This fact was made even more evident witnessing and competing against the masses struggling to get into the Sports Arena for it. [Editor's note: It's hard, even now, to concede that the amount of effort was worth the show—or, any show, for that matter. And the performance was, as I will relay shortly, incredible. But to suffer unruly and confrontational crowds, confused and defensive security, and only one entrance as hundreds fought their way in… It's not what we were there for. What we were there for was to see Nicholas Jaar and Dave Harrington perform, who were most likely none the wiser of the ridiculous scene outside.]
Inside, the Arena had transformed yet again—the stadium enveloped in a true-black and neon-white scheme with Jaar and Harrington heavily obscured in fog and shadows. Behind the duo hung a huge, circular, slowly spinning mirror that refracted both dark and light into crowd, alternately drowning the arena into blackness or shooting powerful beams of white light across the crowd. As the steady Psychic build-up of "Golden Arrow," the casting spells of "Paper Trails," and groovy interludes reminiscent of the duo's funky, playful 2011 EP each peaked and subsequently fractured into tiny sonic pieces…this was what I was here for.—Breanna Murphy
HAIM
Main Stage / 9:00–9:50 p.m.
What a long and winding road it has been for the Haim sisters. Since the release of their infectious 2013 debut album, Days Are Gone, HAIM has spent the last year trekking around the globe on one non-stop tour. While the lighting seemed a bit awkward (Alana spent much of the night in complete darkness), the trio's sound was on-point and it was clear that they were thrilled to spend the last night of their tour in their hometown, and opening for one of their favorite acts around (and personal friends), The Strokes.—Bailey Pennick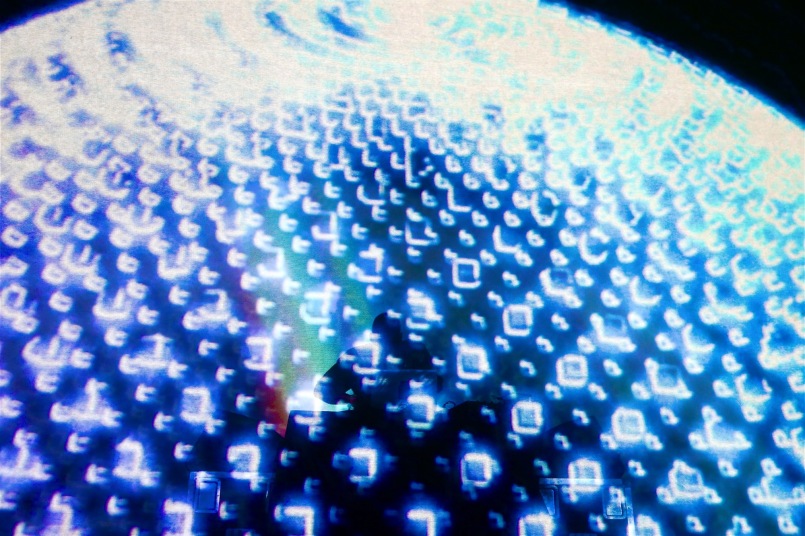 Flying Lotus
The Lawn / 10:00–11:00 p.m.
Before Steven Ellison began, the genre-shifting electronic virtuoso came to the front of the stage and humbly thanked the crowd from his heart. He was home. Stepping between a set of see-through screens and behind his boards, Ellison transformed into Flying Lotus in an instant and, like a psychedelic lightswitch flipped, his signature wormhole visuals took hold. The 3-D live show, entitled Layer 3, is done in collaboration with visual artists Strangeloop and Timeboy—and it is fucking incredible. Like the iTunes visualizer dropped acid rolling in a K-hole, the multi-layered madness synced and, seemingly intuitively, interacted with the jazz–funk–hip-hop genius FlyLo summoned into the air. Taking the crowd higher and higher—until we met him face-to-face on his astral plane—Steven Ellison left the crowd suspended in elated animation, erasing all promises of a comedown anytime soon. —Breanna Murphy
The Strokes
Main Stage / 10:25 p.m.
From the sheer volume of Strokes shirts—ranging from freshly bought from the merch tent, to the weathered old weekend staple—it was clear that the main event of FYF Fest 2014 was the rare appearance by the New York quintet. Starting with "Barely Legal" off of the band's explosive debut Is This It, Julian Casablancas, Albert Hammond Jr., Nick Valensi, Nikolai Fraiture, and Fabrizio Moretti reminded the colossal crowd why we loved The Strokes in the first place: their impeccable talent. Playing only a couple from their most recent, lukewarm release Comedown Machine, The Strokes closed out the festival with a seventeen song set spanning their fifteen-plus year career with a few brief moments of hilarious stage banter. Casablancas perfectly summed up the entire weekend with one comment in particular though: "'It's fucking chaos out there…' said Albert." Truer words were never spoken…by Albert.—Bailey Pennick