BACKSTORY: Andrew Yasgar, a.k.a. the visual artist and toy designer Sket One, has crafted figures for Kidrobot and Coca-Cola, but it's his Star Wars line that has him gaining popularity at lightspeed
FROM: Grew up on a skateboard in New Haven, Connecticut, with a can of spray paint in hand, now lives in Long Beach
YOU MIGHT KNOW HIM FROM: His custom toys, which include a bottle of Sriracha transformed into a rabbit-mutant character called "Dunny," and which have appeared in art exhibits such as the Pharrell-curated This Is Not a Toy
NOW: Just as J.J. Abrams' Star Wars franchise is poised to sprawl, so is Sket One's expanding universe of tie-in toys, to be featured soon at the FLOOD Gallery in LA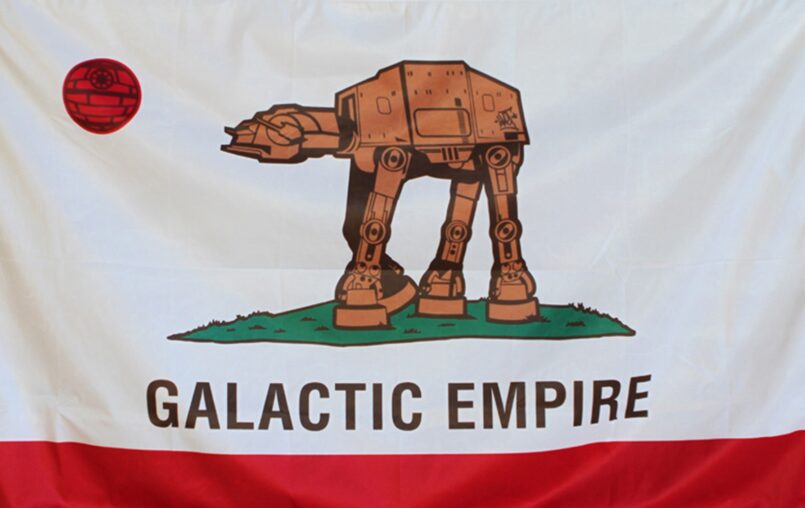 Attention, Star Wars fanatics and critics of the Catholic Church! These are the toys you are looking for: sculptures (and air fresheners!) featuring Darth Vader in a Christ pose. Princess Leia and Boba Fett depicted on prayer candles. California state flags emblazoned with Imperial Walkers.
At a time when "mashup" usually means mixing two songs together, former graffiti artist Sket One has hitched the Millennium Falcon to a religion founded almost two millennia ago. The artist, an unabashed Star Wars superfan who is buds with Mark Hamill's son, says his creations playfully poke at followers' blind faith in the franchise.
But all joking aside, there's a more serious matter to be dealt with. It's what Sket One, who himself believes in ancient astronaut theory, equates with the Evil Empire.
"The Vatican was, at one time, terrible," says the illustrator, who was brought up Catholic but (in case you haven't already figured it out) doesn't go to Mass anymore. "Catholicism literally went through country after country converting people [during the Inquisition]."
As anyone who scoffed at the comparisons between Darth Vader and Dick Cheney will tell you, the broad good-versus-evil themes in Star Wars can be used as a metaphor for just about anything—especially imperialism or colonialism. But Sket One sees a particularly apt application to the Catholic Church.
"Darth Vader and his story, sacrificing himself to the Dark Side…he was the Jesus of Star Wars," he opines. "He wasn't the son of the Emperor, technically, but he was the Emperor's right hand man."
Sket One is quick to note that there's nary an overt reference to Jesus on his own Darth Vader statues. "He's not even wearing sandals," the artist cracks.
"Some Catholics will think I'm bastardizing their religion and will be offended. But I'm just taking something and putting it into a different light. It's not disrespect, it's just my point of view."
Nevertheless, observers instantly make the connection. The Sith Lord's hands are spread out and his legs are pressed together in the shape of a cross. That simple stance is ingrained in us, culturally, to connote the Son of God, Sket One says. It's marketing, which subversive artists and brand hijackers like Sket One take to like Ewoks to blumfruit (look it up).
"Some Catholics will think I'm bastardizing their religion and will be offended," says Sket One, who—remarkably—has yet to receive any hate mail. "But I'm just taking something and putting it into a different light. It's not disrespect, it's just my point of view."
Rest assured, his Star Wars toys aren't all drenched in church critique. Equally popular are his Galactic Empire flags and T-shirts—a play on the California state flag featuring an Empire Strikes Back-era AT-AT instead of a grizzly bear.
And, like the party at Jabba the Hutt's Palace in Return of the Jedi, the fun has just begun. Sket One is planning his first-ever solo art exhibit, and his first to focus exclusively on Star Wars, to take place in Los Angeles on November 19.
While the artist admits that he's only created about twenty percent of the exhibit thus far, the ideas—some of them maybe a bit too ambitious—are gestating. Sket One wants half of the gallery to feature vibrant pop art and fun custom toys, with the other side to be concentrated on religious paraphernalia. He's planning a tabernacle, the Eucharist stamped with an Imperial symbol, wine, a chalice decorated with Star Wars imagery, and a kneeling station with candles.
"I want to build it like a small church, and I've even thought about getting pews, but I don't think I'll be able to afford it," he says.
With The Force Awakens hitting in December, Sket One's new exhibit should pique the taste buds of Darth Vader disciples like a bottle of Sketracha.

"The exhibit is going to get a rise out of people," he promises. FL