"I looked at the clock and realized I needed to throw down."
It was 2014, around the time the then-sixty-six-year-old godfather of punk, Iggy Pop, had declined an offer from the AARP to appear on its magazine cover. His Social Security benefits had recently kicked in.
Pop was reflecting on the ups and downs of his career. From 2003 to 2013, he helped The Stooges win long-overdue respect and an induction into the Rock and Roll Hall of Fame through a series of reunion shows that bled raw power. But his solo oeuvre was still lacking recent props due to a long line of uneven releases including 2012's Après—an album rejected by his longtime label Virgin Records.
"I made four records since 2007 and nothing was fitting," Pop admits.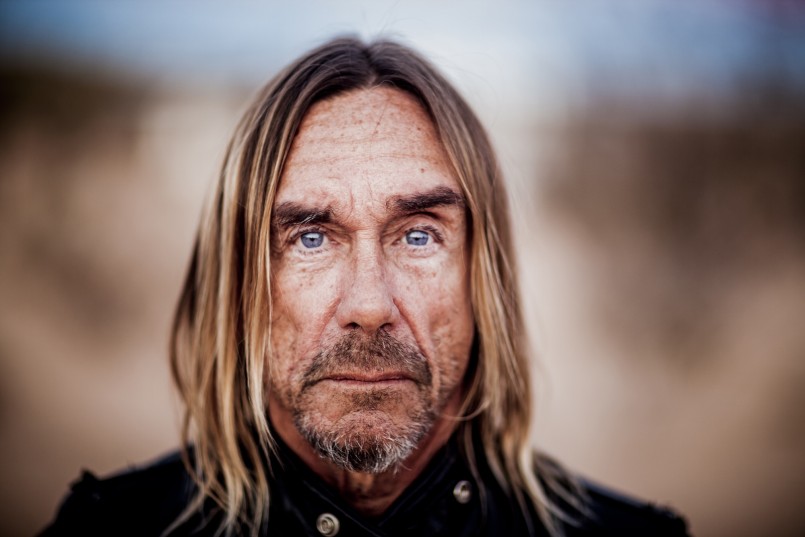 Also on his brain was Queens of the Stone Age. He had recently seen video of them performing in support of their 2013 album, the chart-topping …Like Clockwork, and was impressed by their musicianship. He recalled having met QOTSA frontman Josh Homme briefly a few times, including at an award show where Pop accepted a lifetime achievement honor.
He had received that award nearly ten years earlier. And yet there he was, living near Miami, not ready to retire—certainly not with an album of French jazz that almost no one had heard.
It may come as little surprise that Iggy Pop didn't—and still doesn't—know how to send an e-mail. (In fact, he only reads a few per month, with help from his wife.) Fortunately, though, he did know how to send a text message, and he had Homme's number.
Pop puts it simply: "I'm old enough to be his dad, but I reached out to him because I wanted to raise my bar and saw him as a very good musician. If I had understood how successful he was, I wouldn't have reached out. But I only see Rolling Stone these days when I go to the dentist's office."
As luck would have it, Homme not only considered The Stooges one of his favorite bands but also had Pop on a shortlist of hopeful future collaborators.
"For twenty-two years, I've said to my closest musical co-conspirators, 'It would be great to work with Iggy,'" Homme says. But while he was gung-ho to work with the rock icon, he didn't fall into hero worship.
"I respect Iggy, but that means it was my job to push him, too. You can't kiss someone's ass, because it's not going to get you anywhere," Homme says. "People who reach icon status don't want to drop their habits and take a chance. He knew if he went out to the desert, he'd be doing just that."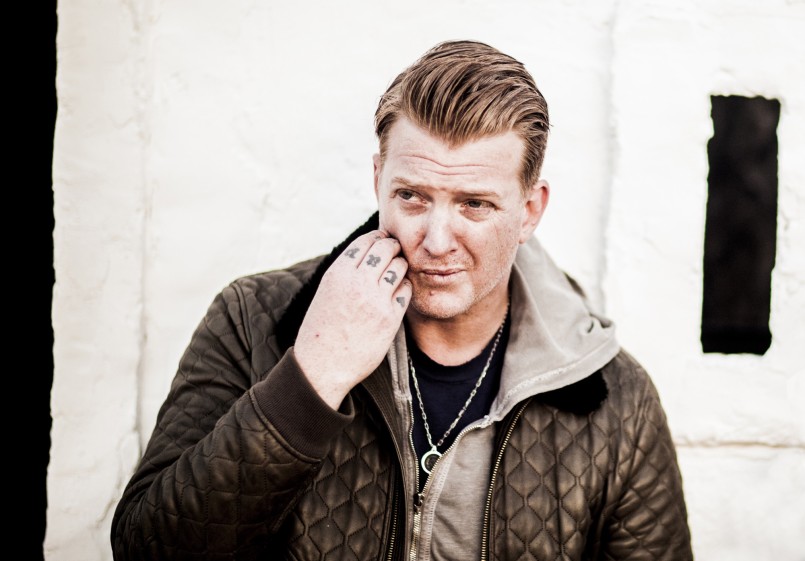 Pop indeed went far outside his comfort zone to record with Homme, traveling from Miami to Joshua Tree, near where Homme grew up. The worldly Pop, who prefers the heat, had never been to the high desert, which in January 2015 was frigid. He draped himself in a kimono for much of the three weeks that he, Homme, and their bandmates—QOTSA and Dead Weather multi-instrumentalist Dean Fertita and Arctic Monkeys drummer Matt Helders—recorded new material in secret.
Adhering to one of the ground rules that Pop and Homme laid out for the project, they didn't know at the beginning of the collaboration whether it would amount to scrapped sessions, a song or two, or a proper album.
"We did it in secret to make sure before we really knew each other that we could throw away our hang-ups," Homme says. "We promised to not put a box on anything, to not define it, and put our egos aside."
"If I had understood how successful he was, I wouldn't have reached out." — Iggy Pop on Josh Homme
Any ego that may have been brought to the desert was eviscerated upon arrival at the site where the musicians recorded: the mythical Rancho de la Luna. Pop recalls a point when there were ten guys—including engineers, repairmen, and the six-foot-five Homme—jammed into a single tiny room.
"Because it was a small scale, there was nowhere to run and hide," Pop says. "When we recorded 'Break Into Your Heart,' you could smell the balls in the room. We shared a bathroom, farts and all. We couldn't wait around for inspiration—it was a matter of 'Let's get to it.'"
The result is Post Pop Depression, a nine-song, no-filler album that finds Pop at the peak of his abilities and Homme lending the Midas touch he has given to not just QOTSA albums but also to his lauded Them Crooked Vultures project with Dave Grohl and John Paul Jones.
"I respect Iggy, but that means it was my job to push him, too. You can't kiss someone's ass, because it's not going to get you anywhere." — Josh Homme on Iggy Pop
Homme says he felt obligated to "pervert" instruments to get out of his own comfort zone. Accordingly, and similar to his work on his collaborative Desert Sessions series, he dabbles with slide guitar, synths, lap steel, the Fun Machine, and steel drums (playing the latter instrument for the first time since "I Think I Lost My Headache" from QOTSA's 2000 album, Rated R). He also produced the record.
Meanwhile, Pop takes on the perspectives of multiple characters, touching on the theme of death several times throughout. ("I hope I'm not losing my life tonight," he sings on "In the Lobby.") The Far East–sounding "American Valhalla" could also be the first song in which a Baby Boomer asks what retirement in the US looks like, to the extent it exists at all. And "Sunday" features a cacophony of instruments calling to mind both early Stooges and QOTSA.
Closing the album is "Paraguay," in which Pop—playing a character, he says—promises to flee to said country and yells at the listener, "You take your motherfucking laptop / And just shove it into your goddamn foul mouth."
"The point of that song is that the guy's not going to get that life," Pop says. "It's a dream."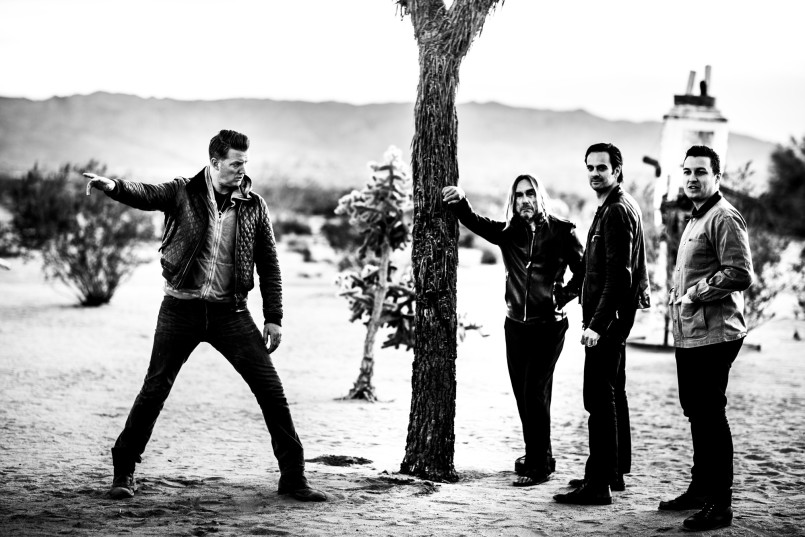 Post Pop Depression is a dream come true for fans of Homme and of Pop. But for Homme himself, the process of collaborating was enough of a reward. "We both went out on a limb," Homme says. "Because our relationship was so new, we were in a beautiful spot where we were trying to dazzle each other and surprise each other."
Just as Pop and his collaborators hadn't embarked on the project with any grand designs, neither had a tour been planned. But once Fertita said after the recording that he was suffering from "post-Pop depression," the guys decided they had to play together again. Pop says the band will tour this spring, and will not only play the new album in its entirety but also tackle some of his previous and overlooked solo songs, like "Success" and "Baby."
It appears that Pop is finally getting the rest of his rewards. In his words, he's experiencing a level of attention that a successful artist typically gets when he's twenty-eight—not sixty-eight. Meanwhile, Homme says no band ever had to wait as long between the release of their albums and those albums receiving their due. Homme notes that, following their recent joint appearance on The Late Show with Stephen Colbert, Pop said to him: "I've never put out a record where anyone cared."
"There's a part of me that would rather just stroll off and enjoy a quieter existence," Pop says. "But that usually ends up translating into some old white guy in the Third World drinking himself to death. I'm a little engine that can." FL
This article appears in FLOOD 3. You can purchase the magazine here.