Brendan Canning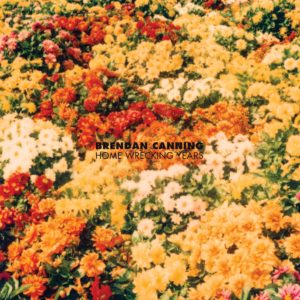 Home Wrecking Years
ARTS & CRAFTS
7/10
Broken Social Scene actually formed in 1999. But perhaps the ultimately unfounded Y2K-era fears of a total systematic breakdown unleashed the "anything is possible" attitude that dropped them directly into the post-Millennial zeitgeist. Indeed, their sprawling lineups and constantly shifting musical perspective perfectly nailed the wild new creative exuberance of the era.
The Toronto collective delivered their last full length, Forgiveness Rock Record, in 2010. But just as the announcement came that they will be gifting the world anew later this year, co-founder Brendan Canning has trotted out a new record of his own. And though the title of this third solo release, Home Wrecking Years, would rather suggest otherwise, there's really nothing all that stormy, tumultuous, or, well, reckless about it.
Still, a palpably passionate undercurrent makes it clear that he means every note and word—even if the aesthetic touchstones might catch you off guard. His fetish-du-jour seems to be West-Coast-meets-Brit-poppy psychedelia, as evidenced by the lush, effects-laden "Vibration Walls" and the intriguingly titled "Hey Marika, Get Born" (which would have made an awesome Monkees song title). Another opulent gem, "Money Mark," sounds like the result of a lot of time spent with The Byrds' Greatest Hits. Lusher still is "Nashville Late Pass," a glorious wall of My Bloody Valentine noise covering up a really brilliant Smiths riff. Perhaps it's not so odd that it's all interspersed with a few rather blithe but sexy forays into Burt Bacharach cool—remember how hip that was fifteen years ago?
Should one wish to take specific issue here, it's that Home Wrecking Years, for all the foreboding of its title, doesn't actually overwhelm with emotion. But still, this is truly some of Canning's most accomplished songwriting to date. Being grown up has its perks.