Common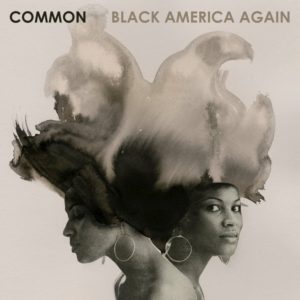 Black America Again
DEF JAM/UMG
7/10
In a classic team up with The Roots, Common once joked that his audience was primarily "coffee shop chicks and white dudes"—an acknowledgement, perhaps, that his stature as one of hip-hop's most self-consciously positive role models helped make the idiom's tropes more palpable to non-black audiences. One can only imagine how dizzying it will be for those audiences to hear Black America Again, a deep and at times brutal record that—not unlike Kendrick Lamar's To Pimp a Butterfly before it—feels so steeped in blackness as to almost be insular: it doesn't really seem like Common made this album with anyone but black audiences in mind, and though he's way too nice to ever say it, he probably doesn't give a shit whether the coffee shop chicks and white dudes like it or not.
Nothing is held back. "Here we go, here, here we go again / Trayvon'll never get to be an older man," is how he begins the title song, bearing impassioned witness to a cycle of violence that has already claimed so many and leaves countless others stuck on endless loop. And he's off: Common spits arguments, macabre punchlines, and history lessons like he's Chuck D, and in the first verse alone touches on the auction block, Black Lives Matter, mass incarceration, the drinking water in Flint, fast food, and Viola Davis. It goes deep and it cuts hard, and its stated intention—"rewriting the black American story"—is made believable by its urgency: when you're backed into a corner, there's really nothing else to do but punch your way out, and Common lands blow after blow: "You put a nigga in Star Wars, maybe you need two / And then, maybe then we'll believe you / See black people in the future."
"Letter to the Free" is even tougher, its form recalling the freedom songs of Nina Simone (or even Charles Mingus circa "Freedom"). Bilal sings the hook, filled with gospel hope in eventual liberation, and Common's verses retell American history as an American horror story: "Southern leaves, southern trees we hung from / Barren souls, heroic songs unsung / Forgive them Father they know this knot is undone." And that's before he even makes it to the pilgrims.
In many ways this feels like the record Common has always been working toward. It's as unsentimental about the state of black America as Nobody's Smiling was in 2014, and it somehow manages to feel as focused and as on-message as the masterful Be from 2005, while also packing as many divergences and discoveries as Like Water from Chocolate in 2000. Like that album, Black America Again is as much a community triumph as an individual one; this summit of black bohemia name-drops Ava DuVernay, Ta-Nehisi Coates, and Cory Booker, and it includes features for John Legend, Stevie Wonder, and BJ the Chicago Kid, among others. The tracks are lean and hard hitting, productions on the bluesy tip but performed with fervor; Legend's "Rain" feels like a church song and "Love Star" kicks off a slow-burn intermission that celebrates black love and intimacy—necessary context for the righteous indignation found elsewhere.
I said at the beginning that Common didn't give a shit whether the coffee shop chicks and white dudes dug this one, but watch his performance of the title song on a recent episode of Fallon. When the piece ends, the camera zooms in for a close up of his face, and he just stares back at us for several seconds straight. There is empathy implied by our shared humanity—and the first step to achieving it is to not turn away.