Run the Jewels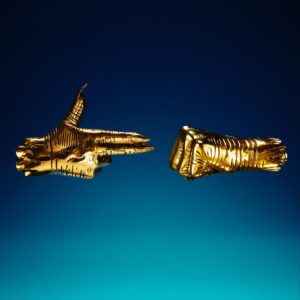 Run the Jewels 3
SELF-RELEASED
8/10
Over the course of three Run the Jewels records (and one Cat-tastic remix album), Killer Mike and El-P have been the high priests of dystopianism—a congregation that's swollen in size lately, and whose adherents will find themselves validated (if not emboldened) by Run the Jewels 3 and its steely resolve. "You're gonna need a bigger boat, boys, you're in trouble," says El-P at the outset. "Gonna need a little hope, boys, on the double." It's a voice of welcome and understanding: As we come hobbled and bleeding to the desolate place they've long called home, El-P and Killer Mike rush to remind us that we're not alone, which is a very different thing than telling us that everything's gonna be OK. It's not, but you can't blame Run the Jewels. They've tried and they've tried to warn us.
Almost thirty years since Public Enemy sounded the "Countdown to Armageddon," this third Run the Jewels album sounds like a regrouping; the countdown is over, the good guys lost, now let's fuck some shit up. And they do. For a record as relentlessly despairing as this one, nothing here ever sounds grim or moribund. Like the recent Tribe Called Quest comeback, it turns to expertly executed rap thrills to keep things exciting: Mike and El-P rap their asses off, practically tripping over each other with killer cadences, bleak hilarity, and bristling rage. "Call Ticketron," set against a small assortment of ticking clocks, finds Mike juggling syllables with staggering nimbleness: "I'm the sama lama doo ma lama danger dick'll do your mama / Skeeter with the peter, never eat her, tell her see ya later." There's something comforting in his mastery of flow; these two are our self-appointed Robin Hood and Jesse James—gunslingers, folk heroes, shit stirrers—and it's empowering to be on the same side as guys who so consistently hit their marks.
To compare Run the Jewels albums is to speak of degrees of aggression, and there may be a case for 3 as slightly more open than the other two, a tiny bit more prone to let the music breathe in between sonic assaults and Bomb Squad–style cacophony. But that could very easily be in my head—an illusion created by the record's stellar pacing and flow.
Kamasi Washington shows up to blow his horn on "Thursday in the Danger Room," where his spiral of melody is perfectly absorbed into the song's swirl of paranoia. "Thieves! (Screamed the Ghost)" has Tunde Adebimpe and the ghost of Martin Luther King both bearing weary witness to the riot as the language of the brutalized and the marginalized. Both songs feel essential, but not necessarily any more so than "Legend Has It," with its ghostly talking boxes and venomous back-and-forth between the two MCs. The whole record is a riot act, really—and there's immense catharsis in its appetite for destruction.