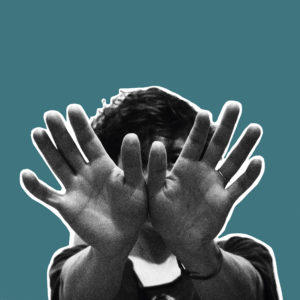 tUnE-yArDs
I can feel you creep into my private life
4AD
8/10
It is increasingly difficult to remain unaffected by national mood—to preserve one's interior life from the pervading rot of the culture, to be unalarmed by rising tides, both figurative and literal. It's to her credit that Merrill Garbus, on her first tUne-yArds album in four years, confronts the darkness head-on; she looks to it not as an excuse for fretting but as a mirror, an occasion for self-inventory.
That's not to say that I can feel you creep into my private life is worry free. It opens with a song called "Heart Attack," which dramatizes the kind of daily freak-out that many of us endure when first checking the morning tweets. "It's giving me a heart attack / We jump so far and fall right back / It's giving me a heart attack / Don't let me lose my soul," Garbus sings, panicked that the arc of the universe doesn't seem like it's bending toward justice after all; that its downward spiral might pull us all down with it.
But the hangover of despondency is fleeting—this isn't an album for lamenting, but for energizing, mobilizing, taking stock, and pushing forward. It also happens to be the sleekest and most direct tUnE-yArDs album yet. In fact, it bears a passing resemblance to MASSEDUCTION, the album St. Vincent put out last year; both are cases of an art-pop auteur tipping the scale further than ever toward pop, doubling down on hooks and polished mainstream sheen without actually jettisoning any of their quirks or peculiarities.
It's a move that brings out the best in Garbus, whose style has always had a performative edge to it; her flair for the dramatic is nicely balanced by the record's fleet-footed pop craft, even as it enlivens her political fascinations. The result is a tUnE-yArDs album that's as distinct as ever, but also broadly appealing—and, a protest record that doubles as a dance party. (If you wanted to play socially-resonant music at your next social gathering, you'd likely reach for the bubbly, cathartic joy of this record long before you switched on, say, the glum LCD Soundsystem album from a few months back.)
And it is a joyful record—as a matter of intention, and even when the lyrics might seem to convey otherwise. "Colonizer," for example, is a song that takes stock of what it means to be a white person fighting for racial justice; that's not a conventional dance track theme, but there's real abandon in how the song's glitchy electronic groove builds steam, just as there's tremendous fun in the spastic disco of "ABC 123" and in the concentric circles of voice and percussion on "Hammer."
These pleasures are crucial to the success of this record: They're sensual delights you can feel on your skin, they're catalysts for emotional connection. So when Garbus sings, "I called you up because I'd like to see it your way," you take her at her word. She's felt the darkness. She's taken stock of herself. And she's ready to build a way forward—but she's going to need all of us there, dancing alongside her.