Hollie Cook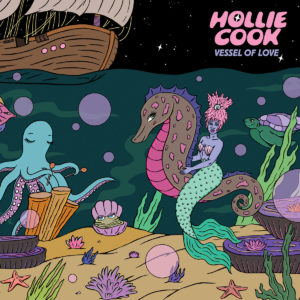 Vessel of Love
MERGE
7/10
For Vessel of Love, self-described "tropical pop" singer Hollie Cook wrote songs with some of the biggest names in reggae, and ultimately collaborated with industrial rock trailblazer Martin "Youth" Glover (of Killing Joke) as producer—an association that suggests a kind of grandeur but manifests as something subtler, and ultimately better. In the best sense possible, Vessel of Love feels modest and small-scale—the work of a self-possessed singer who's inspired by tradition but never beholden to it, and whose attention to detail ensures auditory pleasure at every turn.
And make no mistake: Between Cook's honeyed vocals and Glover's rich, nuanced production, Vessel of Love certainly does sound exquisite. Snares pop, bass throbs, horns riff, and nearly every verse has a delicious rumble of percussion or a swell of synths. The way each song feels just a little bit disheveled—the way the drums break here, or an organ skitters off track there—gives the album the kind of loose, lived-in feel of the best Lee "Scratch" Perry productions, but updated with a decidedly sleek, modern feel: These songs are persuasive in their tight, live-band chemistry but also gloriously decked out in electronic ornamentation. There's a lot of cling and clatter here, but also real mastery of space; the productions are colorful, but never so busy that they distract from the music.
Above all, this is a record about feeling, something that's reflected both in its skillful mood-setting and in its forthcoming lyrics. If the rumbling low-end makes the album feel deep and inviting, Cook holds up her end of the bargain with a set of songs that are personal, emotionally direct, and resilient, with melancholy bubbling just below their cheerful surface. They're love songs, written during a season of emotional tumult, and some of the titles—"Stay Alive," "Survive"—betray the high stakes.
There's a dark swirl around these songs, but Cook remains buoyantly above it—riding each wave, each ominous rumble to a new peak of joyful release. She puts a lot of heart into these songs, and it pays off: On Vessel of Love, the feelings are as big and inviting as the grooves themselves.