Sting & Shaggy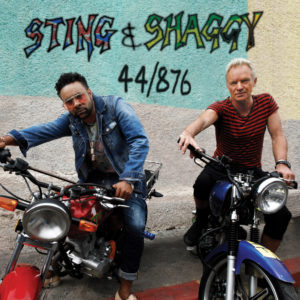 44/876
A&M/INTERSCOPE
5/10
In all their time together, The Police never hid their love for reggae. In fact, its influence is a salient part of the British rock band's repertoire. Sting's solo career, however, veered more towards the AOR/MOR spectrum—that is to say, rather bland and unexciting. As a result, it never received the same kind of acclaim his band did, and it was certainly never considered "cool" music. The same could be said of Shaggy, the Jamaica-born musician best known for "Boombastic," "Oh Carolina," and "It Wasn't Me," all novelty hits, not exactly cool either. Of course, coolness isn't a criteria on which anything or anybody should be judged: And so while 44/876—the unlikely collaboration between these two musicians—won't be found anywhere near the Spotify accounts of the too-cool-for-school lot, it's actually not too bad.
The twelve songs were recorded in both Jamaica and New York and feature a number of musicians, including Sly and Robbie's Robbie Shakespeare, dancehall star Aidonia, and jazz musician Branford Marsalis. The easy-going vibes of "Morning Is Coming" and "Waiting for the Break of Day" and the mellow, laid-back reggae grooves on "To Love and Be Loved" both show how well the pair's vocals complement each other, while the slowed-down sensuality of "Sad Trombone"—despite a clunky lyric about making "the sweetest love to her with every semiquaver"—is full of compelling, smoky atmosphere.
That said, the relaxed rhythms of "22nd Street" and the slightly more uptempo, '80s-inspired "Dreaming in the USA"—with its naïve and misguided message that buys into the myths of American corporatism and capitalism, as well as the idea that anyone can make it here—falls into that somewhat uninspired AOR/MOR pit, while "Just One Lifetime" finds Sting and Shaggy becoming caricatures of themselves, both lyrically and musically. Still, although this is a record that will probably only appeal to those already into reggae, it's a heartfelt tribute to both Jamaica and Caribbean music that's much better than it has any right to be. And don't let anybody tell you otherwise.