Kamasi Washington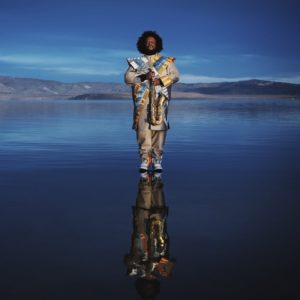 Heaven and Earth
YOUNG TURKS
8/10
Everything Kamasi Washington does is big. The saxophonist's breakthrough release as a band leader was called The Epic, and it lived up to its title by offering a triple-sized serving of gloriously sprawling jazz. He followed that with Harmony of Difference, an "EP" that was longer than any of this summer's G.O.O.D. Music "albums," ideologically deep and complex. Now comes Heaven and Earth—not exactly a modest title—which feels hefty even at a mere (!) two discs, many of its sixteen songs nearing or surpassing the ten-minute mark, nothing about it feeling throwaway or slight.
There's probably an argument to be made against Washington's relentless focus on pure sonic ballast; you might contend that Heaven and Earth is too cumbersome to enjoy in a single sitting, and perhaps even slightly exhausting. That's true enough, but look: Some fiction writers can only produce novels while others focus on short stories, and the two skill sets aren't necessarily transferable. So it is with composers. Washington's never claimed to be a miniaturist, and on Heaven and Earth he takes full advantage of his big canvas; he asks us to indulge him as he spreads out across luxuriously long run times, and he generally rewards our faith by offering transcendent beauty, earthy improvisation, and compositional sophistication throughout. The sheer audacity of his music simply wouldn't fit into smaller packages.
That's because he's not just painting with the colors of the orchestra, though he's certainly a superb arranger; he's painting with history and tradition itself. As on The Epic, he shows a particular fondness for the soul-jazz spiritualism of the 1970s. More than anything he's done in the past, though, Heaven and Earth feels omnivorous. "Fists of Fury," the blazing album opener, borrows the tight, in-the-pocket grooves of socially-conscious funk and R&B—think Curtis Mayfield and Marvin Gaye—and even includes lyrics that invite social action. "Vi Lua Vi Sol" breaks up its jazzy jubilance with smooth, Stevie-esque choruses. "Journey" winks at black gospel traditions via its wailing organ, then "The Psalmist" connects it back to jazz, A Love Supreme–style outpourings atop a clenched funk pace.
There are choirs and strings, rumbling low-end and even some dissonant synthesizer; and there are songs of jubilee and liberation, born equally of church traditions and civil rights marches. Everything's writ large; it is music that contains multitudes, and it's teeming with joy and power.