9 is the name of the fiction film that is objectively Daniel Day-Lewis's worst, but we're claiming that number back for ourselves, as it's now the name of the FLOOD installment that is quite possibly our best. In what is obviously our ninth issue, we're packing more stories than ever before, with four cover stories sitting amongst twenty total features—all available in two collectable print versions—which will no doubt keep you far more satisfied than you were nine years ago when you wasted approximately nine dollars on a ticket to see the latest Daniel Day-Lewis film in theaters. You can click here to subscribe to FLOOD, here to read or download the Paul Dano/Wu-Tang Clan version, and here to read or download the M.I.A./Tenacious D version.)
And who better to feature on the FLOOD 9 cover than Paul Dano, the actor who goes toe to toe (pin to pin?) with DDL in Paul Thomas Anderson's oil baron epic. We profiled Dano on the occasion of his new directorial debut, Wildlife, cowritten with his longtime girlfriend, creative partner, and social media documentarian Zoe Kazan.
[Click here to read our cover story on Paul Dano.]
On the flip side, we're celebrating twenty-five years of the Wu-Tang Clan because, well, it was something that needed to be done. Courtesy of RZA, Method Man, U-God, Masta Killa, and Inspectah Deck, we trace the origins of one of the greatest rap groups of all time, as well as take a first-hand look at the impact they've had on contemporary rap, as explained by Joey Purp, JPEGMAFIA, and $uicideboy$.
[Click here to read our cover story on Wu-Tang Clan.]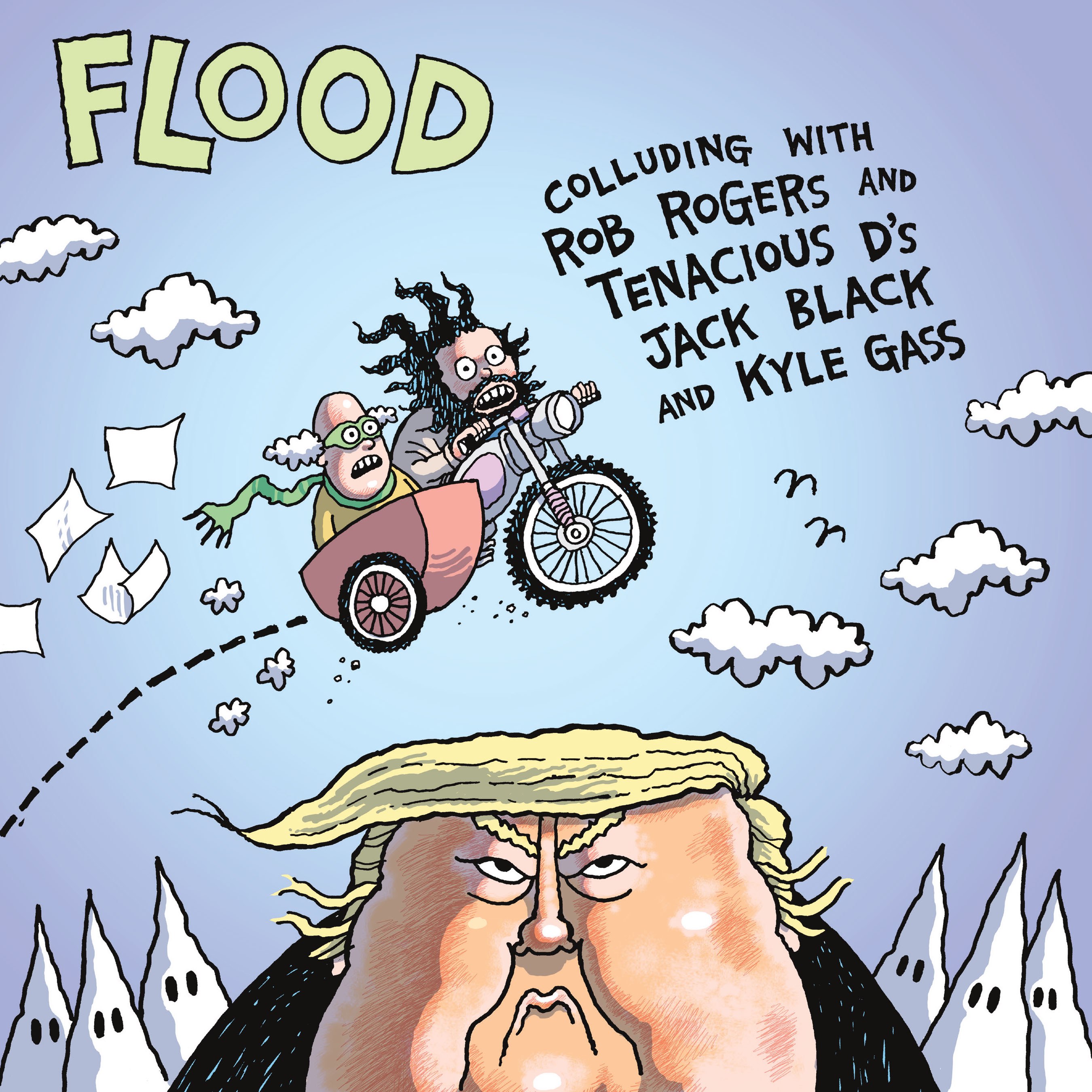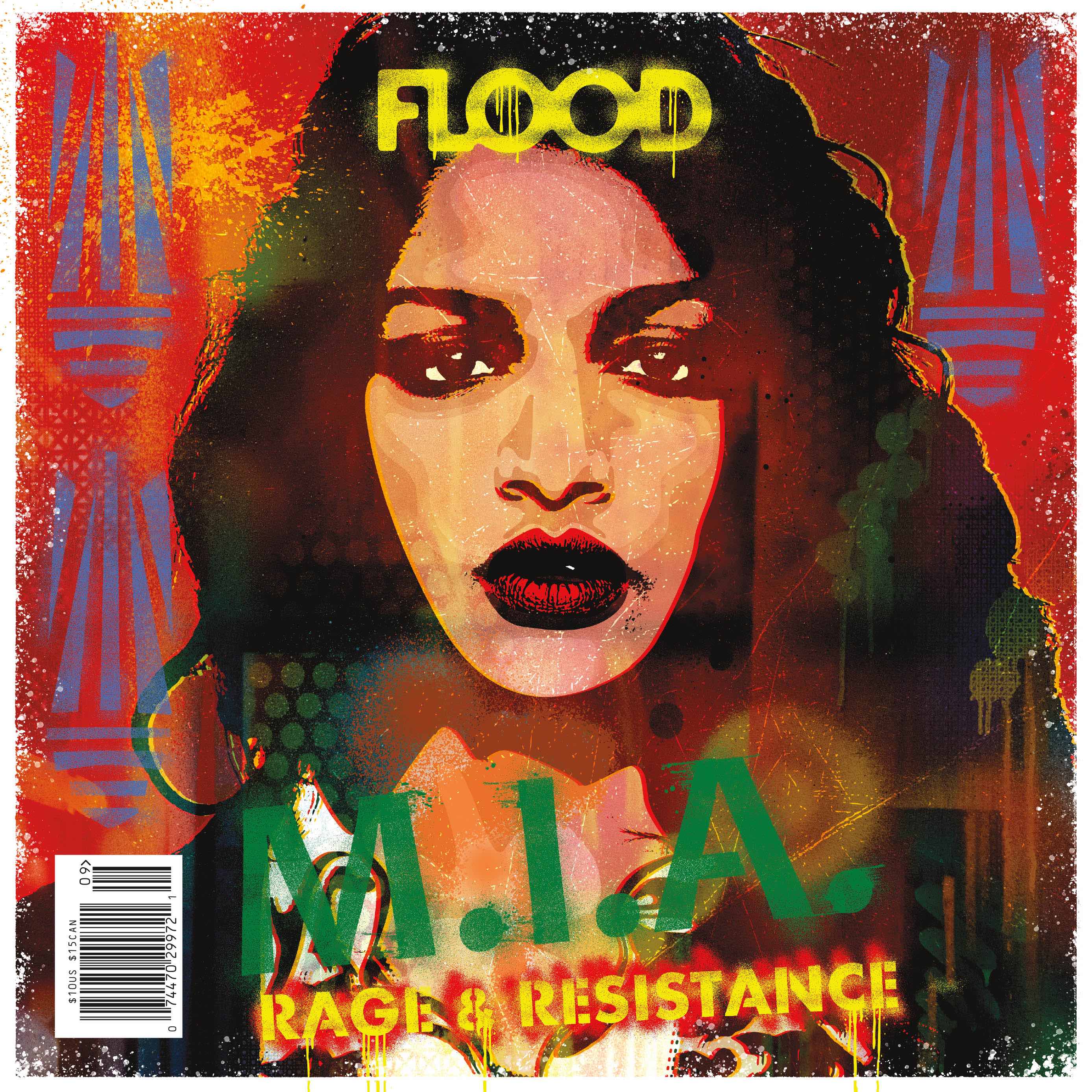 Speaking of anniversaries, it's been ten years since Mathangi Arulpragasam—a.k.a. M.I.A.—burst straight to the top of the whole damn world with "Paper Planes." And with Steve Loveridge's new documentary Matangi/Maya/M.I.A. hitting theaters, we caught up with the rapper to talk about her turbulent public life as an entertainer and as an activist.
[Click here to read our cover story on M.I.A.]
And last but not least, we arranged a secret meeting between ex–Pittsburgh Post-Gazette political cartoonist Rob Rogers and current Tenacious D troublemakers Jack Black and Kyle Gass to discuss *checks notes* the art of drawing genitalia and escalator descents into hell. With the D's new animated webseries Post-Apocalypto hitting the web, the colluders consider America's shifting zeitgeist and censorship in art, as well as other subjects that, uh, probably would have been censored at more conservative outlets.
[Click here to read our cover story on Rob Rogers and Tenacious D.]
Speaking of censorship, elsewhere on the music side of the issue we chatted with the recently reunited members of Swearin' about pickin' up where they left off five years ago. Likewise, Jason Pierce walked us through the recording of his first Spiritualized record since 2012, and Shadrach Kabango gave us the details on his first LP as our boy Shad since 2013. For something with a little less backstory, though, we introduced ourselves to the Japanese art-rock group CHAI, and highlighted two distinct new voices in Chicago's ever-burgeoning DIY scene: Grapetooth and Lala Lala. Lastly, we corralled Julien Baker, Lucy Dacus, and Phoebe Bridgers to offer some details on their new collaborative project, boygenius.
On the arts and culture side of the magazine, we profiled the Master of Horror John Carpenter just in time for both Halloween and Halloween (2018). We also spoke to Yalitza Aparicio and Marina de Tavira, the stars of Alfonso Cuarón's latest film, Roma, about their experiences on the forthcoming Best Picture contender, while The Good Place and Barry actress D'Arcy Carden gave us the lowdown on her busy year. Finally, an interview with Genius Grant–recipient photographer Dawoud Bey and a profile on painter Wallace Richard Mills round out the issue, along with Breaking stories on comic artist Dylan Balliett and New Yorker cartoon editor Emma Allen. And of course, we've also included some additional party favors in the form of a carefully curated selection of Lou Reed sass—hand-picked from a new collection of interviews—and a beefier-than-ever humor section.
[Click here to read our profile on John Carpenter.]
Subscriptions to FLOOD are available here, and include both versions of the magazine, as well as limited-edition merch (a one-year subscription comes with a shirt and a very orange baby Trump balloon, and a two-year subscription comes with a shirt, a balloon, and an M.I.A. lithograph poster, while supplies last).
Otherwise you can pick up FLOOD 9 on newsstands at Barnes & Noble, at Burton, Original Penguin, and Zumiez stores, or in your room at an Ace Hotel—or you can click here to read or download any of the four sides.