This article appears in FLOOD 10. You can purchase the magazine here.
---
Before recording their fourth album, Violet Street, some of Local Natives' greatest exploits involved low-stakes pranks. Case in point: when the Los Angeles quintet moved out of their former Silver Lake recording studio, they staged a Beatles-referencing rooftop concert. ("I'm supposed to be mad…" vocalist Taylor Rice remembers their baffled landlord saying in a phone call.) When it comes to the music, however, the band takes things much more seriously. 
When Local Natives began an eight-month recording session with producer Shawn Everett (Alabama Shakes, Kacey Musgraves), the band—which also features Kelcey Ayer, Ryan Hahn, Matt Frazier, and Nik Ewing—quickly realized they were being pulled into uncharted territory. 
"We would show up to the studio and kind of not know what was going to happen that day," Ayer explains of the uncharacteristically experimental sessions. "Usually we write every single part as closely as we can, and then we'd go to a studio and try to make it better."
RELATED: A Day with Local Natives' Favorite Side Projects
This may sound like a case for Oblique Strategies, Brian Eno's famous creative strategy card game, but the band assures me that some of the fixes Everett proposed for their write-on-the-spot method were much stranger. Sometimes it would involve using tuning glasses filled with water until they produced the right note when tapped, or smashing those and using the destruction as part of the chorus on "Someday Now." 
For "Megaton Mile," they ran analog recording tape around the room, pulling on it as they played their parts to create the desired distortion. ("This stuff is hard for us to explain because a lot of times we didn't know what was happening," Frazier laughs.) It was a far cry from the regimented approach they took with their debut, Gorilla Manor, at a time when—they admit—they wouldn't have even understood some of these production suggestions, let alone heeded them.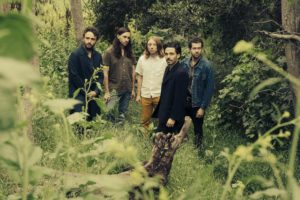 "It seemed like our hit rate was high," says Rice of the unorthodox process. "Let's try this crazy thing—we were all nervous to do it, and it worked out 99 percent of the time."
Crazy, yes—but all members agree it brought the best out of them, to the point where they often didn't recognize the level of craftsmanship they were achieving on the fly. To that end, they also agree there was one stand-out moment when all of them began to truly appreciate the process. 
"We would do things with Shawn, like everyone running around this microphone screaming and banging on stuff and turning it into this beautiful aural chord over the sparsest song on the album," recalls Rice. "That was for 'Vogue,' the opening track."
"Running around this microphone defined the record," adds Hahn. "We ended up naming the Spiral Choir Tour after that whole thing. That felt like it encapsulated the making of the record. Turning chaos into something beautiful."
"We would do things like everyone running around this microphone screaming and banging on stuff and turning it into this beautiful aural chord." — Taylor Rice
Violet Street benefits from the band's willingness to think outside the paradigm they've created over their previous four albums, while maintaining Local Natives' signature vocal and folk rock harmonies. 
But how to present it to fans without destroying the planet in the process? Although acutely aware of how humans impact the environment, their understanding of the matter was enriched in 2017, when they were asked to participate in VICE's Earthworks documentary series. During the filming, the band traveled the length of the Colorado River and learned about the source of Los Angeles' water and everything, from farming to politics, that threatens the supply. It was a formative experience that they're still unpacking. 
"I think the lasting impression as the trip went on was that this is vastly more complex than we originally thought," says Rice. "At first there was depression about it. It's insurmountable…but working together and doing your part is important psychologically—for everybody to be in that mindset to make the moves required as a society to get to a sustainable point." 
Although they are lifelong Southern Californians—an area where short showers and dry lawns are an accepted part of daily life—the experience forced the band to think of how they could lead by example and help green a profession that requires a fair amount of travel and resources. 
"Touring comes with incredible, heartbreaking amounts of waste," says Rice. "There's so many single-use plastic things. Food can be really difficult to consume wisely and can get thrown away all the time. There's a really big environmental footprint that has a lot to do with your rider, and how materials are being used. On every single tour, we've battled harder and harder to have less and less waste. On our last tour, we bought a water filtration system. Usually it's just pallets of plastic water bottles that people take one sip of and throw away. The only way not to do that is to ban it and have reusable bottles."
"Just having those water bottles out on stage says something," notes Hahn, mentioning that, thanks to a donation from reusable water bottle company S'well, the band and crew are even more capable of enforcing this policy. 
"Touring comes with incredible, heartbreaking amounts of waste. There's so many single-use plastic things." — Rice
The members of Local Natives are no strangers to speaking out about what they believe in. In another example of giving back, they're working with Plus1, which gives one dollar from every ticket sold on their upcoming tour to support gender-based violence intervention programs. However, they warn that discussing the matter and taking personal responsibility are only the first two steps toward a long-term solution. 
"The big thing we learned was to constantly be in your local politicians' ear about water preservation," says Ewing. "Showering less is great, but these issues are so complex that if you can affect your community in a local way, it really feels like it's a non-partisan thing to do. We all want water, we all want to live, we all want our cities to continue. It can't be just on a grassroots level." FL