Picture this: You're twenty again (sorry), and you're home in the suburbs again for a summer between school years. Or maybe you're seventeen again (even sorrier), and you're trying to figure out how to make that three-month break from school not feel like a total slog. If your favorite indie band was headlining a free show in the big city not that far away from—but definitely not close to—your quaint little suburb, what would you do to get there?
Many teens, college students, and even adults desperate to briefly escape New York's suburbs answered this question when faced with the House of Vans Brooklyn series at the start of the 2010s. By the end of the decade, though, the series had replaced its indie headliners—Toro y Moi, Les Savy Fav, Cursive—with mainstream names such as Interpol and, in the same show, Liz Phair and Blondie (with then-rising indie great SASAMI opening). These two shows occurred during the summer of 2018, after which House of Vans would cease to exist in Brooklyn while thriving elsewhere. In Chicago and London, the still-hot series has recently hosted mainstream headliners such as, respectively, Vince Staples and Foals.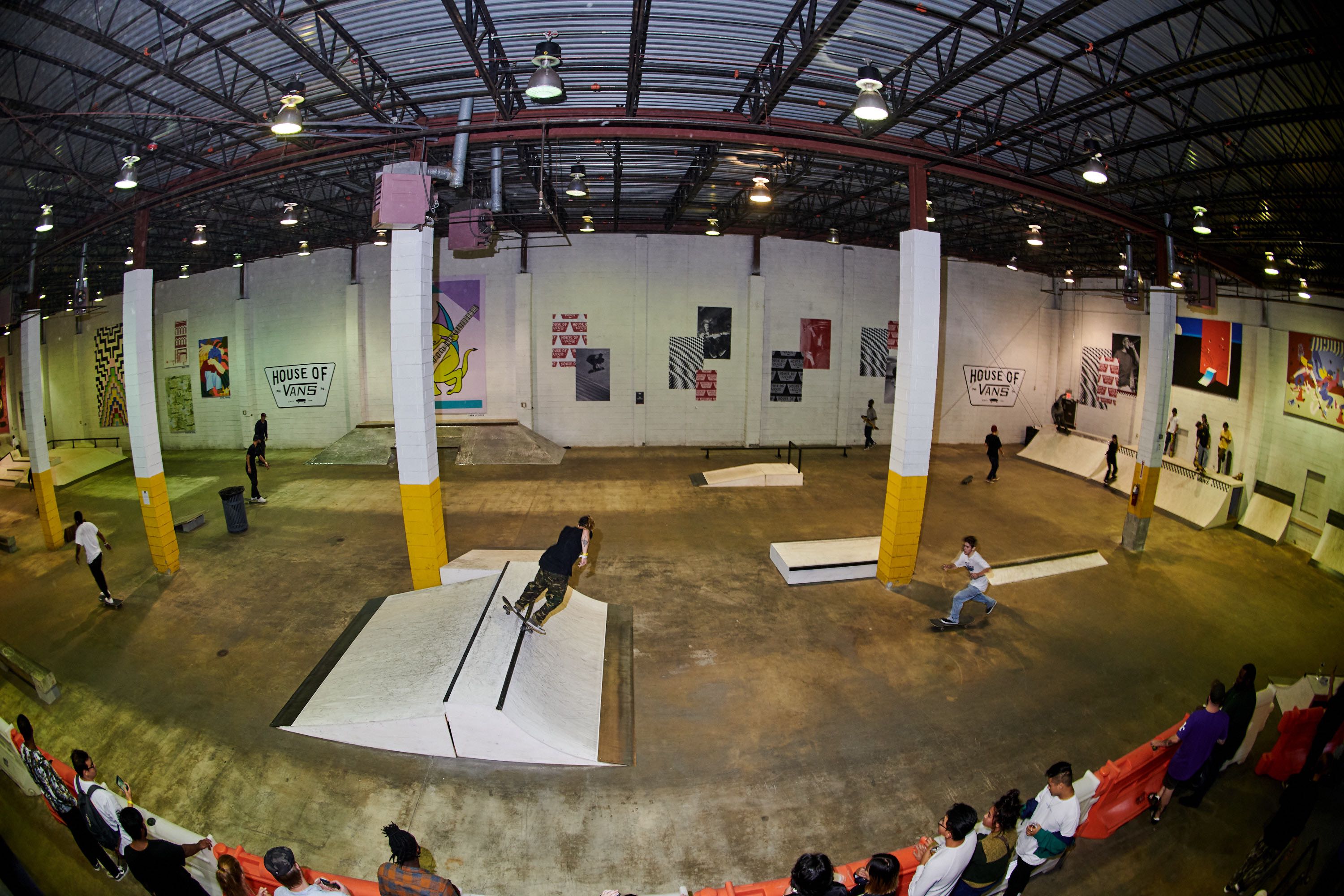 "When House of Vans Brooklyn opened in 2008, it was created as an experimental place where we'd bring the [Vans] ethos of 'Off the Wall' to life," says Brooke Burt, Vans' Senior Manager of Lifestyle Brand Marketing. "We couldn't have anticipated the impact it would have on communities." 
For New York suburban kids like myself, this is the understatement of a lifetime. My New Jersey pals and I, not to mention hundreds (if not thousands) of other suburban travelers, often arrived at House of Vans Brooklyn well ahead of when doors opened—this sometimes required an hour of driving even before factoring in New York traffic conditions—so we'd reach the front of the line before the venue hit capacity. Yes, we stood outside for hours under the blazing hot Greenpoint sun in New York's notorious summer humidity and endured all the sweat that comes with it; yes, our limited-edition show posters that we got for being the first, like, sixty people in line inevitably wrinkled into disuse by the show's end; no, we regretted nothing about the effort we expended to see our normally-expensive favorites for absolutely free.
Although I, too, left Brooklyn around the time that House of Vans did, I recently got to experience the series joys' all over again, thanks to a four-day House of Vans pop-up in my current home of Philadelphia. The series has more heavily relied on this pop-up model in recent years, a choice that stems directly from the original Brooklyn series' success.
"The main objective with House of Vans," says Burt, "[has always been] to uplift and celebrate creative communities." As the series travels to global locations including Philly, Detroit, and Johannesburg, it accomplishes its mission by highlighting cities' thriving cultures through musical performances (Detroit was blessed with a free Danny Brown headliner), art exhibitions, street markets, and workshops. 
"The main objective with House of Vans [has always been] to uplift and celebrate creative communities."
— Brooke Burt
At House of Vans Philly, for example, art exhibits included Jonathan Rentschler's photography of skate culture at the city's LOVE Park, which these days is very much not a skate-friendly location (instead, it's where every tourist takes that picture—you know the one). Similarly, along a wall near the venue's open skate area, photography from the recent book FDR Skatepark: A Visual History put the gigantic South Philly park's skate culture front and center. In the open skate area proper, local skaters popped ollies and landed kickflips in front of colorful, psychedelic street art that echoed the works on display at revered street artists Shepard Fairey and Andy Howell's acclaimed, ongoing retrospective all the way across the country.
The music stage separated this skate area from a street market where vendors sold skate-associated clothes, jewelry, and, of course, skateboards. Just around the corner from the market, House of Vans attendees could stumble into faintly disguised rooms with entryways covered in thick but flimsy plastic sheets that at once extended an open invitation to explore within and maintained some mystery. On the Philly pop-up's first night, I had the unexpected experience of walking into one of these rooms for what was advertised as a workshop with the folks behind beloved Philly ice cream brand Little Baby's to discover local indie titans Hop Along chatting with the host of music-and-food podcast Snacky Tunes. 
As the podcast's title might suggest, someone from Little Baby's was present, as was the proprietor of a well-liked local wine brand—but Frances Quinlan and her squad commanded the room's attention. And that's exactly what they did on stage later, with a boisterous set of anthems to which crowd members eagerly belted along. House of Vans slotted the ferocious, emo-inflected rock band between two fellow local acts with whom they share roughly no musical similarity: almost-certain-to-be-huge-soon producer-songwriter Orion Sun, whose music is as bedroom-pop as it is hip-hop, and headliner Tierra Whack, whose fifteen-minute, fifteen-song debut album Whack World became a sleeper hit with rap fans the world over. Attendees were just as enamored with Orion Sun's stylistic versatility as with Whack's seamless ability to transform Whack World's candy-like recordings into rambunctious live anthems.
Burt says that the lineup's eccentricity was intentional: "The goal is to put on great shows in unexpected ways, mashing up genres and allowing fans to experience their favorite acts for free in smaller-cap rooms, while also discovering artists they may not have heard of." House of Vans almost certainly kept this mission in mind when deciding on the next evening's non-local lineup too: Indie-folk band Y La Bamba, hip-house producer-rapper Channel Tres, and synthpop field leaders Phantogram share, to say the least, few common threads.
Not that the artists were complaining. House of Vans' colorful, visually hyperstimulating, free-for-all setup proved ideal for the idiosyncratic, gleefully bizarre Whack. "I love it. It's like me in a different form," she told me backstage when I suggested that the venue's aesthetic parallels the hyperactive visuals defining Whack World's iconic minifilm. "I made sure I walked through the whole thing. It's crazy. It makes me wanna be here."
Although Whack, a longtime Philly native, hadn't even heard of House of Vans Brooklyn—the drive between the cities isn't even two hours, and Whack says New York is her "cousin"—before headlining the Philly pop-up, she was instantly drawn to Vans' offer. "I like Vans! That's it," she recalls thinking. "It's just, 'Oh, Vans, hell yeah! Whatever you guys say, I'm gonna do.'" As for the free cost of admission: "I like free shit, and I know everyone does."
"I like free shit, and I know everyone does." — Tierra Whack
When Vans asked Whack if she wanted to collaborate on another free item, she jumped at the opportunity. A lucky group of roughly sixty attendees left House of Vans Philly with custom Vans (Whack does say "He needed swag and I provide it" on one of her most popular songs) emblazoned with the logo W.H.A.C.K., an acronym for Weird Hype and Creative Kids. These lucky shoe-wearers also got to enjoy photo ops with Whack, who loves interacting with her audience. Later, while wearing a sweater emblazoned with her last name, she spotted a fan wearing the same sweater. She, rather than the fan, asked to take a picture together. It was far from Whack's only fan interaction that night: Throughout her openers' sets, showgoers witnessed her zipping around the venue on a scooter with pink handlebars and light-up pink wheels, as though she were just an ordinary showgoer and not, you know, the headliner. A few crowd members became Whack's pillars of balance for moments so brief that they didn't quite know what had happened. 
Whack also scooted back and forth in a four-foot line for the first couple of minutes during which I spoke to her. That's the charm of an environment like House of Vans: here, anything goes. "I can do whatever I want," Whack says, and her boldness ensured unforgettable moments for the hundreds of people who swung by House of Vans Philly's first night. 
That's exactly what the series hopes for: "At the end of the day," says Burt, "we want to create the best possible and most memorable experience for everyone who comes to House of Vans." The series has done just that throughout the decade: Whether in pop-up form or as a stationary mecca for free access to otherwise insanely expensive shows, House of Vans has given music, skate, and art lovers countless moments they've come to cherish. FL