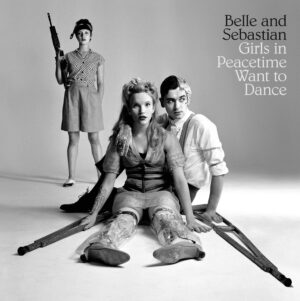 Belle and Sebastian
Girls in Peacetime Want to Dance
MATADOR
6/10
Nearing the end of Belle and Sebastian's latest album's opening track "Nobody's Empire," it sounds like frontman Stuart Murdoch is speaking directly to listeners: "There's beauty in every stumble / We are out of practice, we are out of sight / We're on the edge of nobody's empire." Since 1996, the Glaswegian indie-pop group has dominated the (albeit smallish) market for twee ballads and deceptively happy melodies, but with today's diverse music scene and the great equalizer of the Internet, many bands have come to claim the throne of what Jack Black's character in High Fidelity so endearingly called "sad bastard music." While the group is still a respected baroque-pop mainstay, it's clear, nine LPs in, that Murdoch and company are aware that the musical crown they wear is getting heavier and heavier.
The twelve tracks that make up Girls in Peacetime Want to Dance are a mismatched, but entirely enjoyable collection of ideas and influences that has Belle and Sebastian on the upswing after the unfortunately boring Write About Love. From the classic B & S bouncy upbeat sound ("The Book of You," "Allie") and slow ballads ("Today [This Army's for Peace]," "The Cat with the Cream") to disco's alluring glow and guidance ("The Party Line," "Play for Today"), Girls in Peacetime is the final product of a band that is unafraid of experimenting with their signature sound, even if it doesn't always hit its mark. If listeners do need a quick shot of old Belle and Sebastian, look no further than the underlying message of the Stevie Jackson–fronted  "Perfect Couples." Relationships crumbling? Longing to find love and be happy? Oh, Stevie, we knew you would bring us back down to an acceptable level of catchy depression. Long live the kings!