John Lennon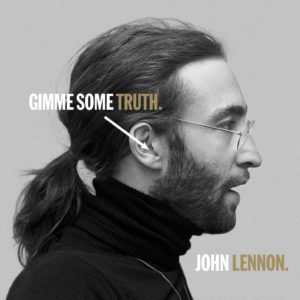 Gimme Some Truth: The Ultimate Mixes
CAPITOL
8/10
Unsurprisingly, there are moments during documentary filmmaker Paul Saltzman's new Meeting the Beatles in India—and its recall of the time The Fab Four visited the Maharishi Mahesh Yogi's ashram in 1968—where John Lennon ostensibly becomes the grainy flick's star. The mix of Lennon's burgeoning political outlook and the era-appropriate backdrop of well-intended mysticism, coupled with the Liverpudian's ever-present zinging one-liners, gives the viewer a compact (yet complete) portrait of the Beatle.
That's crucial to note at the start of what would have been Lennon's eightieth birthday month, which sees the requisite holiday Beatle product glut that includes the Meeting the Beatles in India, the Record Store Day reissue of Paul McCartney's debut solo album, a book on the making of Peter Jackson's revisionist documentary of the quartet's last days as a brotherly unit, The Beatles: Get Back (the movie was pushed to 2021 due to COVID), and Gimme Some Truth: The Ultimate Mixes, a remastered and deconstructionist look into Lennon's solo catalog.
Not counting individual album re-releases of Lennon, Lennon-Ono, and Yoko Ono albums, Gimme Some Truth is the umpteenth time this canonical work has been pushed, poked, and prodded together in some way, shape, or form. It almost makes you skeptical as to what could be left to do, and why anyone would bother to buy it. 
The bulk of the material presented here has the weight of castigating those self-serving beings and ruinous political sorts intent on running Lennon-Ono's peace train off its tracks. Better still, the presidential election of 2020 dovetails handsomely with what would have been Lennon's eightieth birthday. To that end, the four-CD/LP box set's title tune and its lyrics—"I'm sick and tired of hearing things from uptight, short-sighted, narrow-minded hypo-critics / All I want is the truth / Just give me some truth"—couldn't be better conceived and packaged into one whole.
What the Gimme Some Truth box does—just as it did with 2018's Imagine collection—is make Lennon's solo output sound better, brighter, and of a piece. I'm probably not alone in stating that so much of Lennon's post-Beatle work sounded so muddy or inconsiderately mixed that listening for pleasure (beyond picking out barbs toward Paul and other sacred figures) was a chore.
Here, however, whether it's Lennon the lyricist's diverse imaginings of deities and dharma ("God" or "Instant Karma"), more down-to-earth rhetoric such as "Mind Games" and "Whatever Gets You Thru The Night," or the purpose-driven texts meant to damn racism ("Angela") and war ("Give Peace a Chance"), all sounds warmer and clearer, bathed as they are in unifying 24-bit/96 kHz HD Stereo, immersive 5.1 Surround Sound, and Dolby Atmos. Boring tech stuff, but such a simple twist in making such a complex catalog sound its very best—that is, until the next compilation.
Curated and compiled by Ono-Lennons Yoko and Sean, everything from the bass-heavy electric tangle that is "Cold Turkey," to the piano-driven balladry of "Imagine," to the dreamily ruminative studies on fatherhood ("Beautiful Boy (Darling Boy)"), loneliness ("Isolation"), and romance ("Jealous Guy") sounds more sumptuous, stark, yet simpler than ever before in his solo recording past. And wasn't it Lennon who once said the heart of music itself was to say what you mean, make it rhyme, and put a backbeat to it?