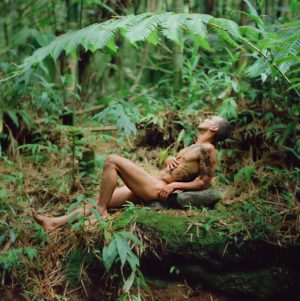 Gabriel Garzón-Montano
Agüita
JAGJAGUWAR/STONES THROW
8/10 
Do you know how to tell what true poetry is? When someone speaks, lyrically and soulfully, in another language we can't speak, and its chapter and verse is just as dear as if it was our native tongue. When high-voiced chamber-soul crooner and multi-instrumentalist Gabriel Garzón-Montano sings of "awakening from a gorgeous dream" on "Tombs"—the stringed, tick-tocking first track from his sophomore effort Agüita—the Brooklyn-born Colombian could be defining the reaction of the listener to his entrancing sonic soliloquies. That holds true whether he sings in English or in Spanish.
Pulsing along at a panther's elegant pace, with just the right amount of glam (guitars that could've come from Queen's Sheer Heart Attack) and swagger, Garzón-Montano has created the most thought-provoking, atmospheric, and well-designed R&B album since Moses Sumney's græ earlier this year.
Yet there's a gentle and vividly sensual vibe to Agüita that gives Garzón-Montano a heavenly edge beyond Summey, whether it's the album's stammering, Prince-like ballads ("With a Smile"), squelchy, supple reggaeton cuts ("Muñeca")—his first released take at writing and singing en Español—or dramatic scuffed vocal, glitch-hop epics such as "Fields," a lush cut complete with a lovely, double-tracked mumbled vocal harmonizing with itself. 
Not every track on Agüita is serenely ambient and soul-song dreamy. The bell-bonging, java-hop of "Mira My Look" is Garzón-Montano's attempt at lower-octave machismo rap. The sonorously soft R&B of "Moonless," a gorgeous song dedicated to the loss of his mother, could be a Philly International Records, Gamble-Huff-Bell stunner. "Someone" may be lonely as hell but its skeletal funky groove all but signals a party looming in the background. 
Going back, however, to the poetry of intention, no matter what Garzón-Montano sings or raps, it is portrayed by the artist with a tremor and a tender touch. Even the tear-soaked title track and its trap-driven, Spanish-language lyrics about showing a lover a new side of one's self sounds haunted and strong beneath its sobs. Within minutes of my first of many listens, Gabriel Garzón-Montano's Agüita moved into my top ten albums of 2020—that's how dramatic and strong.