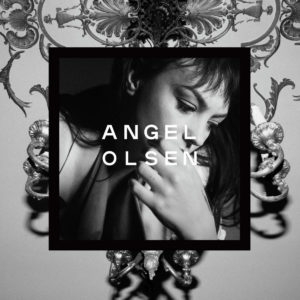 Angel Olsen
Song of the Lark and Other Far Memories
JAGJAGUWAR
6/10 
It feels off to describe the work of musicians outside of pop as existing within a certain "era" (such nomenclature feels more appropriate for artists whose performance, aesthetic, and merchandising are tied to the lifecycle of a singular record with set start and end dates) yet one can't help but feel that Angel Olsen's artistry has existed within a definable epoch since the release of 2019's All Mirrors. 
With last year's release of its companion LP Whole New Mess, a notably softer effort composed of tracks that would go on to inform the bulk of Mirrors, this era was extended, a secondary demonstration of an artist working through a post-romance depression that substituted bombastic baroque pop production for intimate, solitary quietude. And now with the release of the 4-LP box set Song of the Lark and Other Far Memories, we see the chapter coming to a close, compiling both records (as well as few additional singles) into a cohesive package; Olsen has said her piece (in more ways than one), and the entire saga has been serialized, with a few post-scripts added for good measure.
The most notable addition to this collection is Far Memory, a bonus LP of six tracks: two alternate versions of tracks from Whole New Mess, two previously released remixes of tracks from All Mirrors by Johnny Jewel and Mark Ronson, a cover of Roxy Music's "More Than This," and the previously released 7-inch, "Smaller." These half dozen tracks' packaging alongside the artist's 2020 and 2019 full lengths provides a sense of completion to Olsen's All Mirrors era, and will likely be appreciated by longtime admirers of the Asheville-based artist; the minimalist performances and vocal overdrive of "Smaller" and "More Than This" evoke qualities akin to 2014's Burn Your Fire for No Witness, and the sauntering list of "It's Every Season" feels reminiscent of Olsen's debut record Half Way Home. 
That said, as a separate effort, and even with its less widely heard additions, listening to Lark in its entirety feels uneven, even by box set standards. As we previously noted in our review of Whole New Mess, "there are at least a few tracks [on Mirrors] where the bigness is an inextricable feature; hearing them, this bareness sort of whizzes past the point." Such an experience is still very much the case for this collection; even as listeners are provided with parallel avenues to explore the resolute sadness of Olsen's craft, in both enclosed and wide-open spaces, the milder versions of the tracks first heard on Mirrors feel lesser-than. Conversely, Far Memory's orchestral, grandiose rendition of "Waving, Smiling" (which previously appeared in a more stripped-down format on Mess) supersedes the original, honing in on the dramatic, almost overwhelming qualities that made All Mirrors tick.
In the end, however, the presentation of these three records side-by-side does provide space for additional appreciation of Olsen's ability as a songwriter and as an artist—specifically the deft ways in which she can produce radically different renderings of tracks that, one and a half years out, still retain a spellbinding aura. As such, Song of the Lark is best suited for fans and listeners who've been in it for the long-haul, though folks who joined around Mirrors may not find it as reflective a listening experience as others.