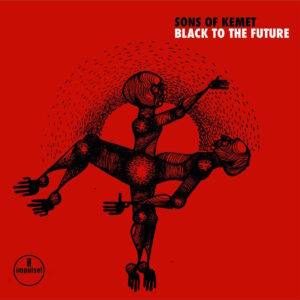 Sons of Kemet
Black to the Future
IMPULSE!
8/10
Sons of Kemet have not come to free your mind. On their fourth album Black to the Future, it's bodies they're after. These 11 songs yield not a single moment of spiritual-physical dualism or gnostic remove. When they sing about Black flesh being sold and exploited, oppressed and abused, transmuted into sugar and tobacco, they're assessing an actual body count. And when they sing of liberation, it's not just a state of mind. 
Perhaps the buried lede here is that for all the things you might say about Black to the Future—how it represents a global jazz vanguard, how it speaks prophetic counsel into the present moment, how it embraces a history of struggle, how it suggests a cloud of witnesses ranging from Archie Shepp to Public Enemy—it is first and foremost a dance record, bruising, visceral, and thrilling in its physicality. But then, how could it not be? Two out of four band members are drummers, and a third wields a tuba to summon low-end ripples like earthquakes, leaving just mastermind Shabaka Hutchings to snake between the beats with winding reeds and molten-hot sax blues. Sure sounds like a dance band to me.
And though the undertow of Black to the Future is curdled indignation, let it be said that while the music is thrillingly visceral, it's never violent. Rather than impose suffering on the listener, this music channels suffering into music of coursing momentum, vibrant interplay, and hip-shaking groove. Shorthanding it as a jazz record feels inevitable, and isn't wrong, but don't miss out on just how eclectic the album is in its sense of motion. It occasionally moves like bop, but just as often moves like dub, like hip-hop, like calypso, like highlife. Say, have you heard that this is a dance record?
Five out of the 11 songs feature rappers, singers, or spoken-word poets, each one offering a galvanizing turn: There's no way to single out a favorite feature from these wonderfully grimy, unvarnished vocal turns, as raucous as the horns that provide them a backdrop. But if you had to, you'd probably fete Joshua Idehen, who bookends the album with "Field Negus" (a history lesson that's really about the here and now) and "Black" (about being fed up). Black to the Future nurses real wounds, yet it doesn't harbor despair: Instead, it creates a space where bodies can be freed, if only for a moment.